News > Features
Rock lands in the Arena
Monday's lineup offers diverse musical styles
Fri., Feb. 6, 2009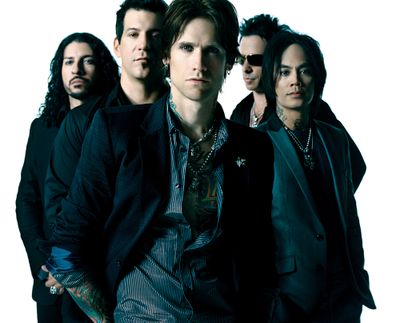 Pop-rock quiz: What do Avenged Sevenfold, Buckcherry, Papa Roach and Saving Abel have in common?
A.) Biblical references. B.) California roots. C.) New music. D.) They're all coming to Spokane next week.
If you answered anything but D, you're only part right.With diverse styles and broad appeal, this mixed-bag heavyweight rock lineup is sure to light up the Spokane Arena's Star Theatre on Monday night.
Papa Roach: Papa Roach is filed under metal at shopping mall record stores, despite flirting with punk and rap. But this veteran California four-piece isn't focused on one style, but rather on making one solid body of work.
"We've been around for 15 years, 10 years on a major label. We want to make our rock record of the decade," lead singer Jacoby Shaddix said while taking a break from skateboarding for a telephone interview before his next gig.
Papa Roach's forthcoming March release, "Metamorphosis," reflects the changes the band has been going through.
"We're looking at our progression as a rock 'n' roll band and being more diverse," Shaddix said. "We're listening to a lot of AC/DC, Pink Floyd, The Who – not to lift their styles, but to see, where did these records take you? Why do they stand up still? And what makes it classic?"
Papa Roach has a new drummer in Tony Palermo, after the dust settled from the drama-filled departure by, and subsequent legal battle with, former drummer Dave Buckner.
Buckner left the band temporarily because of problems with substance abuse, then eventually quit permanently and attempted to sue for royalties. The dispute was settled out of court, Shaddix said.
Papa Roach also recently fired its manager and booking agent, along with most of the promotional vehicle's pit crew, signaling a fresh start of sorts.
"We got rid of a lot of baggage," Shaddix said. "We just got lost in the creative process and put ourselves into isolation for this record.
"We're excited to patch up a lot of relationships, and we're ready to explode."
Buckcherry: While Papa Roach is all about change, Buckcherry is finally settling into its groove.
After a series of lineup changes, the Los Angeles quintet has its longest-running lineup, solidifying its sound for its September release, "Black Butterfly."
"This feels the most like what Buckcherry is, said lead singer Josh Todd during a telephone interview.
"We've replaced members, and we're finding great friends in these musicians," Todd said. "Now every department of the band works, and we feel like we've written our masterpiece."
Avenged Sevenfold: Even with unabashedly heavy metal elements to its sound, it's still hard to pin this California quintet to one genre.
Often regarded as a leader in the New Wave of American Heavy Metal, Avenged Sevenfold helped keep metal afloat in the mainstream, but has often drifted into punk-rock and even country and soft-rock territory.
The band's earliest incarnation was clearly metalcore, but with inklings of a piano ballad. Its third album, "City of Evil," abandoned metalcore for a more thrash-punk base. "Dear God," a single from the group's self-titled 2007 album, is a country-tinged tune, and another track on that album, "A Little Piece of Heaven," has bits of Broadway show tunes.
Lately, though, the band has been tapping into its classic metal roots. Last summer Avenged Sevenfold appeared on UK music magazine Kerrang!'s Iron Maiden tribute album, "Maiden Heavy."
And the group started off the new year with an announcement that it's covering Back Sabbath's "Paranoid" as a part of a compilation album released by Warner Bros. Records.
Oh, and if you're wondering about the Biblical references, the name Avenged Sevenfold is a reference to the story of Cain and Abel – but the band doesn't do faith-based music.
Saving Abel: The other band on the bill with a Biblical references for a name, Saving Abel isn't any closer to being a Christian band than Avenged Sevenfold.
Saving Abel found its name Googling for information about Cain and Abel when co-leader Jason Null stumbled upon that phrase.
Playing a style that falls between Southern and hard-rock styles, Saving Abel released its self-titled major-label debut last year. The single "Addicted" peaked at No. 2 on the Mainstream Rock Chart.
Local journalism is essential.
Give directly to The Spokesman-Review's Northwest Passages community forums series -- which helps to offset the costs of several reporter and editor positions at the newspaper -- by using the easy options below. Gifts processed in this system are not tax deductible, but are predominately used to help meet the local financial requirements needed to receive national matching-grant funds.
Subscribe to the Coronavirus newsletter
Get the day's latest Coronavirus news delivered to your inbox by subscribing to our newsletter.
---
Subscribe and log in to the Spokesman-Review to read and comment on this story