News > Spokane
Same-sex couples bill a big draw
Proposal to treat registered partners same as spouses looks likely to pass
Fri., Feb. 6, 2009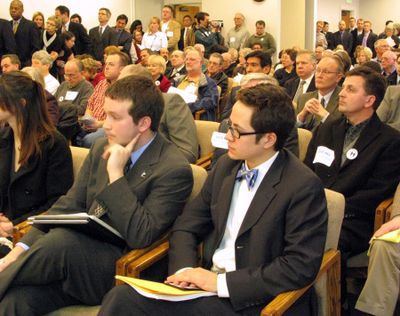 OLYMPIA – The first public hearing on an "everything but marriage" bill for same-sex couples on Thursday drew standing-room-only crowds and emotional testimony about families, faith and personal values.
On one side: gay and lesbian couples, who say their families deserve the same protections that any married couple get automatically.
"You may not consider my family a family, but I know in my heart that they are," said Benjamin, the 10-year-old son of one Seattle lesbian couple. "So will you please pass this bill, so that everyone can know that this is my family?"
On the other side: social conservatives, who say equating same-sex relationships with marriage undercuts some of their deepest-held beliefs.
"Genuine marriage has provided for the foundation of healthy and harmonious family living for civilized societies for centuries," said Larry Stickney with the Washington Values Alliance. "It does not exist just for the emotional satisfaction, affirmation or validation of individuals, but for the greater good of the social order."
The bills, HB 1727 and SB 5688, would treat state-registered domestic partners the same as spouses under state law. The couples would not be married, but they would have virtually all the rights and responsibilities of those who are. Partners of firefighters or police killed on the job, for example, would be eligible for the same pension benefits as a spouse.
The bills look likely to become law. Nearly half the state Senate and more than half the state House have signed on as co-sponsors.
Proponents argue that the changes are a logical extension of the Legislature's 2007 decision to create a domestic partnership registry. Registering gives same-sex couples (and heterosexual couples over age 61) key rights, most related to medical care or dying. For the first time, for example, gay and lesbian couples were guaranteed the right to visit their partner in the hospital. If there is no will, the partner inherits the property. The partners can make decisions about funerals and organ donation for each other.
Last year, lawmakers expanded those rights. They set up a process for the couples to own community property. If there are children involved, legislators said, the couple must go through court to dissolve the partnership.
This year closes virtually all the remaining differences under state law, with registered domestic partners treated identically to married couples under state law. The only exceptions are where it would conflict with federal law, which does not recognize domestic partnerships.
If the proposal becomes law, some opponents predict a quick trip to court, where the changes would be used to argue for same-sex marriage in Washington. Proponents say that marriage remains the goal, but that the bill isn't a legal Trojan horse.
To gay and lesbian couples, equality for their families is an obvious civil right. At House and Senate hearings Thursday, they described themselves as professionals, taxpayers, church members and hard-working parents juggling kid activities, PTA meetings and careers.
"When our kids now ask us if we're married, we say, 'Not in the eyes of the law, but yes, we are married in our hearts,' " said Amie Bishop, a social worker and mother of 10-year-old Benjamin.
Grethe Cammermeyer, a retired National Guard colonel, described the excitement and happiness of "eloping" with her longtime partner to Oregon in 2004 during a narrow window when Oregon allowed same-sex marriages.
"It was sort of a thrill that we never expected to happen in our lifetime, to have equal recognition with the marriages that my sons had also had," she said.
Then an Oregon court annulled all the marriages.
"It was said that they never existed," she said. "It was a devastating and humiliating experience. All of sudden, we felt totally negated, and that we and our relationship did not exist and there was no protection for us."
Opponents said that any step closer to same-sex marriage is an affront to them. Many cited their religious beliefs. Several blasted "the homosexual agenda."
"They should be satisfied with the status quo," said one grandmother. "Enough is enough."
"I say this respectfully, but there's going to come a time when we're all going to have to stand before the judgment seat of Christ to give an account for things done in the flesh," said Roy Hartwell, pastor of a church near Olympia. He cited Sodom and Gomorrah, saying that God saw no hope for a society whose leaders embraced homosexuality.
Sen. Ed Murray, D-Seattle, bristled at such comparisons. Murray, who is gay, said he was appalled to hear gay and lesbian families compared to the temple prostitutes in the Bible or to Soviet communists.
Some opponents called for a statewide vote on the bills.
"We the people, including religious citizens, have the right to govern our own society," said Robert Struble, with the Bremerton Knights of Columbus.
People are free to have a referendum on the measure if they can gather the necessary signatures, said Rep. Jamie Pedersen, D-Seattle. Some bills include an "emergency clause" which makes them immune to such a voter veto. But Pedersen noted that these bills don't.
"I think part of the reason that there hasn't been a challenge" to previous domestic partnership bills, he said, "is because the polling data are pretty evident about what the outcome of that referendum would be." About 40 percent of the public supports civil marriage for same sex couples, he said, and about 60 percent think such couples should have the same rights and responsibilities but without calling it marriage.
And younger people are particularly supportive of equal rights for same-sex couples, said Seattle's David Iseminger.
"We're here, we're coming, we're voting," he told lawmakers. "We're voting in your districts … We're voting for this."
"We vote as well," countered Gary Randall, with the Faith and Freedom Network. Social conservatives didn't do as well as they would have liked in the last election, he said, but "we will be back."
Local journalism is essential.
Give directly to The Spokesman-Review's Northwest Passages community forums series -- which helps to offset the costs of several reporter and editor positions at the newspaper -- by using the easy options below. Gifts processed in this system are not tax deductible, but are predominately used to help meet the local financial requirements needed to receive national matching-grant funds.
Subscribe to the Coronavirus newsletter
Get the day's latest Coronavirus news delivered to your inbox by subscribing to our newsletter.
---
Subscribe and log in to the Spokesman-Review to read and comment on this story