News > Spokane
Brothers wrestle with loss
Sun., Feb. 8, 2009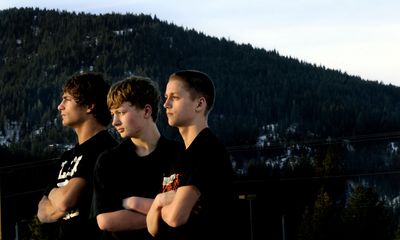 The Wright brothers – Seth, Nate and Nick – are wrestling for their late father.
Three years ago this April, Jesse Wright and his 16-year-old daughter, Keriann, were killed in a car accident. Nate and Nick were seriously injured in the crash along Highway 53 near Rathdrum.
"I miss him a lot," Nate said.
"It impacted me a lot," said Seth, the oldest of the brothers, who was a freshman at the time of the accident.
Two years later Seth was in and out of trouble. That led to problems with his mother, Staci. Finally, an uncle, Matt Booth, who lives in Post Falls, asked Seth to come live with his family last year.
Seth moved and wrestled at Post Falls. He had a highly successful season, posting a 42-4 record and finishing second at the 5A state tournament in the 119-pound class.
His relationship with his mother improved, so he moved back home for his senior year at Lakeland.
"I wanted to graduate with the kids I've gone to school with all my life," said Seth, whose career record is 125-29.
He moved up two weight classes this year and has a 21-5 record. Although he has one more loss than he had a year ago, he's on track to have a better season. He wants nothing less than a state title.
Nate is 20-11, but admittedly has lost some matches he should have won.
He suffered a broken leg, broken collarbone and brain trauma in the car accident, and missed the first part of his freshman season after pins in his left leg were taken out.
"It took me a while before I started wrestling well," Nate said. "I improved a ton my sophomore year. That's when I felt I was totally back on my game. I just work as hard as I can to make Dad proud of me."
Nate has no memory of the accident. In fact, he was in a coma for a few days following the accident and then on strong pain medication for 10 days.
"The last thing I remembered before the accident was dad getting into the car."
Nick is a freshman and is wrestling at 130 pounds on the junior varsity. He remembers the accident because, unlike his brother, he was wearing a seat belt and had fewer injuries. He suffered a broken arm and bruised spleen. His face required 123 stitches to repair glass cuts.
"I still have the scars," said Nick, not to mention the emotional scars. "I just want to do as well as I can for dad."
Nick has accomplished the one goal he set going into the season.
"I weighed 160 pounds last fall, and I wanted to wrestle at 130," Nick said. "I made scratch weight at 130 for the first time last week."
The Wrights have three younger brothers who also wrestle. It's no wonder wrestling is in their blood. They're from the famous family tree that includes the Booths, Osts and Bergers, who have all wrestled at Post Falls.
Nate said wrestling is more than a sport to him.
"It's my passion," he said.
The season will conclude in three weeks.
"I want to win a state title for my dad," Seth said. "When I was a freshman my dad told me I could win a state title. I definitely want it for him."
Greg Lee
Homeless pay it forward
Jerry Horton and Ed Matt agree, "It will be hard to give up that cherry spot."
The "cherry spot" is a Coeur d'Alene ballpark dugout where the homeless pair have resided for the last year. The men know that they were lucky to have the dugout, a place with a roof over it.
"When you are homeless you do not have a home, but true homelessness is when you don't have a place in this world," says Horton.
The men recently moved into a modest apartment, thanks to the efforts of Patty McGruder, Dirne Health Centers' first outreach worker.
There isn't much in the apartment, but Horton and Matt couldn't care less. They seem content to sit on their refurbished sofa. Horton comments that the "fit is perfect." Horton and Matt were the beneficiaries of the efforts of two other previously homeless individuals, Freeman Buckhanan and Kenneth Giffin – as part of the Pay It Forward system.
Pay It Forward means repaying acts of kindness from others by helping someone else, not paying it back. The premise of Pay It Forward is that kindness is good for everybody, whether you are the giver or the receiver.
Buckhanan and Giffin helped Horton and Matt transition into an apartment by working with their new landlord to paint and carpet the apartment before moving in. Horton and Matt now are the givers, helping a homeless mom find a place to live and a baby crib.
"These stories are incredible. They have nothing, but they will give everything to help the next person. Their hospitality is beyond belief," says McGruder.
According to McGruder there are 56 people sleeping outside and even more sleeping in vehicles within a 10-mile radius of Coeur d'Alene.
"A deposit, first and last months rents, all have to be paid before a person can move into an apartment – this creates a hopeless situation for the homeless."
McGruder's hope is that everyone will help one other person and Pay It Forward.
"No one should ever have to endure the discomforts of life on the streets."
Laura Umthun
Local journalism is essential.
Give directly to The Spokesman-Review's Northwest Passages community forums series -- which helps to offset the costs of several reporter and editor positions at the newspaper -- by using the easy options below. Gifts processed in this system are not tax deductible, but are predominately used to help meet the local financial requirements needed to receive national matching-grant funds.
Subscribe to the Coronavirus newsletter
Get the day's latest Coronavirus news delivered to your inbox by subscribing to our newsletter.
---
Subscribe and log in to the Spokesman-Review to read and comment on this story