News > Features
Designers work chic into TV dining
Food trays offered in various materials including melamine, porcelain, wood
Sun., Feb. 8, 2009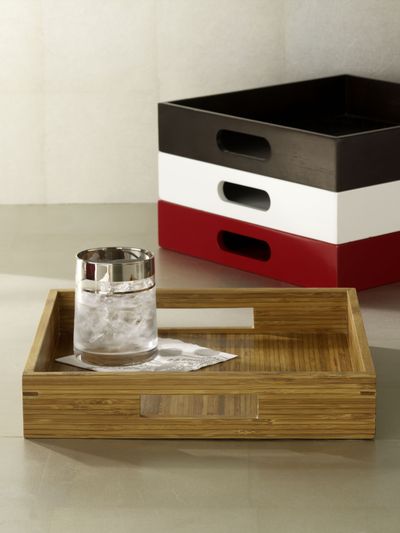 No one's on the fence when it comes to TV dining: You're either an enthusiastic proponent, or horrified at the very idea.
Our family sits unapologetically in the former camp. We've tried using the excuse that both my husband and I work in media and we're taking one for the team, but really we're just avid TV viewers.
Good food and good television simply go together.
Philip Tracey of Framingham, Mass., a publicist for a national home decor retailer, says that after a long day at work, he wants to catch up on the news and his favorite taped shows.
"Eating my dinner in front of the TV is like killing two birds with one stone – it's multitasking," he says.
Tracey laughingly acknowledges calling the leather ottoman in his living room "my second dining room table."
Ottomans aren't the only options for casual TV dining. Remember those divided food trays from summer camp? Designers are having some fun with the TV dining trend by reworking that tray.
David Weeks has used a bright red melamine to reintroduce the actual dinner tray used by Sing Sing prisoners ($15, www.kikkerlandshop.com).
And Brooklyn artist Lorena Barrezueta turns fine porcelain into the Munch Deluxe tray, part of her Gourmet Collection, in tomato or turquoise (about $95, www.lorenabarrezueta.com).
The TV tray table of the 1960s (recently seen in an episode of "Mad Men") has evolved into something a little sturdier, and much more stylish. There are smart ebony or cherry-toned wood tables at most big-box retailers, usually sold in sets of four with a stand.
Simplytraytables.com has some interesting painted ones, including a set of woodland birds that give off a nice, cottage-y vibe ($170 for a five-piece set).
For those who prefer a tray that can be carried from kitchen to TV room, there are several clever, colorful versions.
Ashley Hatcher in Georgia has invented a tray with a nonslip silicone pad. She says the idea came from "a focus on function and entertaining. People want to "beautifully and efficiently enjoy their meals."
The "lapper" ($24.95, www.lappers.com) has been featured in several home magazines and design blogs. It won a Best New Products award at the Chicago Housewares Show, and was among gifts given to presenters at the Teen Choice Awards.
The dishwasher-safe melamine trays come in chic color combinations like brown and blue, and pink and green, as well as some graphic prints.
West Elm offers a compact square wood tray that neatly holds a plate and glass, and would do double duty as a serving piece ($19, www.westelm.com).
Where do you put the tray? Casual dining calls for sturdy, easily cleaned surfaces.
Large square coffee tables offer ample space for a group nosh. Modernists on a budget will love Innovation's simple yet sophisticated Irock Tables in an array of vivid hues ($139.99, www.csnstores.com).
This season, trunks have returned to the living room – another example of the trend toward multifunctional furniture. Store cozy throws and extra floor pillows inside the large ones. Use smaller styles for seasonal accessories or board games, when space is at a premium.
Most of the new trunks won't remind you of your college dorm. Clad in luxurious leather and trimmed in polished metal, these are smart and sophisticated. Pottery Barn's Brittanic trunk is a stunner, combining utility and elegance ($1,599, www.potterybarn.com).
Some decor-watchers see the waning of the storage cube ottoman, while others say its versatility makes it more popular than ever. There's no doubt the ubiquitous cubes are practical additions to family rooms and smaller spaces. Several have a lid that inverts to a tray.
West Elm has a well-priced one ($159) upholstered in rugged jute, in either cream, espresso or the newly-hot Ikat print.
There are handsome upholstered benches, like Pottery Barn's with a kilim fabric ($499), that do double duty as table and stool.
Finally, consider a simple painted or stained wooden bench, which takes up a small footprint in a space-challenged room. It's easy to relocate to a hallway or the foot of a bed when the mood strikes.
Local journalism is essential.
Give directly to The Spokesman-Review's Northwest Passages community forums series -- which helps to offset the costs of several reporter and editor positions at the newspaper -- by using the easy options below. Gifts processed in this system are not tax deductible, but are predominately used to help meet the local financial requirements needed to receive national matching-grant funds.
Subscribe to the Coronavirus newsletter
Get the day's latest Coronavirus news delivered to your inbox by subscribing to our newsletter.
---
Subscribe and log in to the Spokesman-Review to read and comment on this story