News > Features
Grammy quest
As the music industry gathers to honor its own, an unlikely duo seems to be leading the chargeDespite too many categories, Grammys still serve an important role
Sun., Feb. 8, 2009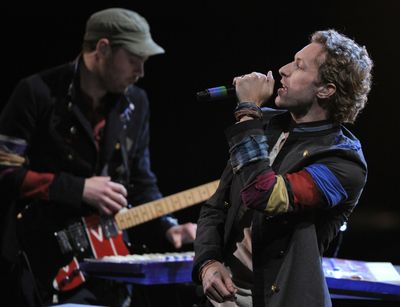 Grammy-bashing has become an annual winter sport.
For the past several years, in the weeks after the Super Bowl and before the beginning of baseball's spring training, entertainment writers have teed-off on the annual awards show, questioning its relevance in today's diffused music world.
Music industry gadfly Bob Lefsetz has delivered some of the heaviest blows at his online soapbox, "The Lefsetz Letter." The gist of this year's rant: Award fewer Grammys.
There are so many categories, he wrote in December, that "if you can't get nominated for a Grammy, you didn't make an album."
The Grammys certainly could use some hard tweaking. For one thing, the awards show is way too long. Tonight's will last 3 1/2 hours – 10 minutes longer than "Godfather Part II."
And Lefsetz is right: There are too many categories, 109 in all. The National Academy of Recording Arts and Sciences, which presents the awards, has added 33 categories over the past 20 years. Some of them are a stretch; others are redundant.
Take the confusing mix of rock-song categories: best solo rock vocal performance, best rock performance by duo or group, best hard-rock performance, best metal performance, best rock song. It's like baseball giving out awards like "Best Bunter With Two Strikes and A Man at Third."
But despite their flabbiness and flaws, the Grammys are important to a music world that has become more diffuse and fractured.
There are no "big" record releases anymore and very few big tours. A band has to disappear for years, like Phish or AC/DC, and then come back to stir up hype. It has to sell its records exclusively through Wal-Mart to generate decent sales.
The Grammys, on the other hand, still pitch a big tent. Tonight's show will include an impressive and diverse list of performers: Radiohead (its first U.S. television performance since 2000), Paul McCartney (with Dave Grohl), Robert Plant and Alison Krauss, U2, Coldplay, Justin Timberlake, Kid Rock, Kenny Chesney and some of the biggest stars in rap and R&B: Rihanna, Lil Wayne, Jay-Z, T.I. and Kanye West.
Winning a Grammy still can give artists a retail boost. Last year, sales of Amy Winehouse's "Back to Black" jumped more than 300 percent the week after she won five Grammys.
But television ratings for the awards ceremony have been lackluster for years. Last year, 17.5 million viewers watched the show – down from the 20 million who watched in 2007, but up from 17 million in 2006, when it butted heads with an episode of "American Idol."
So the Grammy Awards show may be losing appeal, but it still creates something worthwhile: a moment to feel like the music world is bigger and vaster than the niche one person or clique visits or inhabits.
It's not perfect, but right now it's all we have.
Local journalism is essential.
Give directly to The Spokesman-Review's Northwest Passages community forums series -- which helps to offset the costs of several reporter and editor positions at the newspaper -- by using the easy options below. Gifts processed in this system are not tax deductible, but are predominately used to help meet the local financial requirements needed to receive national matching-grant funds.
Subscribe to the Coronavirus newsletter
Get the day's latest Coronavirus news delivered to your inbox by subscribing to our newsletter.
---
Subscribe and log in to the Spokesman-Review to read and comment on this story