News > Features
Synching – a show biz secret
Recorded tracks used at Super Bowl, inauguration
Sun., Feb. 8, 2009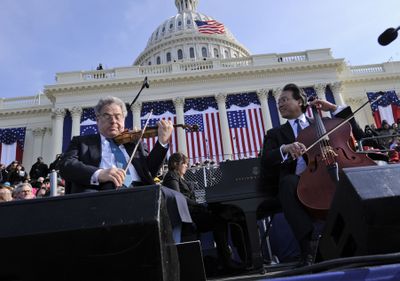 Jennifer Hudson and Faith Hill performed to recorded tracks at the Super Bowl.
Yo-Yo Ma and Itzhak Perlman did it at the Obama inauguration, where Aretha Franklin sang live – but she's releasing a do-over.
And Bruce Springsteen's E Street Band, according to one report, also played to a recorded track at the Super Bowl, though the vocals were live.
All in the name of perfection. It's enough to make one feel sorry for Chief Justice John Roberts and his flubbed presidential oath.
Couldn't he have just prerecorded the darned thing, too?
Recorded tracks are hardly a new phenomenon at huge events like the Super Bowl, not to mention the concerts of certain pop stars (the name Britney comes to mind.)
But in the past few weeks, a flurry of attention has focused on the practice, first with the inaugural flap and then the big game.
And though it's hardly Watergate, or even Milli Vanilli – remember, they were synching to other people's voices – some fans are debating anew whether it's an acceptable practice or an artistic deception.
For the inauguration, the reason for the recorded tracks was clear – the weather – though purists may still consider it a horror that cellist Ma, violinist Perlman and two other musicians were essentially finger-synching. (Actually, they played, but it was a recording that was projected to the world.)
The Washington air was 28 degrees, meaning instruments could possibly break or at least go out of tune. Pianist Gabriela Montero (who canceled an appearance with the Spokane Symphony to make the gig) said that a day before the inauguration, about half a dozen keys on the Steinway were sticking.
Imagine if the musicians had played out of tune, Montero said: "Can you imagine what kind of tone it would have set?"
One avid fan of classical music wasn't bothered at all.
"I was relieved," said Elisabeth Avery, 55, who watched on TV. "At the beginning I thought, 'Are they crazy? They're gonna play those instruments in that weather?' "
Gradually, she came to realize the music was not live.
"I don't like deception, but somehow I didn't feel deceived," said Avery, of New York City. "It's really hard to play when it's cold."
Avery does, however, find it a little dishonest that Jennifer Hudson's stirring national anthem at the Super Bowl was performed to a recording: "My goodness, if you're an artist, can't you just get up and sing?"
She also wonders what might have happened "if a coyote had suddenly run across the field, or if someone had fainted in front of her. Would she have just kept on singing?"
Pre-game show producer Rickey Minor said at the time that to ensure the quality of the performance, he'd insisted that Hudson and Faith Hill, who sang "America the Beautiful," use their recorded tracks.
Hudson's publicist, Jessica Kolstad, said the singer's microphone was on, and she was singing to the track at the request of producers.
Many singers have used backup tracks at Super Bowls, including Whitney Houston's acclaimed performance in 1991. As talented as a singer can be, it's extremely difficult to perform optimally in a stadium, said Andy Greene, assistant editor of Rolling Stone magazine.
"The delay is terrible. The sound bounces back. It's a nightmare," Greene said.
Plus, when you're playing to a crowd of that magnitude and a TV audience, he said, "you want it to be perfect."
"It's the biggest crowd these performers have ever played to, bar none," Greene said. "It's the worst possible conditions for the most visible performance of your career."
Which is why the practice of using recorded tracks is "sort of this dirty little secret of the industry," he said: "It's been going on for years, but many people are just learning about it."
Don Mischer, longtime producer of Super Bowl shows, said many artists "absolutely want to go with prerecorded tracks because they worked hard to create a sound, and they want their fans to hear the music the way they intended it.
"It's not as if somebody else were playing it," he added.
Hudson and Hill may not have been the only artists singing to a track at the Super Bowl – the Chicago Tribune reported that Springsteen's E Street Band was also doing so, although the Boss himself was singing live. Publicists for Springsteen did not respond to several requests for comment.
Whether Springsteen's beloved band used a recorded track or not, it seems Aretha Franklin may have wished she had one at the inauguration.
The soul superstar, who was dissatisfied with her live performance of "My Country, 'Tis of Thee" in the frigid January weather, announced Thursday she'd recorded a "preferred version" to be released this week.
But David Rubeo, a fan of Franklin's in New York City, has no need for the preferred version – his preferred version is the live one.
"It was so much more exciting to watch her live," said Rubeo, 40, who works at a social services agency. "If there are imperfections, that's fine. It's all part of the excitement."
Music writer Matthew Gurewitsch can't understand the fuss over recorded tracks. Both the inauguration and the Super Bowl, he said, are "not real musical events – it's all just window dressing."
"It's easy to get very worked up and indignant, but part of show business is the willing suspension of disbelief," said Gurewitsch, who analyzes music on his Web site, beyondcriticism.com.
"We go to the movies and we see the special effects and don't feel cheated. It's all part of the illusion that is show business."
Associated Press music writer Nekesa Mumbi Moody contributed to this report.
Local journalism is essential.
Give directly to The Spokesman-Review's Northwest Passages community forums series -- which helps to offset the costs of several reporter and editor positions at the newspaper -- by using the easy options below. Gifts processed in this system are not tax deductible, but are predominately used to help meet the local financial requirements needed to receive national matching-grant funds.
Subscribe to the Coronavirus newsletter
Get the day's latest Coronavirus news delivered to your inbox by subscribing to our newsletter.
---
Subscribe and log in to the Spokesman-Review to read and comment on this story