News > Features
Disney show will bring favorites to life
Mon., Feb. 9, 2009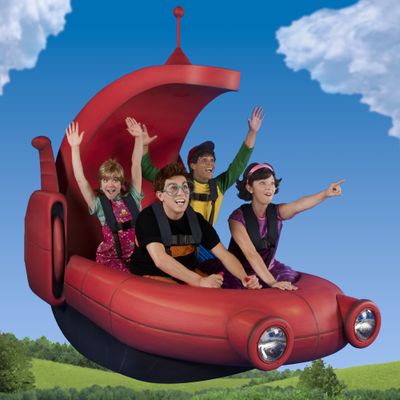 For the preschool set, it's one thing to watch Mickey Mouse, Tigger, Pooh and other Disney characters on television.
But it's a completely different experience for kids when the cartoons come to life and visit their own hometown.
In a new live tour production, characters from four shows on the Disney Channel's "Playhouse Disney," the program block for preschoolers, will come to Spokane on Friday to entertain and interact with children and their families.
They include "Mickey Mouse Clubhouse," "Little Einsteins," "Handy Manny" and "My Friends Tigger & Pooh."
During the show, kids become part of the Mickey Mouse Clubhouse as Mickey organizes a music party for all of his friends. So the Little Einsteins – Annie, Leo, June, Quincy and Rocket – embark on a mission to find the perfect party song.
Pooh, Tigger and Darby have their own adventure in the Hundred Acre Wood while Handy Manny and his tools set off in search of the perfect music.
"It's a wonderful experience for kids," said Jennifer Bacon, a Whitworth University graduate who plays the role of Annie on the show. "It's a great way to introduce them to music and theater. They get so excited to see their favorite characters on stage."
Bacon's character is a 4-year-old singer. She and the rest of the musical Einsteins, as well as the other Disney characters, put a lot of energy into interacting with the audience.
When Rocket, the Einsteins' red rocket ship, launches into the air, the kids have to "pat, pat, pat" along to help him blast off. As the characters on stage break out into catchy tunes, kids get up from their seats to clap, dance and sing.
Like many of the kids who come to the show, Bacon, 24, has been a Disney fan for as long as she can remember. She aspired to be part of a Disney cast from the time she started performing at age 10.
While attending Whitworth, where she majored in theater and minored in dance and psychology, Bacon took a semester off to take part in the Disney College Program at Walt Disney World. During that time, she received college credit while helping operate the Mad Tea Party, Dumbo the Flying Elephant and other popular rides in Fantasyland.
She returned later that summer and got a job with Walt Disney World Entertainment Parades and Shows. In 2007 – just a year after graduating from Whitworth – Bacon auditioned and landed a part with "Playhouse Disney Live!"
The show made its debut in September 2007. Since then, Bacon and the 13 other performers have traveled to more than 70 U.S. cities and throughout South America.
According to a press release from producer Kenneth Feld, "Playhouse Disney" reached 1.26 million Disney Channel viewers in 2007 – an all-time high. The show is especially popular with children ages 2 to 5.
The stage version is an hour and 15 minutes long. For most preschoolers, it's usually their first theater experience, according to Bacon.
"It's also fun for the parents to see their kids so happy," she added.
Bacon, who grew up in Yakima, said she was able to "find her inner child" and relate to her 4-year-old character by watching the cartoon and spending hours observing children.
"I just love to express myself and bring joy to the audience," she said. "Disney makes kids really happy and it's fun to share that magic with kids."
Virginia de Leon is a Spokane-based freelance writer. Reach her at
Virginia_de_leon@yahoo.com
. You can also comment on this story as well as other stories pertaining to parenting and families by visiting The Spokesman-Review's parents' blog, "Are We There Yet?"
www.spokesman.com/blogs/
parents.
Local journalism is essential.
Give directly to The Spokesman-Review's Northwest Passages community forums series -- which helps to offset the costs of several reporter and editor positions at the newspaper -- by using the easy options below. Gifts processed in this system are not tax deductible, but are predominately used to help meet the local financial requirements needed to receive national matching-grant funds.
Subscribe to the Coronavirus newsletter
Get the day's latest Coronavirus news delivered to your inbox by subscribing to our newsletter.
---
Subscribe and log in to the Spokesman-Review to read and comment on this story