News > Washington Voices
Modelers construct world in miniature at club's new home
Thu., Feb. 12, 2009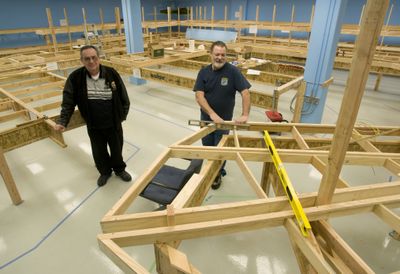 On a recent morning the pounding of hammers and whir of saws filled the air as members of the River City Modelers prepared for an open house. They were working on the railroad – and for some of them, it's in their blood.
Bob Deem, a member since 1997, lived on a farm in Eastern Montana, across the river from railroad tracks. The shrill of the whistle and the rattlety-clack of wheels on rails is as familiar to him as his own heartbeat. "My granddad was a depot agent," Deem said. When his father was in the service and stationed in Germany he sent Deem an electric train. "I was 9 or 10 at the time," he recalled. "That's when I truly got bit."
As he got older, working and raising a family took precedence, and his beloved trains were packed away. He read Model Railroader Magazine and dreamed of the day he'd once again have time to play. Twenty-four years ago, he brought his trains back out. "I built a complete passenger train made of brass," Deem said.
He joined the River City Modelers and found like-minded enthusiasts and a place to share his trains. For many years, the group met in the basement of Giorgio's Fitness in Spokane Valley. In May they began the painstaking process of disassembling their elaborate 1,600 square-foot railroad layout in preparation for the move to their new home at 1130 E. Sprague Ave. They finished the arduous task in November, and by Dec. 31 were hard at work constructing their new layout.
And what a layout it will be: two levels of tracks converging on a corner helix. Plans are in the works for 19 scale miles of signaled main track and branch lines totaling 3.2 scale miles. Sky blue paint warms the spacious area and murals of forests, farm land, meadows and mountains are taking shape along the walls. An observation area is under way.
River City Modelers member Del Skobalski said the "wow" factor will be a huge mountain near the front of the approximately 43-by-48-square-foot room. Skobalski has never forgotten riding the Great Northern Empire Builder when he was 6 years old. "I remember being up in the dome," he said.
While the work continues in the big room, club members have set up a temporary track downstairs. "We've got to have some place to play," Skobalski said. The layout provides an intriguing glimpse of things to come. A stream flows alongside the track, and a tiny fisherman holds up his prize. Miniature sheep graze nearby.
It's the fascination with detail that lures many train aficionados to the club. Upstairs, each station is carefully labeled, from Elsie to Almira to Limestone. Club members will construct towns and villages along the trains' routes.
Club President John Langlot is intimately familiar with train stops and stations.
"I was born and raised in Hillyard," he said. "The railroad has always been part of my life."
For 45 years Langlot worked for the Burlington Northern and Santa Fe Railway Co. He recalled the first model he built as "a boxcar beyond the capabilities of a 13-year-old."
But the challenge and the fascination stayed with him and he's delighted to help pass on his interest to a new generation. "We've got two 14-year-old members," he said. "And our oldest member is over 80."
River City Modelers will offer guests and prospective members a sneak peek at their new digs at an open house Saturday.
On Sunday, they'll host their annual Model Railroad Train Show and Swap Meet at Spokane Community College. Railroad art and memorabilia, operating layouts and engines are more will be available to buy, sell or swap. "It's our biggest fundraiser," Langlot said.
Skobalski summed up the attraction of model railroading. "I can never have a real train," he said looking out over the tracks. "But this gives me the feeling that I'm an engineer."
Local journalism is essential.
Give directly to The Spokesman-Review's Northwest Passages community forums series -- which helps to offset the costs of several reporter and editor positions at the newspaper -- by using the easy options below. Gifts processed in this system are not tax deductible, but are predominately used to help meet the local financial requirements needed to receive national matching-grant funds.
Subscribe to the Coronavirus newsletter
Get the day's latest Coronavirus news delivered to your inbox by subscribing to our newsletter.
---
Subscribe and log in to the Spokesman-Review to read and comment on this story