News > Nation/World
Bomb squads attack secured areas in Kabul
Thu., Feb. 12, 2009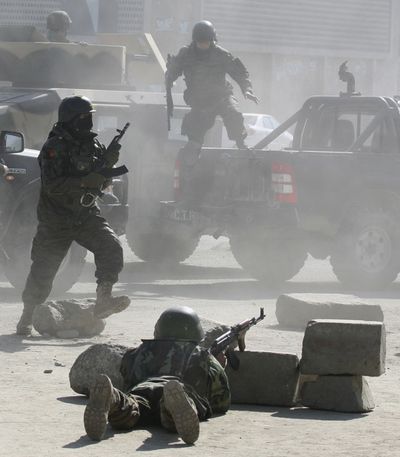 KABUL, Afghanistan – In a series of audacious strikes on the eve of the new U.S. special envoy's scheduled arrival in Afghanistan, Taliban gunmen and suicide bombers on Wednesday staged synchronized raids on three government buildings in the heart of Kabul, killing 20 people and injuring scores of others.
Prolonged bursts of gunfire rattled through city streets. Some terrified government workers jumped out second-story windows to escape. At the Justice Ministry, the minister was trapped for a time in his office as fighting raged in the corridors.
The attacks, which came days after the Afghan government said it had cracked a suicide-bombing ring active in the capital for nearly two years, underscored militants' continuing ability to penetrate even extremely heavy security surrounding official installations.
The Obama administration, with NATO allies, is struggling to put together a new strategy for Afghanistan, where Islamic insurgents are gaining ground and many Afghans are disillusioned by the pervasive insecurity that plagues their daily lives.
On Tuesday, the White House said it plans to complete an overhaul of policy on Afghanistan and Pakistan by April; American military commanders, meanwhile, have said they could send an additional 30,000 troops to the troubled country this year, nearly doubling the U.S. contingent.
Seven years after the U.S.-led invasion that toppled the Taliban, Kabul's inner districts are a tangle of blast walls and security checkpoints. But insurgents apparently managed to send a squad of at least eight assailants, clad in suicide vests and toting assault rifles, into some of the city's most secure areas to carry out Wednesday's attacks, officials acknowledged.
Some of the fighting took place a short distance from the presidential palace, where Richard Holbrooke, the new American special envoy to the region, is likely to visit. Holbrooke's schedule was not announced for security reasons, but Afghan officials had said he was expected in Kabul today.
In recent days, Holbrooke has been in Pakistan, where he traveled by helicopter Wednesday to the lawless tribal areas to see the positions of Pakistani troops battling the Taliban on their side of the Afghan-Pakistan border.
While Holbrooke was visiting Peshawar, the main city in Pakistan's troubled northwest, suspected insurgents killed a lawmaker from a secular party.
Local journalism is essential.
Give directly to The Spokesman-Review's Northwest Passages community forums series -- which helps to offset the costs of several reporter and editor positions at the newspaper -- by using the easy options below. Gifts processed in this system are not tax deductible, but are predominately used to help meet the local financial requirements needed to receive national matching-grant funds.
Subscribe to the Coronavirus newsletter
Get the day's latest Coronavirus news delivered to your inbox by subscribing to our newsletter.
---
Subscribe and log in to the Spokesman-Review to read and comment on this story