Sports
Johnson often takes back seat
Thu., Feb. 12, 2009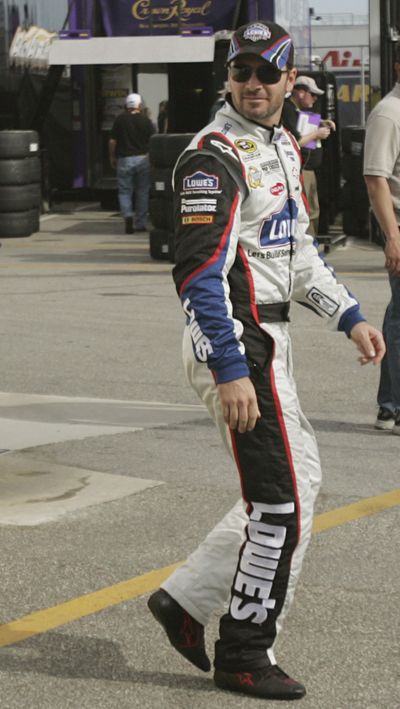 DAYTONA BEACH, Fla. – Jimmie Johnson came to Daytona International Speedway with a new beard and a cut finger, two topics that have so far overshadowed his status as NASCAR's three-time defending champion.
So just how overlooked are Johnson's on-track achievements? Carl Edwards was picked over Johnson to win this year's Sprint Cup championship.
"What about me?" Johnson wondered Wednesday, the first full day of preparations for the season-opening Daytona 500. "I just thought, 'Damn, if you won three championships in a row, you'd think you'd be a favorite.' "
Johnson earned a spot in NASCAR's record book last season, tying Cale Yarborough's 30-year-old mark as the only driver to win three straight Cup titles. He's won 40 races in his seven seasons and has crushed the competition through consistency: A bad day for Johnson is finishing outside the top 10, which he did only 14 times last season.
Yet there's a perception that Johnson's achievements are overlooked, even though no driver has figured out how to catch him.
"He's such a damn good guy, that I think he gets overlooked a lot," good friend and former teammate Casey Mears said. "Here's a guy that has done something nobody has done in a long time, in an era that isn't even close to how it was in the past. It was competitive, but not near as competitive as it is now. So to do what he's done in these days is ridiculous."
The end result is an unusual level of interest in both his close-cropped new beard and the left middle finger he sliced with a kitchen knife last month.
The beard isn't all that peculiar for Johnson, who has occasionally grown one during off-season vacations. But until this year, he's never dared report to work with anything but a clean-shaven face. He's spent years relying on his buttoned-up image to help him crash corporate cocktail parties in his constant quest for sponsorship. A beard, particularly one speckled with patches of gray, probably would have hampered his fundraising.
Johnson didn't feel like shaving after a lazy December, and debuted his new look at a commercial shoot last month. Team owner Rick Hendrick and primary sponsor Lowe's have yet to complain, so Johnson's razor remains tucked away in a drawer. Maybe those three championships have earned Johnson an occasional free pass.
But they've also earned him a glaring spotlight, evidenced by the attention paid to his sliced finger. He was injured while trying to cut a hole in his firesuit for ventilation during last month's Rolex 24 sports car race at Daytona, and he needed surgery to repair the tendon.
Still lacking full range of motion in his finger, he tried several different braces before opting to leave it unprotected in last week's exhibition Budweiser Shootout. Johnson was in contention for the victory before he was collected in a last-lap crash and finished 14th.
"It's getting better and better each day," he said. "It's still going to be a couple months before I can do everything I want to with the tendon and the damage I did to it, but inside the car, everything I do is going well."
That means Johnson could be a threat to win his second Daytona 500 on Sunday. He had the sixth-fastest car in time trials, and is a contender to win one of today's twin qualifying races that determines the starting order for the season-opening event.
Local journalism is essential.
Give directly to The Spokesman-Review's Northwest Passages community forums series -- which helps to offset the costs of several reporter and editor positions at the newspaper -- by using the easy options below. Gifts processed in this system are not tax deductible, but are predominately used to help meet the local financial requirements needed to receive national matching-grant funds.
Subscribe to the sports newsletter
Get the day's top sports headlines and breaking news delivered to your inbox by subscribing here.
---
Subscribe and log in to the Spokesman-Review to read and comment on this story