News > Features
Percussionist has the beat
Evelyn Glennie to perform with Symphony at Friday's concert
Thu., Feb. 12, 2009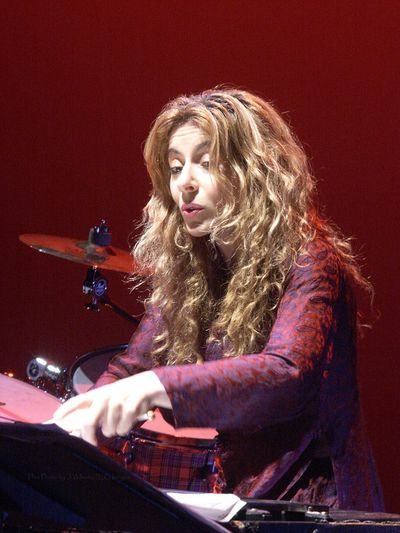 Friday the 13th is a lucky day for fans of percussion music in Spokane.
Evelyn Glennie, who stands at the top of the percussion world, will perform with the Spokane Symphony as part of the National Association for Music Education's Northwest Division biennial conference.
She will play Joseph Schwantner's Concerto for Percussion in a concert that also includes Anton von Webern's Langsamer Satz and Igor Stravinsky's "Firebird" Suite. Music Director Eckart Preu will conduct the orchestra.
Glennie, who in 2007 was made a Dame Commander of the Order of the British Empire, ranks as a phenomenon in many ways.
She is the only classical percussionist who has made a solo concert career of beating, crashing and banging objects. She has been awarded a long string of awards including a 1988 Grammy and 15 honorary doctorates (and counting).
And Glennie is profoundly deaf.
With about 95 percent of her midrange hearing gone, Glennie learned different ways music could be perceived. Most importantly, she feels vibrations through her skin.
She performs barefoot in order to feel the sounds of the orchestra in the soles of her feet, "but also on my face and arms, too," she says.
Glennie, born in 1965, was raised on a farm near Aberdeen, Scotland, where she took piano lessons and played the the harmonica and the clarinet.
Her increasing deafness was apparent by the time she was 8. But her school's percussion teacher, Ron Forbes, led her into the world of percussion music.
"Since Ron always had his students play solos, I assumed the world was full of percussion soloists," Glennie said when she last performed in Spokane in 2002.
She soon discovered that "classical percussion soloist" was a nonexistent profession. Despite the importance of percussion in orchestral music – especially 20th-century music since Stravinsky and Bartók – the solo percussion repertoire was tiny, and its concerto literature nearly nonexistent.
Since her London debut at age 21, Glennie has coaxed or commissioned more than 150 percussion works, including more than 50 concertos, from composers such as James MacMillian, Margaret Brouwer, Thea Musgrave and Schwantner.
Schwantner's Concerto for Percussion is, surprisingly, one of the few such works not written expressly for Glennie. It was composed for the 150th anniversary of the New York Philharmonic and premiered in 1995 with the Philharmonic's principal percussionist, Christopher Lamb, as soloist.
A year later Glennie made the first recording of the work with the National Symphony under Leonard Slatkin.
Schwantner's Concerto requires the soloist to work his or her way around more than 20 different percussion instruments, from the usual drums and marimba to Alpine sheep bells and the water gong.
Glennie, who owns around 1,800 percussion instruments, has released some 20 records, written an autobiography and collaborated on percussion instruction books, and composed music for films and television documentaries.
She was the subject of Thomas Riedelsheimer's documentary "Touch the Sound," which many critics refer to as the most beautiful film ever made about a living musician.
Glennie has collaborated with musicians ranging from the Icelandic singer Björk, banjo virtuoso Bela Fleck and jazz vocalist Bobby McFerrin, to classical greats like the conductor Sir Georg Solti, pianist Emanuel Ax and the Mormon Tabernacle Choir.
She also has been a successful lobbyist for music education funding. Along with flutist Sir James Galway (who will appear in Spokane next month), cellist Julian Lloyd Webber, and the late Michael Kamen, Glennie nudged the British government to support music education with a grant of more than $600 million.
As a part of her Spokane appearance, Glennie will present a session to the 1,600 students participating in honors ensembles at the conference.
Local journalism is essential.
Give directly to The Spokesman-Review's Northwest Passages community forums series -- which helps to offset the costs of several reporter and editor positions at the newspaper -- by using the easy options below. Gifts processed in this system are not tax deductible, but are predominately used to help meet the local financial requirements needed to receive national matching-grant funds.
Subscribe to the Coronavirus newsletter
Get the day's latest Coronavirus news delivered to your inbox by subscribing to our newsletter.
---