News > Idaho Voices
Despite puzzling seizures, Post Falls senior having career year
Thu., Feb. 12, 2009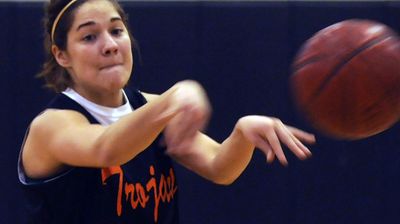 Life couldn't be much better on the basketball court for Post Falls High senior standout Jordan Schoening.
She's had a most valuable player-like final prep season and has signed to continue playing at Eastern Washington University.
Off the court, though, Schoening wants some answers.
Schoening, a 5-foot-7 guard, experienced another grand mal seizure a week ago last Saturday – the first in three months.
She sort of understands why the one in October occurred. Or at least she thinks she does. She wasn't taking her medication as faithfully as she should have and suspects that's why she had the seizure.
Since October, Schoening has taken two pills in the morning and two at night – just as the doctor ordered. But there she was after Post Falls' impressive 65-44 win over Lewiston to conclude regular-season play celebrating with her team at Denny's. The one thing about the seizures is she can sense when one is coming on. So she thought she might be able to avert it by going outside and getting a breath of fresh air.
She remembers coming out of the seizure in an ambulance outside the restaurant. She refused to be taken to the hospital.
The last one before October was at the NCAA women's basketball West Regional last March at the Spokane Arena.
"They're all the same. They just take a lot out of me," said Schoening, who seems to get just as fatigued having to talk about them. "Maybe it happened because it was such a busy week."
Post Falls' game against Lewiston was the third that week. And it was "Senior Night," something that always makes a final game at home emotional.
It was evident in Post Falls' 60-44 win over Lewiston in a Region I tournament opener last Friday that Schoening was slowed by the latest seizure.
"It's scaring and frustrating her," Post Falls coach Chris Johnson said. "The only solution right now is upping the dosage. The problem with that is it makes her more tired. Against Lewiston it looked like she was running in quick sand."
Schoening plans to go see her doctor again after the season concludes. In the meantime, the doctor increased her dosage by another pill twice a day.
"I want to find out if there's something I can do so I never have (a seizure) again," Schoening said.
She experienced the first one in seventh grade.
"My doctor has no idea why I have them," Schoening said. "I've had everything done – an MRI, a CT, an EEG, blood work … all that stuff."
She made a full disclosure to EWU during the recruiting process.
Schoening chose EWU over Big Sky Conference power Montana. Idaho State also recruited her.
So why would Schoening turn down a scholarship to Montana, arguably the best four-year women's program in the region?
She tried to explain why but had difficulty doing so. Going to Montana would have meant she could have played with Lake City's Katie Baker, who Schoening went with to visit Montana.
"A lot of people have asked me that question," said Schoening, who sports a 3.85 grade-point average. "And a lot of people told me not to sign early. But there was just something I loved about Eastern. I just loved it on my visit there and the players and the coaches were awesome."
Sometimes one has to go with what feels best in the gut, and EWU was the right fit to Schoening.
For the longest time Schoening was considering a career in criminal justice with an eye on being an FBI agent. EWU offers a criminal justice program.
But she changed her mind about a month ago. She now wants to be a teacher.
That's easy to explain she said. "I love basketball so much I never want it out of my life. So I decided I want to be a teacher and a coach," she said.
If Schoening approaches teaching and coaching like she does playing the game, there's no doubt she will be successful.
A gym rat, she's been a four-year starter at Post Falls. She helped lead the Trojans to an upset win over Coeur d'Alene last year in the 5A Region I championship game. Post Falls went on to capture third at state.
Many thought this season would be a rebuilding year. After all, the Trojans returned just two starters and graduated five key seniors. They didn't have a proven bench going into the season.
But the Trojans have surprised, finishing second in the Inland Empire League behind defending state champ Coeur d'Alene. They concluded the regular season with a 15-5 record.
She is averaging a team-leading 16.1 points per game – more than double last season – to go with two assists and two steals. She's also shooting a team-best 42 percent from 3-point range.
"She's had the kind of year I dreamed she'd have her senior year," Johnson said.
Her love for basketball began back in kindergarten when she played Park and Rec. It blossomed a couple years later when she started to play AAU. She credits two AAU coaches – Cal DeHaas, the freshman coach at Coeur d'Alene High School, and Leonard Woodard, who coached teams based out of Spokane – with helping her game develop.
Schoening's best friend is DeHaas' daughter Kelsi, who is a senior and plays at CHS.
And she's had more fun this season than last year.
"We have great team chemistry," she said. "Nobody thought we'd do this well with all the losses we had to graduation. Last year we had our issues, our ups and downs. This year is insane. We haven't had a fight all year."
"Once we got out there and started playing, we knew we could beat anyone," she said.
Until this year, she was known primarily for her hard-nosed defense. This year she knew she had to step up and be a leader offensively.
"I knew I had to score in double digits," Schoening said.
She is seemingly in perpetual motion on the court. Her role is so important to the team that it's been rare that she's come off the floor.
Johnson will miss Schoening.
"She's had a fantastic year," Johnson said. "She always had a great defensive game. The last two years her offensive game has just blossomed, too. She's the hardest working kid out there. She never takes a day off, never loafs. If we take a water break she's at the foul line working on her shot. She's always working."
Local journalism is essential.
Give directly to The Spokesman-Review's Northwest Passages community forums series -- which helps to offset the costs of several reporter and editor positions at the newspaper -- by using the easy options below. Gifts processed in this system are not tax deductible, but are predominately used to help meet the local financial requirements needed to receive national matching-grant funds.
Subscribe now to get breaking news alerts in your email inbox
Get breaking news delivered to your inbox as it happens.
---