News > Features
'Friday the 13th' all slash, no scare
Fri., Feb. 13, 2009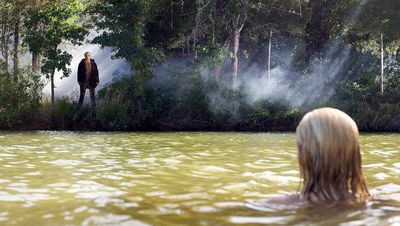 Let's celebrate "Friday the 13th" with a little red meat, shall we? And hard numbers.
There are 13 grisly deaths in this latest sequel: machete decapitations, an arrow through the head, somebody burned to death in a sleeping bag – you know the slasher drill.
Three nubile young things take their tops off. Two of them have hot sex with not-nearly-as-naked guys in the same forest by the same Crystal Lake where all those camp counselors were butchered back in the 1980 original.
This Michael Bay production is a graphic homage to the series that helped turn simple slasher pictures into a formula for success.
It may have Bay's big-budget sheen, and it's every bit as efficient and heartless as the original Fridays. But for all its attempted jolts, it's not all that scary. The genre is reduced to "Who gets it next and how?" and never for a second makes us care.
For the opening, we're treated to a blameless quintet of pot lovers murdered after they come to the ruined Camp Crystal Lake because there's weed growing there. "Six weeks later" we meet a new group of seven young people on a beer-and-booze blast at the rich boy's daddy's cabin.
A hunky biker (Jared Padalecki) is looking for his missing sister (she was in the first five). Jenna (Danielle Panabaker) wants to leave her sex, shots, skiing and bong-hitting friends to help him find her.
The difference between the worst slasher film ever and the best one is about as wide as a machete blade. They all turn bloody, horrific murders into comic sport, all feature faceless, soulless, masked (hockey, etc.) slashers, and all have plot holes so big you could drive a Zamboni through them.
"Friday the 13th" has no more room for "feeling" or "fearing" than "My Bloody Valentine."
At least last month's slasher re-boot had 3-D. "Friday" skimps on suspense and cuts straight to the beheadings.
For times and locations, see page 6.
Local journalism is essential.
Give directly to The Spokesman-Review's Northwest Passages community forums series -- which helps to offset the costs of several reporter and editor positions at the newspaper -- by using the easy options below. Gifts processed in this system are not tax deductible, but are predominately used to help meet the local financial requirements needed to receive national matching-grant funds.
Subscribe to the Coronavirus newsletter
Get the day's latest Coronavirus news delivered to your inbox by subscribing to our newsletter.
---
Subscribe and log in to the Spokesman-Review to read and comment on this story