News > Features
Muslim mosque invites dialogue
Spokane Islamic Center plans grand opening in spring
Sat., Feb. 14, 2009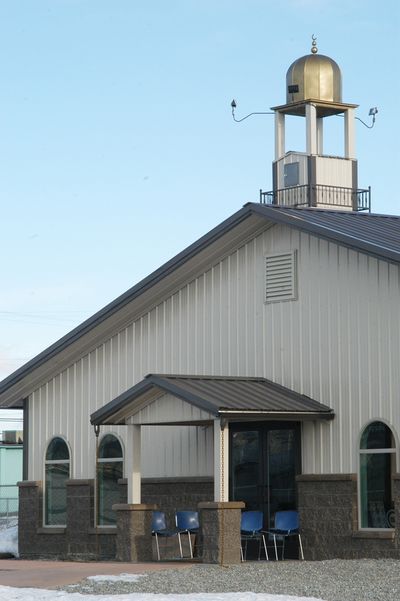 The Spokane Islamic Center's new mosque provides more space for its faith community, and to welcome people to learn about Islam as a faith that promotes peace, love and caring.
It particularly invites other "people of The Book" – Jews and Christians, with whom Muslims share common roots from Abraham.
The center's new Web site, www.spokaneislamiccenter.org, expresses its goal "to cherish the bonds of friendship and understanding between Muslims and non-Muslims in the community."
While media dwell on wars, conflicts and violence that divide faiths and forge enemy images, Mamdouh El Aarag and Nissar Shah hope Spokane's first mosque can be a center for dialogue and relationships that counter the common connection of the name of their faith with "terrorists."
While the mosque, at 6411 E. Second Ave., will host a grand opening in late spring when construction is completed, Muslims from throughout the region already gather there Fridays for noon prayers and evening meals.
Dialogue is integral to the life of the Spokane Islamic Center, because the more than 1,100 people in the region's Muslim community come from such diverse cultures: Kashmiri, Bosnian, Syrian, Palestinian, Indian, Pakistani, Arabic, Jordanian, Iraqi, Libyan, Senegalese and other African ethnicities.
Many, such as Mamdouh, who is president of the council, and Nissar, a past president, arrived as students and stayed.
The Spokane Islamic Center draws about 50 students from Gonzaga University and Eastern Washington University, where the number of Saudi Arabian and other Middle Eastern students is on the rise.
About 500 Muslims in the area have come to the mosque during two Muslim celebrations: Eid ul-Fiter after the month of Ramadan, and after the pilgrimage to Makkaha (Mecca) for Haj.
The 6,000-square-foot, metal-sided building has a cupola over the east end. Inside, the men's and women's sections each have 2,000 square feet and there is another 2,000-square-foot area for multipurpose uses. The Sunday school meets in the women's section.
Walls are a subdued beige. The floors in the men's and women's sections are carpeted with alternating stripes – narrow dark green and wider light green – designating rows for standing, kneeling and bowing in prayer.
A wall separates the men's and women's sections, so women watch the prayers projected on the wall facing east.
At the center's former location, a house at 505 W. Wedgewood Ave. that is now for sale, there was capacity for about 100 people.
"This is more centrally located and feels like a mosque," Mamdouh said. "Our move has drawn more people because some have seen it from the freeway."
Mosque leaders plan to host workshops for both Muslims and those of other faiths.
One of the first interfaith gatherings will be Feb. 22 at 2 p.m. for a meal and Christian-Muslim dialogue, co-sponsored by Bethany Presbyterian Church. The Presbytery of the Inland Northwest is hosting a listening team with a Muslim and a Christian from Pakistan to tell how they live together in Pakistan.
In addition to their invitation for people to come to the mosque to learn about Islam, Mamdouh and Nissar said they are available to visit churches and give educational programs.
The mosque, which was funded through donations – mostly from Spokane, some from Seattle – is volunteer-run. Volunteers shovel the parking lot (and, recently, the roof), do building maintenance, organize activities and lead the prayers.
Five members of the council, including Mamdouh and Nissar, take turns reading the Quran, leading prayers and delivering the messages.
Mamdouh said they research themes on the Internet, taking ideas from approved sermons.
"Our next goal is to bring a full-time leader, an imam, to conduct the services," he said.
Mamdouh came to the United States in 1982, and in 1986 moved to Spokane to study civil engineering at Gonzaga. He works as an environmental engineer in wastewater management with the Washington State Department of Health.
"I stayed, as many have, because I do not have a country to go back to," said Mamdouh, whose uncles and cousins are in Gaza. He and his wife are Palestinian.
Nissar, who came from Kashmir in 1970 to study engineering at GU, said the mosque "has been a dream for a long time, so we would have a place for Muslims to gather, but also for Muslims, Christians and Jews to come to learn that Islam is peaceful."
"We worship the same one God. We are a peaceful people, even though the world has its ups and downs," added Nissar, an engineer with the City of Spokane.
"It's a big responsibility. The Creator is one, so all people should be compassionate to each other," he said.
"In the Quran, we are told we are not created for nothing. Our job is to help all people. If a neighbor is suffering or struggling, no matter what his or her religion is, the Muslim neighbor is to make sure to take care of our neighbor."
Nissar said Islam's powerful influence means few Muslims are in jail. They are forbidden to drink alcohol, commit adultery or use drugs.
"Teaching right living comes from parents spending quality time with their children," he said.
"The key to keeping our children away from drugs, lying, cheating and dishonesty is to teach and practice our faith. We teach our children so they will not waste their lives but will grow up to help people."
Condensed and reprinted from the February issue of The Fig Tree, a monthly newspaper that covers faith in action in the Inland Northwest. For more information, call (509) 535-1813 or visit
www.thefigtree.org
.
Local journalism is essential.
Give directly to The Spokesman-Review's Northwest Passages community forums series -- which helps to offset the costs of several reporter and editor positions at the newspaper -- by using the easy options below. Gifts processed in this system are not tax deductible, but are predominately used to help meet the local financial requirements needed to receive national matching-grant funds.
Subscribe now to get breaking news alerts in your email inbox
Get breaking news delivered to your inbox as it happens.
---