News > Features
'Spectacular!' combines singing, dancing
Mon., Feb. 16, 2009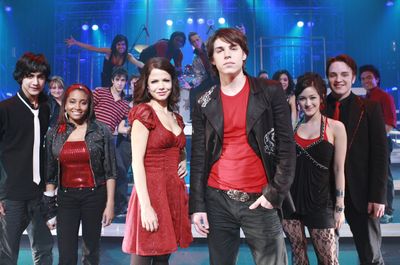 You mustn't let anyone trample on your dreams. You can learn a lot from people who are different from you.
Those are two of many lessons in store for tweeners in Nickelodeon's new musical film "Spectacular!," which premieres tonight at 8 (cable channel 40 in Spokane, 29 in Coeur d'Alene).
Singing and dancing to success – that formula has been part of movie storytelling since movies learned to talk. And it still is, as "High School Musical" proved three years ago on rival Disney Channel.
Besides a reaffirming exclamation point, "Spectacular!" arrives outfitted with adorable guys and gals who speak their minds in song and dance. Conflicts are resolved and obstacles surmounted. And at the end (spoiler alert), a chaste kiss is exchanged.
It's a delightful film, as even parents exposed to it may find they're forced to acknowledge.
"Spectacular!" orchestrates a culture clash that not only serves the tale but also accommodates two styles of musical performance: rock and "show choir" (helpfully defined in the film as competitive choral singing with elements of dance and theatrical costuming).
Nikko, a squeaky-clean teen rebel, is dead-set on stardom as a rock soloist – all the more so after his band fires him because he's so difficult to work with.
Meanwhile, fellow high schooler Courtney is the perky control-freak leader of a dozen-member show choir called Spectacular! And she's in trouble: Her male soloist has ditched the group, with a national competition coming up. She needs Nikko to step in.
But Nikko's not about to be part of any enterprise that calls for matching purple outfits. On the other hand, any record deal for him is looking pretty iffy.
There are many twists and turns on the way toward an inevitably (but cleverly) happy ending.
En route, the film has lots of music, including 10 original songs.
"Don't tell me what I gotta do, who I wanna be," sings Nikko in his big opening number. Another wholesome anthem to self-actualization declares "you gotta do what you wanna do, gotta say what you wanna say. Just do it your own way."
Nikko interrupts rehearsal in the high school auditorium for a sassy flirtation with Courtney, proposing, "Why don't you break my heart? Make it hurt so bad? Sounds good to me!"
And eventually Nikko and Courtney team up for a romantic ballad sung at the local bowling alley.
"Every kid thinks they're five minutes, and one lucky circumstance, from becoming famous," says Nick Vice President Marjorie Cohn. "We thought Nikko's journey, and his desire to be a rock star, was completely relatable."
Greg Germann ("Ally McBeal") has a key supporting role as the school's disaffected music teacher.
But mostly "Spectacular!" is populated with attractive fresh faces, including, as Courtney, Australian-born Tammin Sursok (previously seen on "The Young and the Restless").
Starring as Nikko (and a ready candidate for heartthrob status) is Nolan Gerard Funk.
Yes, he was born with the name "Funk."
"In school," says Funk, "I was teased and tormented for it. I would not have picked it."
A boyish-looking 22, the Vancouver, B.C., native was interested in acting from an early age, but athletics intervened. He became an accomplished diver and gymnast.
Then, after an injury, he decided to give acting another try. He accumulated credits that include the feature "X-Men 2," the miniseries "Taken" and the CW's "Smallville."
Playing Nikko is the best job yet, says Funk, but it wasn't without challenges – like dancing, which he had never done before. He had to learn fast.
"The 'Break My Heart' number in the auditorium was basically choreographed the day we shot it," he says. "We had 10 hours to shoot what is essentially a rock video."
It ends with an impressive gymnastics move: a twisting backflip off the stage.
"There were eight takes of me doing that," says Funk, "while I was thinking, 'OK, if I get hurt and can't finish this movie, the dream's over.' "
But he didn't, and it wasn't. Which is sort of what "Spectacular!" is all about.
Local journalism is essential.
Give directly to The Spokesman-Review's Northwest Passages community forums series -- which helps to offset the costs of several reporter and editor positions at the newspaper -- by using the easy options below. Gifts processed in this system are not tax deductible, but are predominately used to help meet the local financial requirements needed to receive national matching-grant funds.
Subscribe to the Coronavirus newsletter
Get the day's latest Coronavirus news delivered to your inbox by subscribing to our newsletter.
---
Subscribe and log in to the Spokesman-Review to read and comment on this story