News > Features
Battlin' Lohans make headlines
Wed., Feb. 18, 2009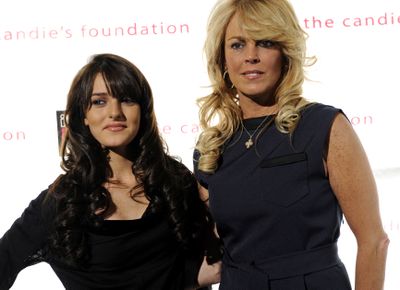 Every generation has its favorite celebrity-family horrorshow. Few, however, match that put on by the Lohans.
First there's first daughter Lindsay Lohan, she of the partying and on-set hissy fits and auto accidents. Then there's dad Michael Lohan, he of the stock-fraud prison sentences and abuse charges.
And, of course, there's stage-mother mom Dina Lohan, who owes $11,485.74 in property taxes on her Long Island home. The New York Post reports that the tax lien on the property will be auctioned off unless Lohan pays.
Lohan declined to confirm or deny the tax debt, but she said the story was "so ridiculous. It's just silly." She added that she suspects her ex-husband of tipping off the media.
"My ex is in arrears for child support, and I think it has come from that area," Lohan charged. "Somebody out there is trying to do something to sabotage me and my family."
As the Post reports, Lohan has been battling her ex over more visitation time with daughter Ali, 15, and son Dakota, 11.
But it just gets better. When Lohan was given a "top mom" award from a parenting group, Michael Lohan went ballistic.
"Are you kidding!" he told reporters. "Look at her off-screen antics, her lack of morals and how she conducts herself."
The road to love is rocky
Mexican-born actress Salma Hayek, 42, married her boyfriend, French magnate Francois-Henri Pinault, 46, on Valentine's Day in Paris. The two met in Italy in 2006, announced their engagement and had a baby, Valentina Paloma, in September 2007. Last year they broke off their engagement but made up a few months later.
What's a little bloodletting?
Jackie Chan's new movie is so violent that its director decided not to release it in mainland China. Hong Kong director Derek Yee says he considered toning down "Shinjuku Incident" so it could pass censorship in China, but he decided not to because he thought it would hurt the, uh, integrity of the movie.
The film, in which Chan plays a refugee who becomes a killer for the Japanese mob, has scenes that show characters getting a hand chopped off and pierced with knives.
Justin's 'N Sync with style
Justin Timberlake, he of the hats, three-piece suits, skinny ties and beards, was picked by GQ magazine to lead a list of the "10 Most Stylish Men in America." Other "Stylish Men" in the magazine's March issue include Kanye West, T.I., Jason Schwartzman, hotelier Andre Balazs and photographer Alexi Lubomirski.
Costner: dad … and granddad?
Kevin Costner, 54, saw his wife Christine Baumgartner, 34, give birth to Hayes Logan Costner on Thursday night in Los Angeles. The couple's first son, Cayden, is 21 months old. Costner also has three grown children from a previous marriage.
The birthday bunch
Actor George Kennedy is 84. Author Toni Morrison is 78. Movie director Milos Forman is 77. Artist Yoko Ono is 76. Singer Dennis DeYoung (Styx) is 62. Actress Cybill Shepherd is 59. Actor John Travolta is 55. Vanna White ("Wheel of Fortune") is 52. Actress Greta Scacchi is 49. Actor Matt Dillon is 45. Rapper Dr. Dre is 44. Actress Molly Ringwald is 41.
Local journalism is essential.
Give directly to The Spokesman-Review's Northwest Passages community forums series -- which helps to offset the costs of several reporter and editor positions at the newspaper -- by using the easy options below. Gifts processed in this system are not tax deductible, but are predominately used to help meet the local financial requirements needed to receive national matching-grant funds.
Subscribe to the Coronavirus newsletter
Get the day's latest Coronavirus news delivered to your inbox by subscribing to our newsletter.
---
Subscribe and log in to the Spokesman-Review to read and comment on this story