News > Features
Civic Theatre stages 'No, No, Nanette'
Production features familiar song, 'Tea for Two'
Thu., Feb. 19, 2009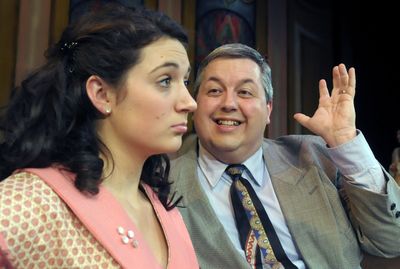 Entire generations have been brought up on musicals with serious, if not tragic, themes: "Les Miserables," "Sweeney Todd," and "Assassins."
Beginning Friday, the Spokane Civic Theatre will give us a glimpse of what previous generations of Americans expected out of their musicals: something unapologetically silly, happy, giddy, romantic and tuneful.
"No, No, Nanette," which debuted in 1925, is a classic boy-meets-girl musical from that innocent era. It also contains a vast army of tap-dancers.
The Spokane Civic Theatre's version is directed by Jean Hardie and features Kathie Doyle-Lipe as Sue Smith, Jessi Little as Nanette, Robert Wamsley as Jimmy Smith and Susan Hardie as Pauline.
About 20 other cast members will fill the stage during the show's big tap-dance production numbers.
"No, No, Nanette" is not just any routine 1920s musical; it is the classic 1920s musical. "The Oxford Companion to American Theatre" calls it "the biggest American musical comedy hit" of that entire decade.
Most '20s musicals – even the ones that were huge smashes at the time – have faded into obscurity. But "No, No, Nanette" has had a long and happy life, largely for one reason: the cheerful musical score, by Vincent Youmans, Otto Harbach and Irving Caesar.
This is the musical that gave birth to two standards of the American songbook, "I Want to Be Happy" and "Tea for Two." The latter reigned for a number of years as the most popular of all American pop standards.
"Tea for Two" went on to become an often-covered jazz melody, recorded by Tommy Dorsey and Art Tatum, to name just a couple. And – in the category of little-known musical facts – the hard-rock band The Offspring even recorded a sprightly version in 1997.
The song more commonly serves its original purpose, as a vehicle for 1920's-style tap or soft-shoe numbers.
The show originally hit Broadway in 1925, ran for almost a year and then went on a series of popular road tours. It stayed in the public consciousness through two movie versions, in 1930 and 1940 (both featuring Zasu Pitts as Pauline).
Then, in 1971, a revival starring Ruby Keeler, Bobby Van and Jack Gilford hit Broadway and became a surprise hit. The public was clearly craving old-fashioned entertainment: It ran two years, twice as long as the 1925 original, and picked up a few Tony Awards.
Clive Barnes of The New York Times called it a "delightful, carefree evening."
Last year, "No, No, Nanette" was revived in New York again, with a cast that featured Sandy Duncan and Rosie O'Donnell.
"Tap is the language of love in 'No, No, Nanette,' " wrote The New York Times' Ben Brantley of the 2008 production, "which says a lot about this show's willful innocence."
As for plot, suffice to say that boy meets girl, boy loses girl, boy wins girl back, all on the boardwalks of Atlantic City.
Innocence, catchy tunes and tap: Sound like your cup of tea (for two)?
Local journalism is essential.
Give directly to The Spokesman-Review's Northwest Passages community forums series -- which helps to offset the costs of several reporter and editor positions at the newspaper -- by using the easy options below. Gifts processed in this system are not tax deductible, but are predominately used to help meet the local financial requirements needed to receive national matching-grant funds.
Subscribe to the Coronavirus newsletter
Get the day's latest Coronavirus news delivered to your inbox by subscribing to our newsletter.
---