News > Features
Two Cow Garage sings from the heart
Fri., Feb. 20, 2009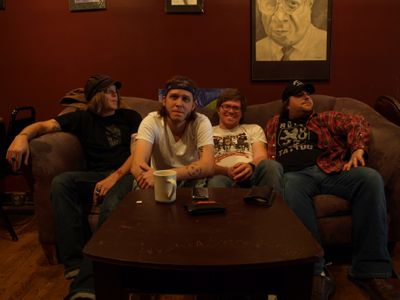 Two Cow Garage can be accused of fits of metaphor throughout its latest album.
But "Speaking in Cursive" is also blatantly honest.
Darker, and more autobiographical, co-vocalists Micah Schnabel and Shane Sweeney find themselves writing songs about songs and music about musicians, while still striking a chord at what it's like to be normal.
But in many cases, the music is analogous to fleeting youth.
"It's just us getting older and dealing with that in the subject matter," Schnabel said during a telephone interview before heading out on his latest five-week run. After releasing four albums while touring 200-plus days per year since 2001 (clocking more than 300,000 miles on their tour bus), the Columbus, Ohio, quintet headlines a KYRS benefit show hosted by Spotucky Radio Thursday at The Blvd.
Perhaps the most radio-ready track on the album, "Brass Ring" screams a classic-rock-country-punk protest against rock 'n' roll adolescence: "Don't ever be second stage / apathetic melancholy is all the rage / there was never any brass ring to be found."
"When you're young, your expectations of what rock is and what it's going to be … that all changes as you get older," Schnabel said. "We're coming to terms with where we are. It's about not needing that brass ring to make the realization that I am OK with being a mid-level rock band that's always going to be striving for more."
The album's opening micro-epic, "Your Humble Narrator" appears as if it can be taken literally or figuratively, its slow swell of piano and organ lacing the hook: "I can sing to you all your favorite songs / the one about a boy who broke your heart." The track also signals the arrival of Two Cow's newest member, organist/pianist Andy Schell.
"We've toured as a three-piece for so long. Having a full-time piano player really fills the spectrum so the guitar doesn't have to do all the work. Andy helps carry us through some of that," Schnabel said.
In a stripped-down robotic rock waltz that erupts at the chorus about the "Bastards and the Bridesmaids" that are dragging him down in the song of the same name, Schnabel questions wasted youth amid a torrent of buzzing guitars and the pounding rhythm section.
"Life bleeds into the art. That happens a lot in fiction," Schnabel said. "You reveal a lot more truth about yourself than you even knew was there."
Set up with all of those layered reflections on a shadowy past, Two Cow closes its fall 2008 release with "Swallowed by the Sea," – one of two tracks on the album sung by bassist Shane Sweeney – which, at face value, might hint at some grand metaphor, but is flatly about their misadventures on the road.
"Shane is being pretty straight-up on that one," Schnabel said. "We had some bad times in Jersey."
Local journalism is essential.
Give directly to The Spokesman-Review's Northwest Passages community forums series -- which helps to offset the costs of several reporter and editor positions at the newspaper -- by using the easy options below. Gifts processed in this system are not tax deductible, but are predominately used to help meet the local financial requirements needed to receive national matching-grant funds.
Subscribe to the Coronavirus newsletter
Get the day's latest Coronavirus news delivered to your inbox by subscribing to our newsletter.
---