News > Features
British comic shows softer side in 'Ghost'
Fri., Jan. 2, 2009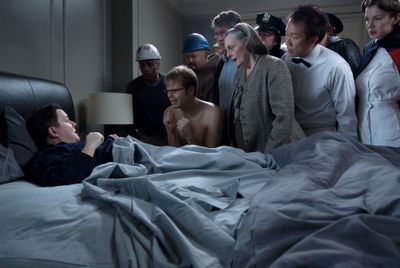 'The Duchess'
••1/2
Using ancient history to reflect more recent events, this costume drama centers on the story of the real-life Georgina Cavendish (Keira Knightley), ancestor of the late Diana Spencer – whom we know better as Princess Di.
Married young to an older nobleman (Ralph Fiennes), Georgina becomes the fashionable Duchess of Devonshire. Outwardly glamorous, her life is actually an empty round of parties, gambling and dealing with her husband's womanizing amid his repeated attempts to force her to bear an all-important male heir. And then there's her own doomed love affair with Charles Grey (Dominic Cooper).
Despite being stately made and well acted, the film is hardly more than a history-minded soap opera.
DVD, which is available on Blu-ray, includes various making-of featurettes. (1:49; rated PG-13 for brief nudity, sexual content, thematic material)
'Eagle Eye'
••
After teaming up to make "Disturbia," their entertaining 2007 reworking of "Rear Window," director D.J. Caruso and actor Shia LaBeouf return with this action thriller about a young guy (LaBeouf) and a single mother (Michelle Monaghan) who are targeted by an all-seeing presence (voice provided by the uncredited Julianne Moore). The two are told to follow instructions, which include breaking multiple laws, or suffer dire consequences.
Caruso's film is fast paced and, at times, fun.
But, ultimately, it depends on a story conceit that is straight out of Remedial Screenwriting 101. Open the pod bay door, HAL, and strive for some originality.
DVD includes making-of featurettes, conversation with filmmaker John Badham, deleted scenes, gag reel. (1:58; rated PG-13 for intense sequences of action, violence, language)
'Baghead'
•
Two couples living on the fringes of Hollywood go to an isolated lake cabin to hatch out a screenplay. Things get complicated when, during their drunken efforts, one character falls for another. Then somebody shows up wearing a bag over his/her head.
Is there a psycho in the woods? Is one of the four playing sick tricks? Do we care?
"Baghead" does its job well enough, despite the obvious 27-cent production values, amateur acting and "Blair Witch"-type hand-held camera work.
But, ultimately, it's a movie about people who aren't particularly interesting doing things that seem inherently juvenile. It's navel-gazing, Sundance style.
DVD includes commentary by co-directors Mark and Jay Duplass, making-of featurettes. (1:24; rated R for language, sexual content, nudity)
Also available: "42 Ways to Kill Hitler," "Beethoven's Big Break," "Surfer Dude," "Towelhead," "Woman on the Beach"
Local journalism is essential.
Give directly to The Spokesman-Review's Northwest Passages community forums series -- which helps to offset the costs of several reporter and editor positions at the newspaper -- by using the easy options below. Gifts processed in this system are not tax deductible, but are predominately used to help meet the local financial requirements needed to receive national matching-grant funds.
Subscribe now to get breaking news alerts in your email inbox
Get breaking news delivered to your inbox as it happens.
---