News > Business
Chrysler sales drop 53 percent
Tue., Jan. 6, 2009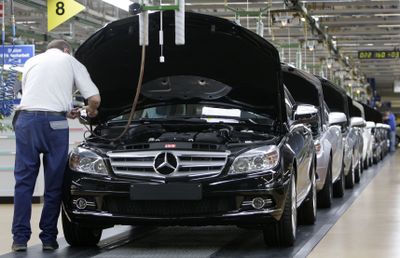 DETROIT – Chrysler LLC's December U.S. sales plunged by more than half and it sold 30 percent fewer vehicles in 2008, dwarfing the steep declines at the other major automakers.
Chrysler said Monday its December sales dropped 53 percent because of the recession and fewer fleet sales, while Toyota Motor Corp. reported a 37 percent slide and Honda Motor Co. said its sales tumbled 35 percent.
Ford Motor Co.'s U.S. sales fell 32 percent in December. General Motors Corp. and Nissan Motor Co. both posted 31 percent declines.
Ford's sales for 2008 fell 21 percent from a year earlier, keeping the Dearborn automaker in third place in the U.S. auto sales race, falling behind Toyota for the second straight year.
Toyota's 2008 sales fell 16 percent to 2.22 million, compared with Ford's 1.98 million. Detroit-based GM's 2008 sales totaled 2.95 million, down 23 percent from the year before. Honda's 2008 sales fell 8 percent.
The auto Web site Edmunds.com predicted sales for the full year will total just over 13 million, down 18 percent from 2007 and the lowest level since 1992. Final industrywide results were expected later Monday.
Subaru of America Inc. said its U.S. sales crept higher in 2008, making the Japanese company likely to be the only major automaker with a yearly sales increase. Subaru's U.S. sales rose by 0.3 percent to 187,699 vehicles from 187,208 in 2007, as consumers snapped up its top-selling Forester and Impreza models.
Chrysler's December sales totaled 89,813 vehicles, compared with 191,423 in the year-ago month. Despite the plunge, the recent month's sales represented a 5 percent increase over November levels. the Auburn Hills, Mich., carmaker said the December drop included a 63 percent decrease in fleet sales.
Ford said it sold 138,458 light vehicles in December, down from 204,787 in the same month in 2007. The automaker doesn't see much hope for improvement in early 2009, but predicted a small uptick later in the year.
"We expect the first few months of 2009 to feel much like last three months of 2008," Emily Kolinski Morris, Ford's senior economist, said during a conference call with reporters and industry analysts.
GM sold 220,030 light vehicles in December compared with 319,837 a year earlier. The recent month's results were boosted by heavy sales incentives, including financing offers announced near the end of the month after the Treasury Department said it would give $5 billion in federal aid to GM's ailing financing arm, GMAC LLC.
The sales slump continues to mean good deals for consumers. Aaron Bragman, automotive marketing research analyst for IHS Global Insight in Troy, Mich., said large incentives such as zero-percent financing and rebates will continue well into 2009 as automakers try everything they can to boost sales.
Full-size truck incentives ran from $7,000 to $8,000 in December, and Bragman expects that to continue all year as the economy fails to improve.
One automaker, Hyundai Motor America, is trying to woo skittish buyers by promising to let them return cars free for up to a year if they lose their jobs and can't make the payments.
Local journalism is essential.
Give directly to The Spokesman-Review's Northwest Passages community forums series -- which helps to offset the costs of several reporter and editor positions at the newspaper -- by using the easy options below. Gifts processed in this system are not tax deductible, but are predominately used to help meet the local financial requirements needed to receive national matching-grant funds.
Subscribe to the Coronavirus newsletter
Get the day's latest Coronavirus news delivered to your inbox by subscribing to our newsletter.
---
Subscribe and log in to the Spokesman-Review to read and comment on this story