News > Features
Family doctors vanishing
Primary-care physicians are opting out, survey says
Tue., Jan. 6, 2009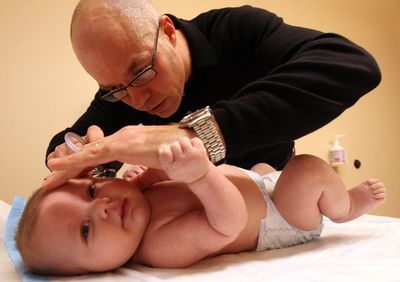 BOISE – Many classmates of Dr. Chip Roser ended their medical training ready to practice a specialty. They morphed into neurologists, cardiologists, pathologists, dermatologists or other "gists."
Despite advice to the contrary, Roser chose the path of family medicine, with potentially lower pay and longer hours. And he doesn't regret it.
But in a recent national survey, almost half of family practice doctors said they would get out if they could.
That is potentially devastating news for Idaho, which already has fewer doctors per capita than any other state.
For patients, fewer primary-care doctors like Roser can mean waiting longer to get in to see internists or family doctors, or even trouble finding a doctor who will see them at all.
And the problem of finding available doctors is not confined to rural Idaho.
"The other day, I saw a patient who told me she called around 20 physicians before she found someone who was willing to take a new patient," said Roser, 45, who practices in Boise.
"And it is going to get worse," he added.
Others agreed.
"We've been talking about (doctor shortages) for the past 20 years, and it has reached a real crisis point now," said Dr. Michael Patmas, executive director of Saint Alphonsus Medical Group.
The new study, commissioned by the Physicians' Foundation, says nearly half of 150,000 primary care doctors want to quit or cut back within the next three years. Those doctors include pediatricians, family doctors and internal medicine doctors.
Piles of paperwork, increasingly complex health insurance rules and comparatively low incomes are the main reasons doctors want to move on.
Some physicians who throw in the towel return to college to earn master's degrees in business or related fields.
"The sad truth is that most of those nonclinical positions pay more than primary care," Patmas said.
Many doctors will talk about practice woes, but the ones who have left the business are hard to track, and doctors planning to leave walk a fine line.
"Those who are contemplating leaving practice might find it difficult to be specific about plans if they have obligations with their patients, practice partners or their employer," said Susie Pouliot, chief executive officer for the Idaho Medical Association.
The association knows paperwork is bad for doctors' mental health. It keeps online "hassle factor" forms for doctors to alert one another of problems with a particular insurer. (That information is not available to the public.)
Roser recently moved from rural Idaho into Boise for family reasons. He knows about the downside of being a family doctor, but for him, the good outweighs the bad.
"This was the kind of practice that appealed to me," he said.
In rural Oregon and Idaho, Roser delivered babies and treated everyone and everything, at all hours. He'd been in Nyssa, Ore., and nearby Homedale under a federal program that paid his medical school bills in return for working in tiny towns where doctors are scarce.
With a move into a Saint Al's-affiliated practice, he has working hours that are saner. But he's still in a small minority.
In recent years, only about 200 among the thousands of senior U.S. medical school students each year have chosen primary care as their specialty.
A big reason is debt. At the University of Washington medical school, which has a special program to take in some Idaho students, 87 percent of graduates are in debt.
The median debt was $105,202 in 2006, according to a study published by the university.
Being a specialist helps pay off that debt the fastest. A new primary care doctor initially earns about $130,000 to $150,000 a year, compared with $250,000 to $500,000 a year for newly minted specialists, Patmas said.
Roser finished his residency in 1996 and has several years of practice ahead of him.
Idaho needs more like him. As a group, the state's primary care physicians rank among the nation's oldest. Patmas is in his 50s.
There has long been a residency program in family practice intended to help lure doctors to Idaho, especially to rural Idaho, but a large gap persists.
"We need 80 internists just in the Treasure Valley alone to have the proper amount," Patmas said.
Officials at St. Luke's Boise and Meridian hospitals have their version of the same story.
Within 10 years, the Valley will need nearly 100 new primary care doctors, according to Gary Fletcher, CEO of St. Luke's Boise and Meridian hospitals.
The docs are needed not only to keep up with overall growth, but to treat the swelling ranks of senior citizens. Thanks in large part to medical innovations, elders nationwide are living longer.
They also are putting a strain on primary care doctors, who increasingly are being asked to keep track of all the medical care their patients get.
"This is a nationwide problem," Patmas said. "It is beginning to have a real health impact."
Local journalism is essential.
Give directly to The Spokesman-Review's Northwest Passages community forums series -- which helps to offset the costs of several reporter and editor positions at the newspaper -- by using the easy options below. Gifts processed in this system are not tax deductible, but are predominately used to help meet the local financial requirements needed to receive national matching-grant funds.
Subscribe now to get breaking news alerts in your email inbox
Get breaking news delivered to your inbox as it happens.
---