News > Features
Battling the beast within
Thu., Jan. 8, 2009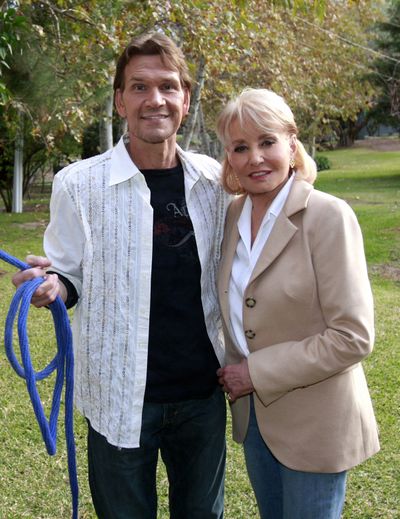 Patrick Swayze says his yearlong battle with pancreatic cancer put him "through hell" while he pushed ahead on his new TV series.
"I've never been one to run from a challenge," Swayze told ABC's Barbara Walters in a special that aired Wednesday night.
But the 56-year-old actor owned up to his fear: "Yeah, I'm scared. Yeah, I'm angry. Yeah, I'm (asking), 'Why me?' "
Swayze's new A&E police drama, "The Beast" – which premieres tonight at 10 – meant grueling 12-hour workdays, with chemotherapy sessions on the weekends.
He rejected painkilling drugs that would have taken the edge off his performance. In five months, he missed just a day and a half at work.
"You can bet that I'm going through hell," he said. "And I've only seen the beginning of it."
Most patients with advanced-stage pancreatic cancer face grim odds, and Swayze acknowledges that time may be running out.
"I'd say five years is pretty wishful thinking. Two years seems likely if you're going to believe statistics," he said.
"I want to last until they find a cure, which means I'd better get a fire under it."
The king of properties
It may not be Neverland, but it'll have to do.
Michael Jackson has leased a Bel Air mansion outside Los Angeles for $100,000 a month. His spokesman says the pop icon wanted to be closer to "where all the action is."
The French chateau has seven bedrooms, 13 bathrooms, 12 fireplaces and a theater.
Bitter pill to swallow
Lisa Marie Presley, the former Mrs. Michael Jackson, is expressing her condolences over the death of John Travolta's son – and defending Scientology, the religion that they share.
"(F)or the most part, people and the media have been very sympathetic and respectful, but there are those certain ones that want to use this horrible tragedy as an opportunity to once again, blame and-or attack Scientology," Presley wrote on her MySpace blog.
Elvis' daughter also said Scientologists believe in medical care, and if "a medication will make it better then they take it."
Another her for Bennifer
It's a girl – again – for Jennifer Garner and Ben Affleck.
The former "Daredevil" co-stars, both 36, were married in June 2005. Garner gave birth to daughter Violet that December.
A lower class of lowlifes?
Hustler magazine publisher Larry Flynt is suing two of his nephews for selling their own line of adult movies under the same family name, calling them "inferior products."
"To come into the adult entertainment business and use my name not only confuses people who buy my products, but if they're not maintaining a certain quality, it could also hurt my name," Flynt says.
The birthday bunch
Actor-comedian Larry Storch ("F Troop") is 86. Comedian Soupy Sales is 83. "Sunday Morning" host Charles Osgood is 76. Singer Shirley Bassey is 72. Game-show host Bob Eubanks ("The Newlywed Game") is 71. Singer David Bowie is 62. Actress Michelle Forbes is 44. Singer R. Kelly is 42. Singer Sean Paul is 36. Singer Jenny Lewis (Rilo Kiley) is 33. Actress Gaby Hoffman ("Field of Dreams") is 27.
Local journalism is essential.
Give directly to The Spokesman-Review's Northwest Passages community forums series -- which helps to offset the costs of several reporter and editor positions at the newspaper -- by using the easy options below. Gifts processed in this system are not tax deductible, but are predominately used to help meet the local financial requirements needed to receive national matching-grant funds.
Subscribe to the Coronavirus newsletter
Get the day's latest Coronavirus news delivered to your inbox by subscribing to our newsletter.
---
Subscribe and log in to the Spokesman-Review to read and comment on this story