Sports
G-Prep's Fischer improved quickly
Thu., Jan. 8, 2009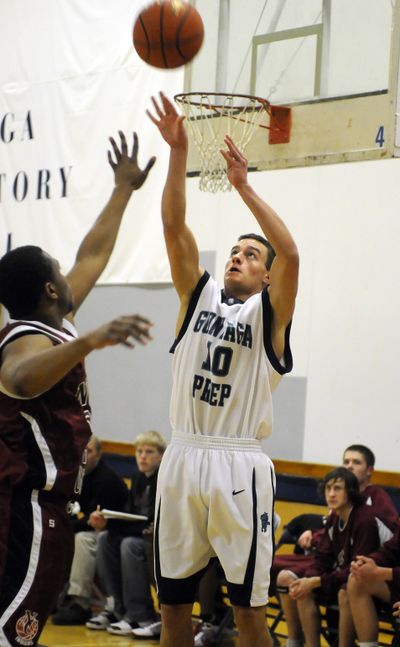 It is interesting to note that Sean Fischer – yes, the Gonzaga Prep 6-foot-1 guard who last week hung 31 points on defending State 4A champion Ferris – did not pick up a basketball for organized play until seventh grade.
Nearly seven years prior were spent with his family in Riyadh, the capital of Saudi Arabia, where his father, Jim, practiced medicine and Sean was a promising Little League baseball catcher.
But when his dad moved the family to Spokane to be a pediatric surgeon at Sacred Heart Hospital and Sean was introduced to basketball, he became consumed, in part by a desire to disprove naysayers.
"Everyone told me I would never be a good player," he said. "They were saying I couldn't do this and that. It motivated me."
So motivated, that one time he returned from a school dance with his girlfriend at midnight and promptly departed for Oz Fitness and worked out until 2:30 a.m., his father said.
"That's not unusual for him," Jim said. "He's a gym rat, no question about it."
A player who barely made varsity at Sacajawea Middle School in seventh grade is today – through six years filled with hours of daily practice – one of the leading scorers in the Greater Spokane League and with it becoming an increasingly complete player.
Dr. Fischer was practicing in California in the mid-1990s when the family decided to move to Riyadh. He became chairman of the department of pediatric surgery at the Saudi-American hospital there.
"There was a tremendous expatriate Western community there, everything from the medical profession and teachers to the oil patch," he said. "Almost every Western company had a big presence. We had contracts with most to provide medical care to the families there."
He said it turned to be a wonderful experience, and the family grew together during the years there. Coming before Middle East unrest, they traveled to Europe, Africa, China and Dubai.
With a baseball background, Jim became Middle East commissioner of Little League. Both his sons, James and Sean, were all-star catchers.
"Sean was a great soccer player and a very good baseball player with a rifle arm," Jim said. "I thought his future would be in baseball."
But upon moving to Spokane in 2002, a stop between his wife's hometown of Seattle and his of Shelby, Mont., Sean's future changed.
"During recess one day everyone was playing basketball and I didn't know how to," Sean said. "I started practicing every day to be the best I could be. I didn't like baseball any more."
He said he began playing seven to eight hours each day at a next door neighbor's, but mainly at the fitness facility near his South Hill home. Among his mentors were former Ferris and University of Denver standout Erik Benzel and ex-Gonzaga University walk-on and graduate assistant coach Brian Michaelson.
"They had faith in me and helped me a lot," he said.
He said he originally expected to attend Ferris or Lewis and Clark, but circumstances led him G-Prep.
"You don't know Ferris is going to be a state champion when you're in the eighth grade," he joked.
The Bullpups got a short and skinny shooter with a love of basketball. Activities coordinator and then-freshman coach Paul Manfred said he swears Fischer started every game off 3-0 with a 3-pointer following the jump ball.
Varsity coach Mike Haugen moved him up to varsity as a sophomore to prepare him as a replacement when the senior-dominated roster graduated. He was a great shooter but needed to work on his strength and defense.
"We brought him up knowing he wouldn't have a lot of playing time, but to get better and know what a varsity intensity practice was," Haugen said. "The old adage is you can teach anybody about defense, but special shooters don't come along every day."
His defense improved and G-Prep last year profited when he scored in double figures in 18 of 21 games, averaging nearly 14 points per game. This year he's scoring at a 15.8 clip for the unbeaten Bullpups.
Shooting is his forte, but when he was told he wasn't strong enough, he put on weight and has dedicated time to the weight room.
For those who teased him about not being able to jump, he answered by working on his vertical leaping ability and said that this year he can dunk two-handed.
Basketball is his obsession and colleges are interested.
"If you call me at home I'm probably not there," Fischer said. "I like watching (basketball) and enjoy doing it. I'm never bored."
Local journalism is essential.
Give directly to The Spokesman-Review's Northwest Passages community forums series -- which helps to offset the costs of several reporter and editor positions at the newspaper -- by using the easy options below. Gifts processed in this system are not tax deductible, but are predominately used to help meet the local financial requirements needed to receive national matching-grant funds.
Subscribe to the sports newsletter
Get the day's top sports headlines and breaking news delivered to your inbox by subscribing here.
---
Subscribe and log in to the Spokesman-Review to read and comment on this story