News > Nation/World
Performance officer named as nation faces record deficit
Thu., Jan. 8, 2009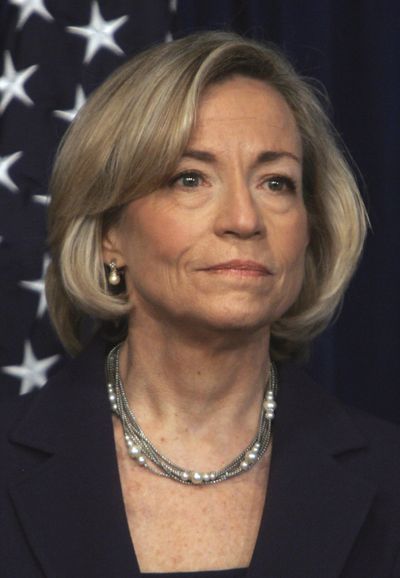 WASHINGTON – Pointing with concern to "red ink as far as the eye can see," President-elect Barack Obama pledged Wednesday to tackle out-of-control Social Security and Medicare spending and named a special watchdog to clamp down on other federal programs – even as he campaigned anew to spend the largest pile of taxpayer money in history to revive the sinking economy.
The steepness of the fiscal mountain he'll face beginning Jan. 20 was underscored by stunning new figures: an estimate that the federal budget deficit will reach $1.2 trillion this year, by far the biggest ever, even without the new stimulus spending.
Last year's U.S. deficit set its own record, but that $455 billion will be dwarfed by this year's. The new estimate, by the nonpartisan Congressional Budget Office, represents more than 8 percent of the entire national economy.
Still, Obama said "an economic situation that is dire" requires immediate and bold action with unprecedented tax cuts and federal programs. Obama gave his first ballpark estimate of the total amount of the stimulus package expected to emerge from negotiations between his team and Capitol Hill, saying it is likely to hover around $775 billion over two years. That's about $400 billion less than outside economists have said might be needed to jolt the economy but at the top of the range that Obama aides and congressional leaders have discussed publicly.
House Speaker Nancy Pelosi also pressed for passage of a recovery bill, though the mid-February timeline she offered represented another slip in the date by which the package would be ready for Obama's signature. Initially, the goal was to have it finished by the time he takes office.
On Wednesday, he made good on a campaign promise and introduced his choice for a new White House post he is creating: chief performance officer. Nancy Killefer, a professional efficiency expert, is charged with scouring the federal budget to eliminate programs that don't work and improve those that do. Obama called her appointment "among the most important that I will make."
"We committed to changing the way our government in Washington does business so that we're no longer squandering billions of tax dollars on programs that have outlived their usefulness or exist solely because of the power of a lobbyist or an interest group," Obama said.
Killefer, the director of a management consulting firm and a former assistant treasury secretary will be Obama's hatchet woman, with power to recommend directly to him the slashing of programs and projects government-wide. She'll help agencies set performance standards and hold managers accountable.
But she also will run up against a long history of other chief executives' similar promises under different titles that have fallen short.
Local journalism is essential.
Give directly to The Spokesman-Review's Northwest Passages community forums series -- which helps to offset the costs of several reporter and editor positions at the newspaper -- by using the easy options below. Gifts processed in this system are not tax deductible, but are predominately used to help meet the local financial requirements needed to receive national matching-grant funds.
Subscribe to the Coronavirus newsletter
Get the day's latest Coronavirus news delivered to your inbox by subscribing to our newsletter.
---
Subscribe and log in to the Spokesman-Review to read and comment on this story