Sports
Huge crowd attends service for Twins' Pohlad
Fri., Jan. 9, 2009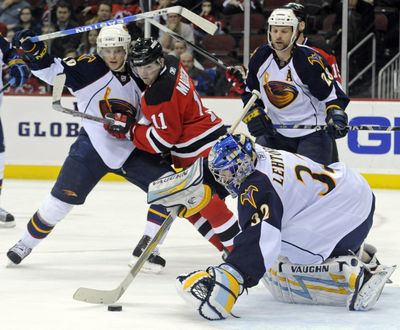 Carl Pohlad, a 1939 graduate of Gonzaga University, rose to the pinnacle of the business world, earning billions and gaining a measure of fame as owner of the Minnesota Twins. His son recalled at Pohlad's funeral Thursday in Minneapolis that his father cared little about the trappings of wealth.
Instead, Bob Pohlad recalled, his father was driven by devotion to his family, a love for the competitiveness of the business world and an appreciation for the value of hard work he learned growing up poor in Iowa.
Upward of 1,000 people attended the afternoon service at The Basilica of St. Mary in downtown Minneapolis.
•Brewers land Hoffman: Career saves leader Trevor Hoffman agreed to a one-year contract worth $6 million with the Milwaukee Brewers. Hoffman can make an additional $1.5 million in performance bonuses, based on games finished.
•Bradley joins Cubs: Chicago gave Milton Bradley a $30 million, three-year contract to be their right fielder and a run producer in the middle of the lineup.
NFL
Favre takes high road
Brett Favre, disappointed by comments made by New York Jets teammate Thomas Jones, said he wasn't going to respond.
Favre voiced his opinion on Jones, the Jets' running back who recently criticized the NFL's three-time MVP. Jones, in an interview in New York, said he felt Favre should have been replaced in a season-ending loss to Miami after he threw three interceptions.
"As for as Thomas, I have not seen the comments," Favre said. "To be honest, I am not worried about the comments, either. Was Thomas backed into a corner or in a bad mood when he said those things? I don't know, but ripping Thomas is not my nature."
•Giants regain health: The New York Giants had everyone on the roster practice for this weekend's NFC semifinal against the Philadelphia Eagles, the first time in more than three months no one has been sidelined by an injury.
•Boldin takes it slowly: Anquan Boldin said he won't give his injured hamstring a serious test until just before kickoff of the Arizona Cardinals' divisional playoff game at Carolina on Saturday night.
College Football
TCU retains Patterson
TCU coach Gary Patterson has agreed to a new contract that runs through the 2014 season.
The deal announced in Fort Worth, Texas, came a few weeks after strong speculation that Kansas State was interested in hiring Patterson to lead his alma mater.
•Hill enters NFL draft: Wisconsin junior running back P.J. Hill will enter the NFL draft, ending his college career third on the Badgers' all-time rushing list with 3,996 yards.
NBA
Mavs hold off Knicks
Josh Howard scored 19 points, Jason Kidd added 16 and the Mavericks overcame a subpar game from Dirk Nowitzki to beat the New York Knicks 99-94 at Dallas.
The Mavericks have beaten the Knicks nine straight times in Dallas.
•Spurs handle Clippers: Tony Parker scored 19 points and the Spurs beat the Los Angeles Clippers 106-84 at San Antonio. The Spurs won for their ninth time in 10 games despite getting only eight points from Tim Duncan.
NHL
Wings clip Dallas
Marian Hossa, Dan Cleary, Pavel Datsyuk and Henrik Zetterberg each had a goal and an assist and Chris Osgood made 21 saves in the Red Wings' 6-1 victory over the Dallas Stars at Detroit.
•Flyers beat Backstrom: Mike Knuble, Scott Hartnell and Scottie Upshall scored goals and the Flyers returned home from two weeks on the road to beat the Minnesota Wild 3-1 at Philadelphia.
Hartnell's tying goal in the second period ended Wild goalie Niklas Backstrom's bid for three straight shutouts.
•Reigning MVP invited: Less than a week after Washington Capitals coach Bruce Boudreau called Ovechkin's omission from the Eastern Conference's starting lineup "dumb," the reigning NHL MVP was among 15 players picked to fill out the roster for the All-Star game on Jan. 25 in Montreal.
College Basketball
Brown perfect for Xavier
Derrick Brown didn't miss a shot while scoring 20 points and C.J. Anderson added 13 as No. 16 Xavier beat Saint Louis 70-44 at Cincinnati in the Atlantic 10 opener for both teams.
Brown was 6 for 6 from the field, including three 3-pointers, and made all five of his free throws.
•Butler wins fifth straight: Matt Howard scored 14 points and Gordon Hayward had 12 points and 11 rebounds to lead No. 21 Butler over Wright State 64-48 at Indianapolis for its fifth straight victory.
•Tar Heels survive Clemson: Rashanda McCants scored 17 points and No. 2 North Carolina rallied for an 83-74 women's victory over Clemson at Clemson, S.C., to improve to 15-0.
The victory was North Carolina's 13th straight over Clemson.
•Summitt gets victory No. 995: Shekinna Stricklen scored 18 points, including two late free throws, to lead No. 7 Tennessee over Kentucky 69-64 in women's play at Knoxville, Tenn., in coach Pat Summitt's 995th career victory.
Miscellany
Ogilvy opens with 67
Geoff Ogilvy opened the PGA Tour season by saving par on the last hole – the only time he got in trouble all day – for a 6-under-par 67 that gave him a one-shot lead in the Mercedes-Benz Golf Championship at Kapalua, Hawaii.
•Hitmen get richer: The Calgary Hitmen made a big trade, acquiring center Joel Broda from the Moose Jaw Warriors. Broda, 19, leads the Canadian Hockey League with 36 goals in 39 games. He joins a Calgary team that has a Western Hockey League-best 187 goals.
•Arkansas vacates track titles: Arkansas is vacating two national championships in track and field after the NCAA clarified how many points the Razorbacks needed to forfeit from the 2004 and 2005 men's outdoor meets for violations involving sprint star Tyson Gay.
•Merger saves Petty team: Richard Petty's famed No. 43 Dodge was rescued from near ruin when Gillett Evernham Motorsports agreed to merge with Petty's slumping organization to create a new team.
Local journalism is essential.
Give directly to The Spokesman-Review's Northwest Passages community forums series -- which helps to offset the costs of several reporter and editor positions at the newspaper -- by using the easy options below. Gifts processed in this system are not tax deductible, but are predominately used to help meet the local financial requirements needed to receive national matching-grant funds.
Subscribe to the sports newsletter
Get the day's top sports headlines and breaking news delivered to your inbox by subscribing here.
---
Subscribe and log in to the Spokesman-Review to read and comment on this story