Sports
Offense gets hype; defense gets win
Fri., Jan. 9, 2009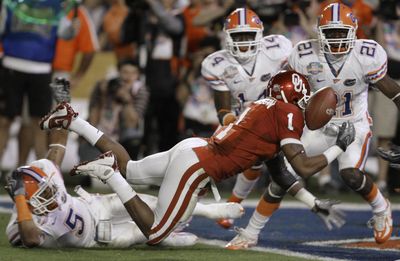 MIAMI GARDENS, Fla. — Everyone knew what was coming, from John Heisman on down. The quarterback marquee in South Florida for the BCS Championship was bright enough to scare the pelicans in the Everglades.
Sam Bradford versus Tim Tebow. Past two winners of the You-know-who Trophy.
For a month, we hyped their offenses.
Honored their feats.
Swooned over their statistics. What did you think, first team to 50 points wins?
Then they played the game. This wasn't 2008 anymore. Scoring wasn't that easy.
Two teams that came in averaging 60 points together in the first half were tied 7-7 at halftime.
Two teams that had combined for a glittering 176 touchdowns fought a gritty 24-14 showdown that needed Florida to block a field goal and to make one to help decide.
The Florida Gators are national champions today not because Tebow was unstoppable, but because their defense was remarkable.
Memo to John Heisman: Even though only guys who throw the ball usually get your trophy lately, the sport hasn't changed that much from your day, has it?
You pass for show, but defend for dough.
We were here to see Tebow flawlessly operate the Gator attack. He threw only two interceptions in 13 games during the season.
He had that many in less than 23 minutes Thursday night. First time in his career he lost two in a game.
We were here to see the incendiary Sooners score from all over the field. They run their offense like they're double parked. You wouldn't have time to put on your hat between some of their plays. They had topped 60 points in five straight routs.
They could not break double figures Thursday until 12:13 was left in the game.
Twice they marched inside the Florida 10-yard line in the first half and didn't score anything. Zilch.
The first time, they were stopped twice at the 1-yard line. The second, Bradford threw an interception into a crowd that was batted around and touched by more hands than a cocktail party shrimp tray.
"It doesn't take much," Oklahoma coach Bob Stoops said, "to lose a tight game."
Never mind Tebow versus Bradford. The matchup ended up being Florida's Charlie Strong against Oklahoma's Brent Venables, the defensive coordinators.
Except, Thursday night, they were hypnotists. They had their players believing they could step in front of locomotives and make the trains stop.
The offenses would need every quirk and every trick and every skill to get anything done.
Florida had first-and-goal from the 1 in the third quarter and required three plays to score and take a 14-7 lead — finally getting in when Percy Harvin ran the ball himself from the wildcat formation.
Harvin was one weapon that was never controlled, a show of Florida will playing on a gimpy ankle. He is known as a receiver, but he did his best damage carrying the ball from the backfield, with 122 yards in nine carries.
When crunch time came, Tebow was Tebow. Efficient. Relentless. A winner. "Just call him Superman," Harvin said.
"He's one of those guys, you give him your best shot, he's going to get back up," Sooners safety Nic Harris said.
But Tebow is not seen in many of the plays that should stand as highlights of Florida's second national title in three years.
One of those would be the third play of the game, when Oklahoma receiver Manuel Johnson sped down the left sideline on a deep route, and Gators safety Major Wright hit him just as the pass arrived, nearly separating him from his cleats. It's called setting the tone.
That would be the fourth quarter, when safety Ahmad Black pried the ball from Juaquin Iglesias' hands for an interception to kill an Oklahoma drive, a brazen theft in front of 78,468 witnesses.
That would be the times Bradford was hurried and harassed; how a man who threw 48 touchdown passes could be held to 14 points. How the Sooners could have something happen they never would have imagined – give up 24 points and lose.
"We're not going to blame the offense," Harris said. "That's something we're not going to do."
There was a gathering of past Heisman winners before the game. Gino Torretta, the 1992 recipient from Miami, mentioned something interesting.
"Offense puts them in the seats, but defense is going to win the championship out there tonight."
Bingo.
Local journalism is essential.
Give directly to The Spokesman-Review's Northwest Passages community forums series -- which helps to offset the costs of several reporter and editor positions at the newspaper -- by using the easy options below. Gifts processed in this system are not tax deductible, but are predominately used to help meet the local financial requirements needed to receive national matching-grant funds.
Subscribe to the sports newsletter
Get the day's top sports headlines and breaking news delivered to your inbox by subscribing here.
---
Subscribe and log in to the Spokesman-Review to read and comment on this story