News > Nation/World
Despite Gaza cease-fire, Hamas leaders lying low
Sat., Jan. 24, 2009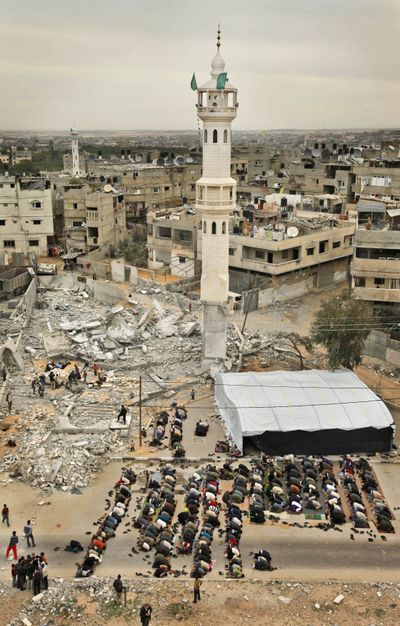 GAZA CITY, Gaza Strip – On the first Friday since Israel ended its 22-day offensive, some worshippers gathered for weekly devotions by spreading prayer rugs on the streets outside the wreckage of mosques devastated by missile strikes.
Among the people not making a public appearance, however, was the top local political leader of Hamas, deposed Prime Minister Ismail Haniyeh. Rumors had been rife that Haniyeh, an Islamic religious scholar, would emerge from weeks of hiding to deliver a sermon.
But Haniyeh and former Palestinian Foreign Minister Mahmoud Zahar remained underground, following the advice, officials said, of their security details. Despite the unilateral cease-fire declared by Israel on Jan. 19, the militant group is still wary of Israeli assassination strikes, according to an official who spoke on condition of anonymity.
"We don't trust the Israelis, there are no guarantees. The war is not over yet," the official said.
As thousands participated in noon prayers, international organizations continued emergency relief efforts for the seaside Palestinian enclave.
John Holmes, humanitarian affairs chief for the U.N., told reporters Israel was allowing 120 truckloads of food and medical supplies to enter Gaza each day. Holmes praised the "spirit of good will" shown by the Israeli government in recent days, saying the level of cooperation was far greater than in the weeks before the offensive began with airstrikes on Dec. 27.
Israeli officials continue to hail the Gaza operation as a success, saying they had heavily damaged Hamas' ability to fire rockets into Israel and delivered a painful lesson on the price of continued attacks. Among the buildings demolished were mosques where Hamas fighters and leaders were hiding or undertaking rocket attacks, Israeli officials have said.
Local journalism is essential.
Give directly to The Spokesman-Review's Northwest Passages community forums series -- which helps to offset the costs of several reporter and editor positions at the newspaper -- by using the easy options below. Gifts processed in this system are not tax deductible, but are predominately used to help meet the local financial requirements needed to receive national matching-grant funds.
Subscribe to the Coronavirus newsletter
Get the day's latest Coronavirus news delivered to your inbox by subscribing to our newsletter.
---