News > Nation/World
Specifics emerge on stimulus plan
Obama seeks wide support to prod congressional action
Sun., Jan. 25, 2009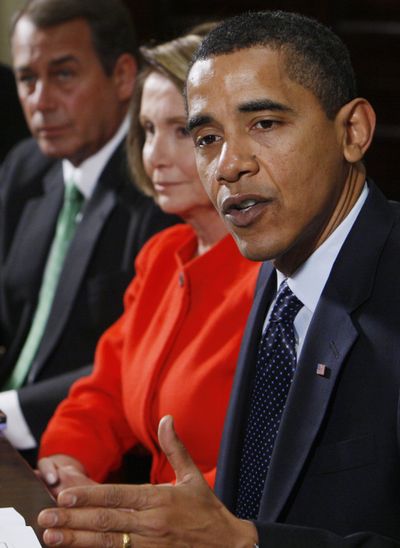 WASHINGTON – President Barack Obama, offering the first specifics on a key element in his $825 billion stimulus package, said Saturday that it would add 3,000 miles of new electric transmission lines and double the nation's use of wind and solar power within three years.
He pressed ahead in the face of continued Republican resistance to his ideas. And some Republicans rejected Obama's claim that he is open to their initiatives, renewing complaints that GOP proposals were being brushed aside as the administration and congressional Democrats hammered out details of the massive legislative package.
Obama used his first radio address to the nation as president to offer new specifics about how the $825 billion would be spent. The speech seemed aimed at building a broad public consensus behind a package that Obama acknowledged has generated skepticism, especially among Republicans.
As part of the administration's full-court press to maintain momentum behind the stimulus plan, Vice President Joe Biden and the president's senior economic adviser, Lawrence Summers, will appear on the network talk shows today – an unusually heavy deployment of White House firepower.
Obama's stimulus – an early test of his skills in winning major legislation victories – is on track to pass before the congressional break in mid-February.
What remains unclear is whether it will attract significant Republican support.
In effect, the White House and congressional Republicans are engaged in the early stages of a political negotiation in which Obama seeks to pass his stimulus program with at least a plausible claim of bipartisan support. Republicans want to exert as much influence over the final package as they can without appearing to be obstructing action.
The president travels to Capitol Hill on Tuesday to meet with Republicans and invited them to discuss the plan in a meeting at the White House on Friday. Although Republicans seemed resigned to passage of the stimulus, they are complaining that the legislation moving through Congress contains none of their ideas.
The GOP is pushing especially hard for a new round of traditional tax cuts, while suggesting the Democrats are rushing into new government spending programs that will send the deficit soaring. Democrats insist that only large-scale federal action can stabilize the economy and begin the process of recovery.
Those competing positions were reflected in Obama's radio speech and in GOP comments Saturday.
"On the House side they seem to be moving toward a vote on Wednesday, and unless there are some real changes in the bill, I can't imagine there will be much if any Republican support," said Kevin Smith, a spokesman for House minority leader John Boehner, R-Ohio.
The White House says the package will modernize 10,000 schools, improving the classroom setting for 5 million children.
A centerpiece is alternative energy. Obama is proposing to reduce energy costs by weatherizing 2 million homes and 75 percent of all federal buildings.
The president wants the nation to generate as much renewable energy in three years as was developed in the previous 30, according to the White House. Six million homes could be powered by the new energy supplies Obama has promised.
Local journalism is essential.
Give directly to The Spokesman-Review's Northwest Passages community forums series -- which helps to offset the costs of several reporter and editor positions at the newspaper -- by using the easy options below. Gifts processed in this system are not tax deductible, but are predominately used to help meet the local financial requirements needed to receive national matching-grant funds.
Subscribe to the Coronavirus newsletter
Get the day's latest Coronavirus news delivered to your inbox by subscribing to our newsletter.
---