News > Nation/World
Senate confirms Treasury nominee
Geithner vows 'bold initiative'
Tue., Jan. 27, 2009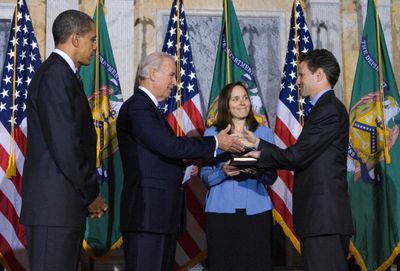 WASHINGTON – Timothy Geithner was confirmed by the Senate on Monday as Treasury secretary and will immediately face tough sledding as the Obama administration prepares to spend hundreds of billions of dollars to rescue the financial system.
Despite their misgivings about his failure to pay nearly $43,000 in taxes on time, senators endorsed Geithner as the best candidate to lead the government's response to the financial crisis. But the 60-to-34 vote was relatively close for a Cabinet confirmation, reflecting the controversy that dogged his candidacy.
Less than two hours later, Geithner was sworn in inside the gilded Cash Room at the Treasury Department with President Barack Obama by his side in a show of support. Geithner pledged to launch initiatives quickly to jump-start the credit markets and the broader economy.
"We are at a moment of maximum challenge for our economy and for our country," he said, standing next to his wife, Carole, and Vice President Joe Biden. "In the world we confront today, Treasury has to be and Treasury will be a source of bold initiative."
Geithner's first act at Treasury, which is set to be announced today, takes aim at limiting the influence of lobbyists seeking rescue funds from the department's $700 billion financial rescue program, government officials said.
His next steps could be more controversial. Within a week or so, Geithner and other senior administration officials are likely to announce a mix of initiatives that would offer more government money to financial firms and help these institutions deal with mounting losses from "toxic" assets, which are backed by failing mortgages and other troubled loans, according to two sources in contact with Obama officials.
While Obama's economic team has promised to help homeowners, small businesses, municipalities and other consumers get better access to credit, several senior government officials and economists said they expect the bulk of the rescue funds to go to financial firms.
The proposals on the table include setting up a government bank to purchase troubled assets from financial firms – possibly with the help of the Federal Reserve – and offering federal insurance on losses from these assets. Treasury officials will likely try a combination of these proposals so the response can be tailored to the needs of different firms and types of assets, sources said.
What is unlikely is using most of the rescue funds to set up a single institution, such as the Resolution Trust Corporation established to deal with the savings and loans crisis of the early 1990s.
Administration officials are also trying to offer federal assistance to financial firms without nationalizing them outright, according to a source who has been in contact with senior Treasury officials. The problem is the price of banks' shares is so low now that a major investment of taxpayer money would leave the government with a majority ownership stake.
Local journalism is essential.
Give directly to The Spokesman-Review's Northwest Passages community forums series -- which helps to offset the costs of several reporter and editor positions at the newspaper -- by using the easy options below. Gifts processed in this system are not tax deductible, but are predominately used to help meet the local financial requirements needed to receive national matching-grant funds.
Subscribe to the Coronavirus newsletter
Get the day's latest Coronavirus news delivered to your inbox by subscribing to our newsletter.
---