Defensive star Aynslee Stuart finds success at scoring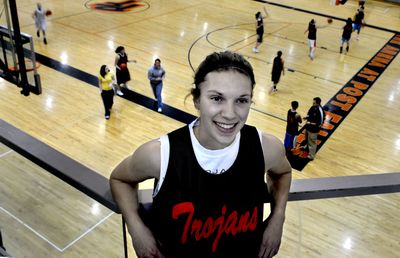 Post Falls High senior basketball player Aynslee Stuart is the first to admit her strengths and weaknesses.
It's an example of the balance that is a fabric of her athletic and nonathletic life.
"I try to bring defense," Stuart said. "Defense is something I really like to do and offense is something I have to work on."
Stuart is a breath of fresh air in a time when many of her peers give more effort on offense than defense. While defense is the most important element of her game for her team, what she's providing offensively is a blessing for a team that is offensively challenged at times.
"She's greatly improved (offensively)," Post Falls coach Chris Johnson said.
Stuart is averaging 8.1 points per game, third best on the team. The most improved aspect of her offense is free-throwing shooting. She's shooting right at 80 percent. She made a team-best 12 of 12 foul shots when she scored a career-high 17 points and had nine rebounds in a 57-41 win over Holy Names Academy in Seattle in December.
"Teams forget about her," Johnson said. "They're not scheming to stop her. She's doing a good job of getting to the free-throw line and creating opportunities where she can score."
In a key 52-46 win over Lake City two weeks ago, Johnson recalled a big basket Stuart scored late in the fourth quarter.
"The clock was winding down and she got great penetration from the top of the key," Johnson said. "She scored on a nice left-handed layin. It was one of those situations where you want to say 'no, don't shoot' because we're trying to run some clock. But it was a real heads up move on her part because she saw an opening. It turned out to be a really decisive basket."
A three-year letterman, Stuart, a 5-foot-6 guard, is in her first year as a starter. She found herself in a logjam at guard caught behind five seniors last year. Her playing time fluctuated.
"Last year we had a lot of seniors at the guard position and playing time was tough to come by," Johnson said. "At regionals her playing time went down. But then at state she came off the bench and did well. We needed her minutes at state."
Stuart said she has nothing but pleasant memories about last year.
"I played with the seniors since elementary school and in AAU," Stuart said. "I was really proud of our team for getting to state and getting third place."
Stuart won't be named to an all-league team. But if an all-defensive team were named, Stuart would easily be a selection.
"Last year she was a good defensive player, but this year she's at a whole different level," assistant coach Wade Quesnell said. "She's figured things out. Her whole game from last year to this year has been a whole turnaround. She's elevated everything."
It's easy for Johnson to assess why Stuart has had a big impact, especially on defense.
"She's our fastest player," Johnson said. "She flies around everywhere. She's the cause for a lot of the turnovers that we end up getting."
Stuart plays at a steady pace. She never seems to tire and her emotions are always in check.
"She has played almost every minute this season," Johnson said. "We try to get her a quick break when we can, but she never seems to need a break."
She credits part of her stamina to the fact that she runs the 400 meters and relays in track.
"That's a demanding, brutal race," Johnson said. "She's very strong physically, but that makes her mentally strong, too."
She hasn't had too many breaks in her athletic schedule in high school. Her third sport is volleyball. She's been a three-year starter at libero.
Stuart wants to play a combination of sports in college. What combination and where is to be determined.
"I'd like to do volleyball and basketball," she said.
Stuart isn't sure what she wants to do in life after she completes her college education. Both of her parents are teachers and she has a slight interest.
Johnson appreciates Stuart's steady personality.
"You wouldn't know we were winning or losing to look at her on the court," Johnson said. "That's a strong point to her personality. She's so balanced, even-keeled. She doesn't show a lot of excitement or disappointment outwardly. I'm sure she feels it, but she's a very stable influence on the team."
Quesnell, the school's head track coach, appreciates Stuart's work ethic.
"She's there every day in track," Quesnell said. "She not only doesn't miss a workout, she never bags out on a workout."
Stuart brings the same attitude in everything she does.
"I definitely knew I had to step up as a senior," she said. "I knew I had to be a leader especially with such a young team."
---