Sports
Vaughan keeps family basketball tradition going at Rogers
Thu., Jan. 29, 2009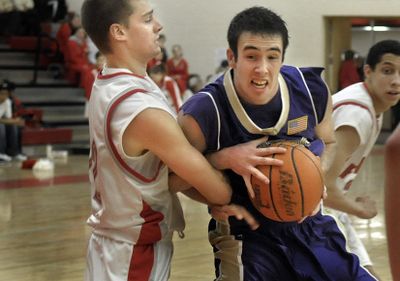 Like other high school athletes in these mobile times, Jesse Vaughan was planning to attend another high school instead of Rogers.
But a precedent had been set. Two generations of family, including his brother Justin, older by eight years, have been Pirates. Jesse said Justin is a reason for his basketball success and competitiveness.
"He and my older cousin, Joseph Bodman (who played at Post Falls), both helped me out tons," Jesse said. "They always beat me up a little bit and got me better."
So after initially planning to play elsewhere, Jesse said that he realized Rogers was where he belonged. With a Greater Spokane League-leading 19.7 points per game scoring average, Vaughan has given the Pirates cause for optimism.
Following Tuesday night's victory at Ferris, they are 8-6 and in third place, on target for their best record and first playoff season since 2002. The move to Class 3A this year has Pirates imagining other possibilities.
After every practice, coach Tim Wood preaches that they are playing for state, Vaughan said.
"Honestly, we feel we have as good a shot as anybody," rookie head coach Wood said.
Members of this year's senior class, including Vaughan, were 17-3 as freshmen and have anticipated this year, Vaughan said.
"We had a good season, then slowly got split up," Vaughan said of a group, many of them together since Garry Middle School. "We're back together and have good things going."
There is a basketball vein and sense of team running through the Vaughan family history. Jesse's grandmother Dell played semipro ball in Canada some 60 years ago and those players still gather each summer, said her daughter, Brenda Iverson. At age 80, Dell heads a 20- to 30-member family contingent that attends the Pirates' games.
"That's why we have a sense of basketball," Iverson said. "What I find unique is that Jess talks to her after the game and she gives him pointers. She's very, very knowledgeable and he respects her comments. It's neat for someone his age to do that."
Vaughan's older brother was a Pirates scoring leader during the 2000 and 2001 seasons when they won just one game. He jokes that he likes to take credit for Jesse's accomplishments. He said Jesse didn't come to him for advice, but "I kind of force fed it to him anyway.
"By the time Jesse was born, I was just getting obsessed myself with basketball, and it kind of rubbed off on him, I guess," Justin said. "By the time he was 2 (years old) I had him dribbling behind his back and between his legs. He had almost a decade more experience by the time he got to where I started and was always better than people his age."
"Our parents gave us a glow-in-the-dark basketball and we played until we had to go to sleep," Jesse said.
Once at Rogers, he was moved to varsity toward the end of his sophomore season and scored 17 points in a game against University. Last year he led the team with a 15.8 scoring average, including a 29-point outburst in one contest. This year he's upped the ante. In the last three games alone – part of a four-game Pirates winning streak – he scored 79 points, getting 29 as the Pirates completed a season sweep of Mead and a career-high 33 against U-Hi.
Wood, who coached him before he moved to varsity, remembered that even then Vaughan was poised and could always get his shot off.
"Halfway through the year he was taking over games," Wood said. "Opposing coaches said that he was tough and they couldn't handle him."
He's come even further as his career progressed, particularly in the area confidence.
"He believes he's the best player on the court," Wood said.
Besides being a scorer – from inside or out – Vaughan this year has been asked to shoulder more responsibility. Although he starts inside, the 6-foot-4 athlete will handle the ball as a point forward. He is at or near the lead in both team rebounding and assists.
"I do whatever the team needs me to do," Jesse said. "Against Shadle Park I had 18 rebounds because we needed it against a bigger team. University is a fast-break team and we needed to score and I had 33 points."
With a go-to guy and strong veteran cast, Rogers dares to dream. The team, he said, has never been expected to do much. They'd have good summers, go into the season confident and then fall short of their own expectations.
"We're a 'could-be' team," he said. "Every game we win we're not supposed to."
This year has been different. Rogers wasn't supposed to beat Mead, but beat the Panthers twice in a season for the first time since '99. They split the season series with Ferris and have beaten another 4A playoff contender, Lewis and Clark, as well.
"The difference is we're playing for the playoffs, we're playing for state," Vaughan said. "That would be amazing and it's possible."
Beyond that, Vaughan expects to play four more years in college, maybe beginning at the community college level while he works to get stronger.
"I've played since I could walk," he said. "It's all I've wanted to do and what I've done."
This past summer as "Gram's Boys and Dan," the Vaughans and Bodman played Hoopfest together for the first time and reached the finals of their bracket after losing the first game. Despite the heat, Dell Vaughan was there for every game.
Basketball blood in the Vaughan family is thicker than water.
Local journalism is essential.
Give directly to The Spokesman-Review's Northwest Passages community forums series -- which helps to offset the costs of several reporter and editor positions at the newspaper -- by using the easy options below. Gifts processed in this system are not tax deductible, but are predominately used to help meet the local financial requirements needed to receive national matching-grant funds.
Subscribe to the sports newsletter
Get the day's top sports headlines and breaking news delivered to your inbox by subscribing here.
---