News > Features
Indie groups circumvent the mainstream
Fri., Jan. 30, 2009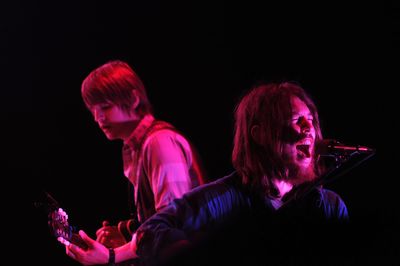 Pop music in the age of the universal download is a lot like a megalopolis: sprawling, chaotic, seemingly without borders.
Innovative but mercenary power-players peddle corporate pop in its financial centers. Elites – blockbuster rock stars, divas, record producers of note – clink their glasses together in gated communities. Scrappy newcomers and forgotten elders squat in the tenements, hoping for a break.
And then there are the urban bushwhackers: creative people determined to carve some space out of the concrete where something might grow and they might be able to wander a bit.
Since the 1960s, these folks have often been called "hippies," though that term is too specific, and carries too much historical weight.
Younger practitioners, including California Summer of Love revivalists such as Devendra Banhart or Jonathan Wilson and the Entrance Band; Portland country fuzz rockers Blitzen Trapper; and Atlanta post-punks Deerhunter modify countercultural visions to suit a more pragmatic age.
Animal Collective, Bon Iver and Fleet Foxes are three leading urban bushwhackers. They're among the most cultishly followed indie acts; the prolific Animal Collective's eighth studio album, "Merriweather Post Pavilion," is earning wide praise as a front-runner for best recording of 2009, while Fleet Foxes and Bon Iver topped 2008 critics' lists with their debut releases.
Since evolving from a bunch of childhood friends into a band around a decade ago, Animal Collective became strongly identified with the East Coast avant-rock scene and the more scattered "psych folk" trend.
Its sound is hard to describe, let alone classify; it pulls from post-techno dance music, world rhythms, harmony groups and playful 1960s folk-rockers like the Holy Modal Rounders.
Like the Grateful Dead, Animal Collective fetishizes process over catchiness. This band likes to stretch time and get lost. Its huggy psychedelia doesn't stimulate nostalgia for the hippie era as much as for the early days of raves and Ecstasy, when the drugs made you want to cuddle and the beats per minute were transcendently intense.
There was something deeply insular about rave culture; it was a very white, middle-class, college kid thing. Animal Collective suffers from this limitation, too. Focusing on one another, these four former prep-school buddies mostly have rejected the pop path of imagining a world that's open to all.
"Merriweather Post Pavilion" goes beyond this closed universe by turning Animal Collective's experiments into gelatinous but still graspable song forms. Choruses, hooks and harmonies that undeniably smack of the Beach Boys make it feasible for songs like "My Girls" and "Brother Sport" to get played on the radio.
The band's members, all around 30 now, are learning how to focus. Finally, they've made an album in which even nonbelievers can lose themselves.
Fleet Foxes and Bon Iver have no trouble attracting new followers. Their music is as ordered and pretty as Animal Collective's is unhinged, though it's also polarizing and intense.
Both hail from regions where country and city meet and meld. Seattle, home to Fleet Foxes, is well known as a place where outdoorsiness and nerdy cosmopolitanism collide.
Eau Claire, Wis., where Justin Vernon began Bon Iver as a solo project (he's since formed a band), is a small town, but it's also home to several colleges.
Fleet Foxes, a quintet led by 22-year-old Robin Pecknold (which opened for Wilco at Spokane's INB Performing Arts Center in August), is still riding the ripples caused by its self-titled summertime debut. The influential webzine Pitchfork named it the album of the year, and the band played Jan. 17 on "Saturday Night Live."
Vernon, when he became Bon Iver, went out to the woods, Henry David Thoreau-style, to clear his head. Like Pecknold, though, he was able to take Pro Tools with him.
"For Emma, Forever Ago" is a collection of tracks Vernon made in his parents' hunting cabin outside Eau Claire in the dead of winter. The romance of his isolation has helped him attract listeners, but it's what he did with the little bit of technology he could haul with him that makes his music so startlingly rich.
Bon Iver's new EP, "Blood Bank," expands on the layered vocals and ambient sonic pathways Vernon laid down on "For Emma," and proves that he isn't just a novelty artist.
He widens his path in several directions. The title track is a sexy little story of a coupling that comes after a donation to the Red Cross; it's fairly conventional.
But on two other tracks, the piano-driven "Babys" and the Auto-Tuned "The Woods," Vernon shows that for someone committed to the semirural life (he's an avid hunter), he's blessedly uninterested in isolating himself.
Local journalism is essential.
Give directly to The Spokesman-Review's Northwest Passages community forums series -- which helps to offset the costs of several reporter and editor positions at the newspaper -- by using the easy options below. Gifts processed in this system are not tax deductible, but are predominately used to help meet the local financial requirements needed to receive national matching-grant funds.
Subscribe to the Coronavirus newsletter
Get the day's latest Coronavirus news delivered to your inbox by subscribing to our newsletter.
---