News > Nation/World
Mother of octuplets already had six children
Fri., Jan. 30, 2009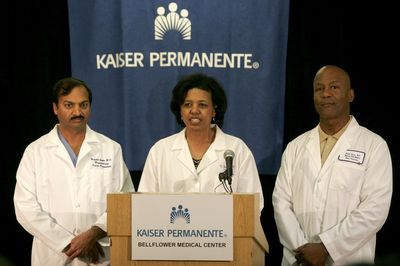 LOS ANGELES – The woman who gave birth to octuplets earlier this week already has six young children and never expected that the fertility treatment she received would result in eight more babies, her mother said Thursday in an interview with the Los Angeles Times.
The woman, who has not been publicly identified, had embryos implanted last year, and "they all happened to take," Angela Suleman said, leading to the eight births Monday. "I looked at those babies. They are so tiny and so beautiful."
She acknowledged that raising 14 children is a daunting prospect.
"It's going to be difficult," Suleman added, noting that her husband is going back to Iraq, where neighbors said he works as a contractor to help support the family.
The mother of the octuplets lives on a well-kept cul-de-sac in Whittier, where more than a dozen reporters and camera crews descended Thursday.
Neighbors said she and her six children – ages 7, 6, 5, 3 and 2-year-old twins – live there with her mother. Family members did not answer the door, but when a reporter called the home asking for Suleman, she spoke briefly.
According to her account, when her daughter discovered that she was expecting multiple babies, doctors gave her the option of selectively reducing the number of embryos, but she declined.
"What do you suggest she should have done? She refused to have them killed," Suleman said.
The information about the family came amid growing questions about the medical ethics of the case and how the woman came to carry eight babies to term.
Although the successful births at Kaiser Permanente Medical Center in Bellflower have received worldwide attention, they also have prompted disapproval from some medical ethicists and fertility specialists, who argue that high-number multiple births endanger the mother and also frequently lead to long-term health and developmental problems for the children.
Under the guidelines of the American Society for Reproductive Medicine, U.S. doctors normally would not implant more than two embryos at a time in a woman under the age of 35. The mother of the octuplets is believed to be 33.
Local journalism is essential.
Give directly to The Spokesman-Review's Northwest Passages community forums series -- which helps to offset the costs of several reporter and editor positions at the newspaper -- by using the easy options below. Gifts processed in this system are not tax deductible, but are predominately used to help meet the local financial requirements needed to receive national matching-grant funds.
Subscribe to the Coronavirus newsletter
Get the day's latest Coronavirus news delivered to your inbox by subscribing to our newsletter.
---