News > Features
American Muslims face suspicious perceptions
Sat., Jan. 31, 2009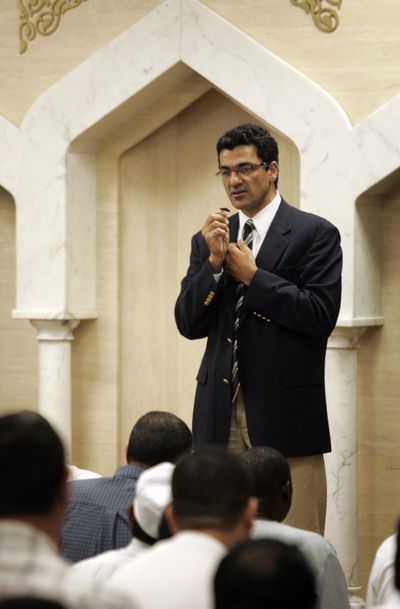 Many American Muslim leaders are eager to help President Barack Obama improve the U.S. image in the Islamic world, but they worry that their contribution might not always be welcome.
The broad suspicion that has dogged them at home since the Sept. 11 attacks continues to keep many U.S. groups from working with the Muslim community, they say.
"These issues are not going to go away just because we have a president now who has more understanding of the Muslim world," says Salam Al-Marayati, executive director of the Muslim Public Affairs Council, an advocacy group based in Los Angeles.
"We'll actually be under more scrutiny now that these issues are going to be raised at the top of the Obama administration."
In his inaugural speech last week, Obama told the Muslim world, "We seek a new way forward, based on mutual interest and mutual respect."
The president, in an interview broadcast Tuesday on Al-Arabiya, an Arabic TV network based in Dubai, added: "Americans are not your enemy."
The Leadership Group on U.S. Muslim Engagement last year issued a report, "Changing Course: A New Direction for U.S. Relations with the Muslim World."
Among other recommendations, it urged U.S. leaders to enlist more American Muslims to help counter Islamic extremism.
The group includes former Secretary of State Madeleine Albright; two former Republican congressmen, Vin Weber and Steve Bartlett; and Ingrid Mattson, who in 2006 became the first woman president of the Islamic Society of North America, an umbrella group for tens of thousands of Muslims nationwide.
"There are lots and lots of Muslims that we've worked with on this project that are quite anxious to do this for their country," Weber said in an interview. "We would have no lack of people who would come forward."
In the last few years, American Muslims have been taking a more active role in fighting extremism.
The Muslim Public Affairs Council started its "National Anti-Terrorism Campaign" in 2004, urging Muslims to monitor their own communities, speak out more boldly against violence and work with law enforcement officials.
The Islamic Society, based in Plainfield, Ind., dedicated its 2005 annual convention to fighting terrorism and extremism. Two years later, Rabbi Eric Yoffie, president of the liberal Union for Reform Judaism, the largest branch of American Judaism, became the first major Jewish leader to address the Muslim convention in its four-decade history.
The two groups have pledged to fight extremism and build ties between mosques and synagogues nationwide.
Muslim Advocates, a legal group based in San Francisco, last year joined with the Better Business Bureau to create the Muslim Charities Accreditation Program, which evaluates nonprofits and trains leaders on compliance with the government's legal and financial rules.
Following the 2001 attacks, the government shut down some U.S. Muslim charities after they were designated supporters of terrorism. American Muslim leaders have been working with the Treasury Department to find a way to identify legitimate Muslim nonprofits.
"American Muslims are ready to play their part," said Eboo Patel, founder of Interfaith Youth Core, an international agency based in Chicago that works with former President Bill Clinton and former British Prime Minister Tony Blair.
Patel, who is Muslim, and his colleagues travel throughout the Muslim world on behalf of the U.S. State Department to promote interfaith relations.
"I want our president to find terrorists and destroy and dissolve those networks, I just want him to find actual terrorists," Patel said. "I live in America, and I don't want to be bombed by anybody."
Still, some American Muslims resist cooperating with the government. They argue that not all terrorists are Muslim, and they are angered over the impact of the intensive surveillance of their community, such as misleading entries on the "no fly" lists at airports.
As just one example, the Islamic Society has been the target of investigations that have left a stigma, but yielded no public penalties or criminal charges.
The FBI is among the law enforcement agencies that attend Islamic Society conventions to recruit Arabic speakers.
Thomas Nicpon, assistant special agent in charge in the FBI's New York intelligence division, said deciding which Muslim groups to work with is a "difficult question" since within many groups, members may differ widely in their outlook.
"The overwhelming majority of American Muslims are loyal, patriotic Americans who obviously are very upset by and very concerned about what happened on 9-11," said Nicpon, who leads the FBI's New York outreach to Muslims.
"They're generally a lot more well-integrated in society than they perhaps are in London or Britain in general. They identify a lot more with America and American culture."
Local journalism is essential.
Give directly to The Spokesman-Review's Northwest Passages community forums series -- which helps to offset the costs of several reporter and editor positions at the newspaper -- by using the easy options below. Gifts processed in this system are not tax deductible, but are predominately used to help meet the local financial requirements needed to receive national matching-grant funds.
Subscribe to the Coronavirus newsletter
Get the day's latest Coronavirus news delivered to your inbox by subscribing to our newsletter.
---
Subscribe and log in to the Spokesman-Review to read and comment on this story