News > Spokane
Centennial Trail advocate talks about gaps, priorities and funding
Face Time: Kaye Turner
Mon., July 6, 2009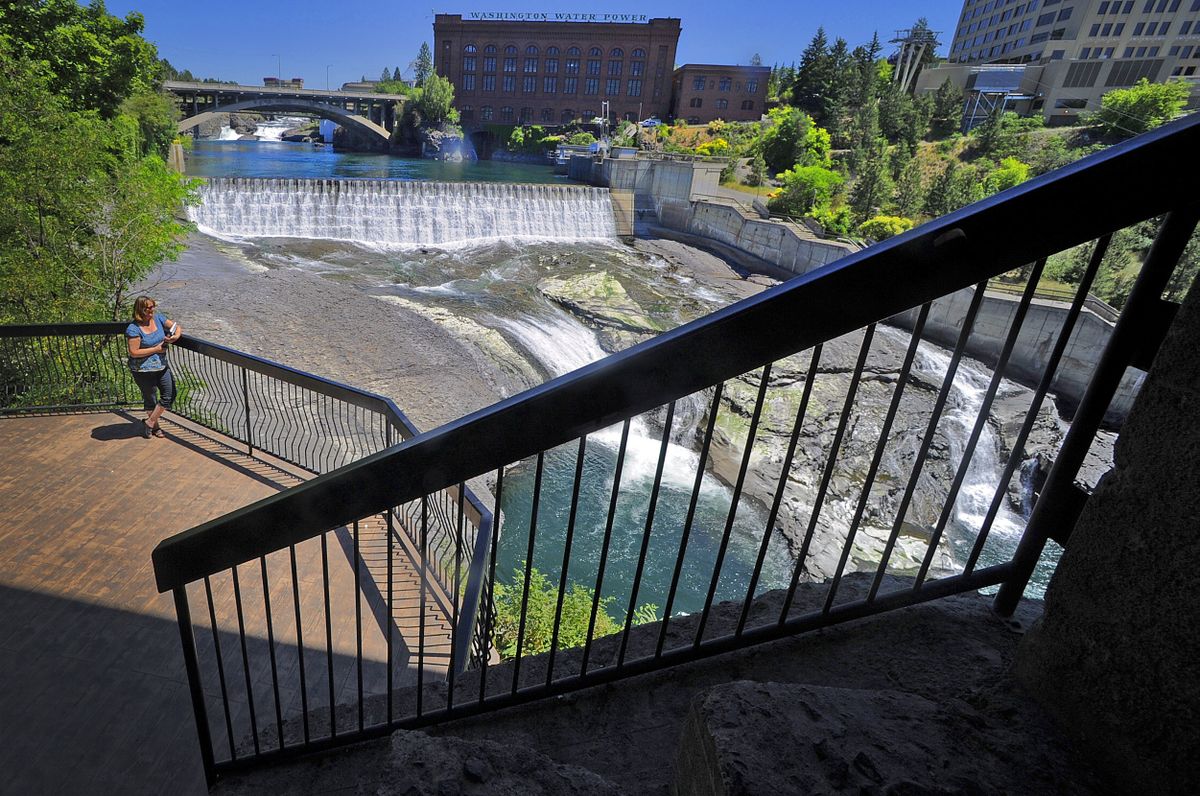 Kaye Turner, executive director of Friends of the Centennial Trail, admires Spokane Falls at the Monroe Street Bridge on July 2. (CHRISTOPHER ANDERSON / The Spokesman-Review)
Two decades after the ground was broken on Spokane's most popular bike and pedestrian pathway, several stretches of the 37-mile Centennial Trail remain incomplete. The largest gap, between Riverfront Park and Riverside State Park, forces users onto city streets, and safety concerns also exist where it crosses Mission Avenue near Perry Street and at Argonne Road. Kaye Turner, executive director of the Friends of the Centennial Trail, shares her thoughts on the trail's future.
Q:Are you surprised that 20 years later, it's not complete?
A:Absolutely. There's a lot of private property issues that have created the stalling of the completion of the Centennial Trail.
Q:What is the biggest priority now?
A:Finishing the gaps. … The one priority we're looking at today that we think is most doable in the short term is continuing the trail from underneath the Monroe Street Bridge up to the Kendall Yards property and perhaps temporarily connecting it to city streets (such as Ide) to get the connection to Riverside State Park. … Since the project (Kendall Yards) at this time is stalled, the importance of getting our users from point A, downtown Spokane, to point B, Riverside State Park, needs to be addressed now versus later because we don't know what's going to happen with Kendall Yards.
Q:What's the problem at Mission near Perry?
A:As you leave Mission Park, the trail goes across the street at a cross light, across railroad tracks, in front of Avista, and then picks up at Upriver Drive. That's a huge safety issue. … The thought has become to put a tunnel under the road.
Q:How much would that cost?
A:That we have some old estimates on. Looking at the Mission Avenue underpass and connecting trail, you're looking at $931,000.
Q:Do you think civic and government leaders have made the trail as much as of a priority as it should be?
A:No. But I have to preface that. … City and government leaders have their plates full with a lot of … different parks they need to maintain, and in this economic climate it's very difficult to choose what the priority is. However, that's why we as an organization are here to work with those civic and government leaders to say, 'Look, you need to look at this priority.' What other city has a 37-mile trail along the river and it's sitting incomplete after 20 years? Let's put our moneys into that. We're talking about fuel efficiency. It's not just a recreational trail, it's a commuter trail, and I think they need to be aware of that.
Q:If someone was interested in helping this move along, what could they do?
A:They could contact me at the office at (509) 624-7188. Also, on our Web site (www.spokane centennialtrail.org), we have a Trail Builders Fund. … Right now, we're looking for funding for these projects.
Local journalism is essential.
Give directly to The Spokesman-Review's Northwest Passages community forums series -- which helps to offset the costs of several reporter and editor positions at the newspaper -- by using the easy options below. Gifts processed in this system are not tax deductible, but are predominately used to help meet the local financial requirements needed to receive national matching-grant funds.
Subscribe now to get breaking news alerts in your email inbox
Get breaking news delivered to your inbox as it happens.
---