News > Features
Emerson Drive's road hardly easy
Bass player's suicide knocked rising country act off track for awhile
Fri., July 10, 2009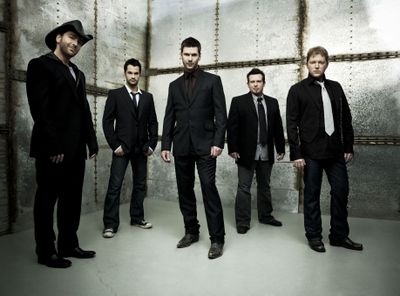 Emerson Drive is named after a remote highway in Alberta, and this country band has certainly followed a twisting road over its career.
In 2004, the last time Emerson Drive played Spokane, they were an up-and-coming opening act for Shania Twain. The energy of frontman Brad Mates and fiddling of David Pichette nearly stole the show.
Since then, they have evolved into a headlining act of their own, which is why they are visiting the Martin Woldson Theater for the Fox Presents summer series.
Emerson Drive has certainly not had an easy road, not by any means. In the space of a few months in late 2007-early 2008, three events happened in quick succession:
• The band had its first No. 1 hit on Billboard's country chart, "Moments."
• Their bass player, Patrick Bourque, committed suicide at his home in Montreal.
• The band was nominated for its first Grammy Award.
"It was a pretty tough time for all of us in the band," said Mates, by phone from the road. "We didn't know what to take in, to let out. It took us a few months to realize what direction we were going, to get our heads straight again.
"Going through something negative like that, you always try to pull the positives out of it. The band has never been tighter; it was us pulling together and leaning on one another. The title of our new album, 'Believe,' has a lot to do with these past two years."
"Believe" is billed by Emerson Drive's record label as "a celebration of the band's triumph over tragedy."
It was produced by Josh Leo and Teddy Gentry. If the latter name sounds familiar, it's because Gentry was in one of the biggest country bands in history, Alabama.
Gentry has been quoted as calling Emerson Drive "possibly the best band I've heard in years, as far as playing live on stage."
"It's a little bit surreal, being able to work with a guy like that and being able to call him a friend is pretty amazing," said Mates. "They went from nothing to being the biggest selling band in country music history, so you take in everything a guy like that has to say."
He said that Gentry pushed the band to pay particularly close attention to the vocal harmonies.
"He took us to that next step," said Mates.
Local journalism is essential.
Give directly to The Spokesman-Review's Northwest Passages community forums series -- which helps to offset the costs of several reporter and editor positions at the newspaper -- by using the easy options below. Gifts processed in this system are not tax deductible, but are predominately used to help meet the local financial requirements needed to receive national matching-grant funds.
Subscribe now to get breaking news alerts in your email inbox
Get breaking news delivered to your inbox as it happens.
---