News > Spokane
Face Time: Spokane police officer, mother on child safety seat mission
Mon., July 13, 2009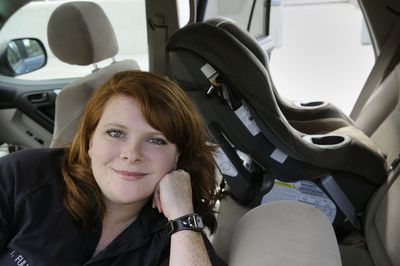 Three years ago, 2-month-old Chloe Jensen was severely injured in a Spokane crash while riding in the front seat of her mother's car. The baby was in a loosely installed child safety seat. She suffered head trauma from the impact of the car's air bag and died from her injuries 10 months later, according to previous news reports. Her mother, Eileen Jensen, was scheduled to stand trial this week on a charge of vehicular homicide, but the trial has been postponed to Sept. 14. A child's death in a crash is something Spokane police Officer Teresa Fuller works hard to prevent. She has spent many Saturdays crawling into cars, trucks and vans during car seat clinics to make sure a child's safety seat does its job in the event of a crash. Fuller is a certified car seat safety instructor through Safe Kids Worldwide.
Q. What prompted you to become more involved in child car seat inspections?
A. I got started as a car seat technician in 2004. At the time, I had an infant. Not only did I have my own child, but I'd seen enough kids in the aftermath at collisions. I hate seeing children hurt.
Q. What do you see wrong most often?
A. There are a couple things we see a lot of, and one of the biggest ones is parents graduating their kids too quickly to the next step. For example, transferring them from a car seat to a booster seat, or from a booster seat to a seat belt by themselves.
Q. Do you ever tell parents about the horrors you've seen on the job?
A. It depends on the person. Some parents get it right off the bat. When I have a kid sitting there staring me in the face, I'm pretty honest with the parents about the dangers. But I try not to get too graphic, because it's an educational thing for us.
If I'm on a traffic stop, it's different.
For example, I stopped a young mom that had a 19-month-old in a forward-facing car seat. She was 50 mph in a 35 mph zone and had just run a red light. The baby basically only had a lap belt across its belly.
The mom told me the baby cries all the way home if she makes her wear it correctly. My response: Would you rather hear her cry for 15 minutes or never hear her cry again?
Q. What keeps you going?
A. Knowing that if just one child is uninjured in a crash because of the education their parents were given, then we've done our job. And, working with the awesome team of volunteers we have in the Spokane County Child Passenger Safety Team. It's great to see others so passionate and willing to give up some of their Saturdays to provide our community with this service.
Local journalism is essential.
Give directly to The Spokesman-Review's Northwest Passages community forums series -- which helps to offset the costs of several reporter and editor positions at the newspaper -- by using the easy options below. Gifts processed in this system are not tax deductible, but are predominately used to help meet the local financial requirements needed to receive national matching-grant funds.
Subscribe to the Coronavirus newsletter
Get the day's latest Coronavirus news delivered to your inbox by subscribing to our newsletter.
---
Subscribe and log in to the Spokesman-Review to read and comment on this story