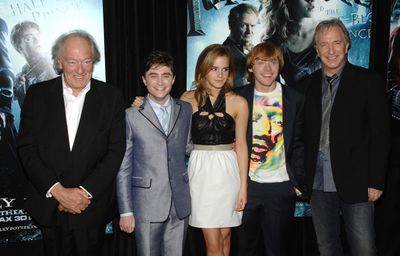 Michael Gambon was in the midst of shooting his fourth film as Professor Albus Dumbledore in the "Harry Potter" films when the book series' author, J.K. Rowling, brought forth an unexpected revelation about his character:
The regal Hogwarts headmaster, she said, was gay.
When Gambon later saw her on the set of "Harry Potter and the Half-Blood Prince," he had one question: "Is it because of the way I'm playing it?"
The 68-year-old actor, who keeps cigarettes hidden under Dumbledore's robes, has never shied from a moment of levity.
Long known as something of a trickster himself, he suspects Rowling blurted out the announcement to surprise people, and says he identifies with the instinct "to cause trouble or make people think or kick people off their security blanket."
Gambon inherited the role after Richard Harris, who played Dumbledore in the first two films, died in 2002.
Born in Ireland and raised in London, he was classically trained and eventually recruited by Laurence Olivier for his National Theatre Company.
Gambon established himself on the stage with widely hailed performances of Shakespeare ("Othello," "Macbeth," "King Lear") and Harold Pinter ("Betrayal," "The Caretaker").
He's also amassed more than 100 film and TV credits in his career, including Philip Marlow in the mid-'80s BBC series "The Singing Detective."
"I've played quite a lot of crooks and killers, and that's quite interesting," says Gambon.
"Then Dumbledore is the complete opposite, isn't he? He's a nice old man."
It's ironic that Gambon – one of the most esteemed stage actors of a generation – has become most widely identified with a wizard in a series meant for teenagers, not unlike Ian McKellen's experience playing Gandalf in "The Lord of the Rings."
Now, Gambon says, it's common for a young child to anxiously spy him while sipping coffee at a cafe.
"It's very odd," he says. "I hadn't realized before just how powerful these things are."
While Gambon will appear in the final two Potter films, which are being shot and will be released in fall 2010 and summer 2011, respectively, "The Half-Blood Prince" represents a culmination of his time in Potterville – an era he views with warmth.
"This will stick out as being a happy memory, being with a thing for so long and the worldwide love of it," he says. "You never forget that."
The birthday bunch
Country singer George Hamilton IV is 72. Actor Dennis Cole is 69. Singer Vikki Carr is 69. Musician Commander Cody is 65. Guitarist Brian May (Queen) is 62. Actor Campbell Scott is 48. Actor Anthony Edwards ("ER") is 47. Actress Clea Lewis ("Ellen") is 44. Actor Jared Padalecki is 27.
---