News > Spokane
Primary election roundup
Sun., July 26, 2009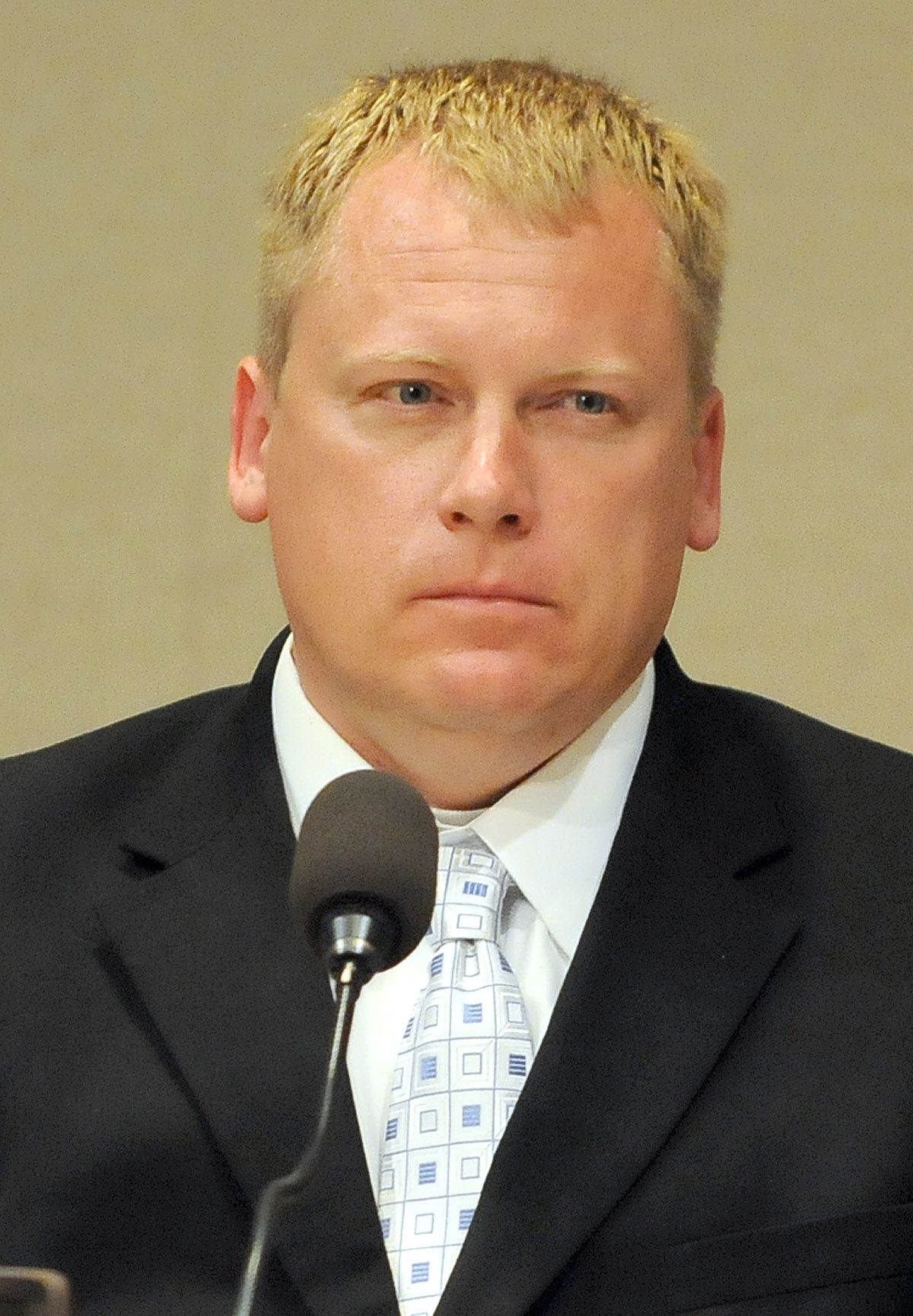 Allen (Christopher Anderson / The Spokesman-Review)
Public safety tax
Voters throughout the county – cities and towns as well as unincorporated areas – will be asked to renew a one-tenth of 1 percent addition to state and local sales taxes to help pay for law enforcement services. The tax was first added in 2004, when voters approved an increase that would be used partly for an emergency communications system for many jurisdictions. That system was never purchased, and the money has been used instead for a variety of law enforcement expenses, including prosecutors, public defenders, jail expenses and deputies or police officers. In the last two years, it absorbed a significant chunk of sheriff's department overtime.
The tax raises about $7 million, which is divided so that 60 percent goes to the county and 40 percent is shared among the cities based on population. County commissioners have it on the primary ballot, with a backup plan to bring it back in November if it fails.
Washington Legislature
House of Representatives, 9th District: Five candidates are running for a seat that became open this spring when Don Cox, named temporarily to the position after the death of state Rep. Steve Hailey, announced he was uninterested in serving out the remainder of the term. The sprawling district extends from southern Spokane County to the Oregon border, and from Idaho to Adams and a portion of Franklin counties. The district is the second largest geographically in the state, and the only one with two state universities, Washington State in Pullman and Eastern Washington in Cheney. Not surprising, most candidates focus on education, as well as agriculture and the economy. November's winner will have to run again in 2010, when Hailey's term expires.
The job pays $42,106 a year, plus health care. Candidates are:
•Susan Fagan, 61, Pullman, Republican; director of public affairs, Schweitzer Engineering Laboratories; formerly on the legislative staff for Sens. Larry Craig, Steve Symms and Jim McClure; board member, Association of Washington Business, Washington Farm Bureau. Fagan promises to focus on the state's finances. She wants employers to have greater choice when considering health care options, including the ability to buy insurance from other states. Web site: www.susanfagan.com.
•Pat Hailey, 61, Mesa, Republican; owns family farm of about 3,500 acres raising cattle, wheat, irrigated corn and alfalfa; former school board member; late husband Steve formerly held seat. She wants to get the economy moving by getting government out of the way, cutting waste out of the budget and revising the business and occupation tax so it's on net profits rather than gross. Web site: www.pathailey.com.
•Glen Stockwell, 59, Ritzville, Democrat; owns trucking and freight brokerage company and a business consulting firm; former member, Ritzville City Council. Stockwell promises to seek government funding to finish the Columbia Basin Irrigation Project as a way to stimulate the economy. Web site: www.washingtonstateeconomicdevelopment.vpweb.com.
•Art Swannack, 44, Lamont, GOP; owns a farm and ranch with wheat, hay and sheep; president of State Sheep Producers; member of the school board and fire district. Swannack wants to protect small school districts in Eastern Washington and keep student-teacher ratios at current levels; he supports WSU leaders for making "hard decisions" to keep costs down but thinks tuition should be capped. He also would scour increases in the budget to look for places to cut spending now. Web site: www.electartswannack.com.
•Darin Watkins, 49, Palouse, Republican; marketing and communication director, WSU College of Veterinary Medicine; former television journalist; member, Palouse school board, county planning commission. Watkins emphasizes education and says he would fight any efforts to close small school districts. He wants more participation in budget by university leaders, legislators and public to find savings; wants more focus on small business. Web site: www.watkinsforwashington.org.
City of Spokane
Three council seats in the Inland Northwest's largest city are up for grabs this fall, but just two have contested primaries. The positions pay $30,000 a year plus health care and retirement benefits. Terms are four years each.
District 2: South of Interstate 90 east of Monroe Street, and south of the Spokane River west of Monroe. Candidates are:
•Mike Allen, incumbent, who turns 42 on Monday and recently left his job as Eastern Washington University's corporate and foundation relations director. On the council he voted against the contract for the city's largest union, citing budget concerns. He supported merging with Spokane County on animal control and opposed creation of the red-light camera enforcement program. He voted to hire a police ombudsman. He said he wants to strengthen efforts to improve the city's neighborhood business centers and bring manufacturing jobs to town. Web site: www.votemikeallen.com.
•David Elton, 43, who currently is barred from attending Spokane City Council meetings because of harassment charges related to alleged threats he made about City Council President Joe Shogan, Spokesman-Review Publisher Stacey Cowles, Elton's ex-wife and others in e-mails. Elton, who has pleaded innocent to the charges, says the city should consider "across-the-board" cuts. Web site: www.eltonresearch.com.
•Steve Eugster, 65, a former city councilman and longtime Spokane attorney and community activist. He says city leaders need to focus on priorities like streets instead of spending money on things he says sprout from the "politics of good things" like a police ombudsman and the mayor's Sustainability Task Force. He has faced strong criticism in the past for the filing of lawsuits in pursuit of his causes, but he says that criticism won't stop him from filing future suits if he feels they're necessary to pursue justice. Web site: www.steveeugster.com.
•Greg Ridgley, 18, who will be a senior at Gonzaga Prep in the fall and says he's running to inspire youth to get involved in their community and out of concern "for the taxpayers here in Spokane." He says he would cut the city's spending on social services.
•Kristina Sabestinas, 29, on a leave of absence as the deputy district director for the Spokane office of U.S. Rep. Cathy McMorris Rodgers, R-Wash. She has made strengthening business and fighting taxes a cornerstone of her campaign, though she says she's still crafting her positions on specific tax policies. Web site: votekristina.com.
•Jon Snyder, 40, publisher of Out There Monthly. Snyder has won the endorsement of the Spokane County Democratic Party. Snyder, who is an enthusiastic supporter of light rail, said in the long term the city must work to slow urban sprawl. To improve streets, he says he prefers working to renew the current street bond rather than creating new fees or taxes. Web site: www.votejonsnyder.com.
District 3: North of the Spokane River and west of Division Street. Candidates are:
•Karen Kearney, 57, a former member of Spokane's Human Services Advisory Board, who says she would be more responsive to Spokane residents than existing council members. Kearney, a former regional operations manager at Capital Savings Bank in Seattle, worked at banks for more than 20 years before moving back to Spokane in 1997. Web site: karenkearney.net.
•Barbara Lampert, 63, a retired nurse's aide who has run for office every year for more than a decade. She says the city should hire an additional 100 police officers by eliminating middle management positions. She also wants the city to install bus benches at every bus stop and outlaw vicious dogs.
•Nancy McLaughlin, 51, the incumbent, who with her husband co-owns D-Mac Construction, a kitchen and bath remodeling company. She points to her work to help develop a park near Joe Albi Stadium that had been delayed for years. She also says her fiscally conservative positions and votes have helped the city increase reserves and improve its bond rating. Web site: re-electnancy.com.
•Victor D. Noder, 49, a Navy veteran who used to remodel homes. He says he's positioning himself into building and selling Arts and Crafts-style furniture out of items he gets from the dump. He argues that the council isn't getting along and needs to act as a team. He believes the city should be able to balance its budget with economic stimulus money. Web site: victornoder.com.
•Christopher P. Stevens, 36, co-owner of a medical marijuana dispensary called Change. He did not respond to requests for interviews last week. He also has missed deadlines to file required paperwork on his candidacy with the state Public Disclosure Commission.
•John Waite, 45, who owns Merlin's, a downtown comic book, game and science fiction store. He says government is "completely broken" and adds that his beliefs, which he says are socially progressive and fiscally conservative, are the best fit for the district. Web site: votejohnwaite.com.
City of Cheney
From a new industrial park that needs to be filled to a major rewrite of its growth and development plan, this West Plains city is looking to chart the course of its future. The mayor's office and three council seats are on the ballot this fall, but there are just two contested primaries.
Mayor: This part-time position pays $10,500 a year. Candidates are:
•C. Allan Gainer, 47, owner of the Tree of Knowledge Bookstore and the incumbent. Gainer plans to continue the rewrite of the comprehensive plan, making it more functional. He wants to push the development of a 50-acre park on the north side of the city, which will provide a place for residents to celebrate events like the Fourth of July. Although critics have questioned whether he's too busy for the job, Gainer disputes it, saying the position is – by design – part time, and that much of the mayor's work is delegating duties to city staff.
•Curt Huff, 64, a retired associate vice president at Eastern Washington University. Huff has served on the council for 16 years and promises to give greater attention to the job and to rein in spending while increasing accountability. He promises to find permanent locations for city services that were lost when the roof of the Wren Pierson Building collapsed in January – the museum, Cheney Outreach and the food and clothing banks. He also wants to clean up downtown and to better park maintenance.
•Tom Trulove, 65, a former Cheney mayor who served from 1978-1986, City Council member since 2005 and chair of the economics department at Eastern Washington University. Trulove thinks the city needs to manage its budget conservatively in the coming years and wants more retail businesses in Cheney and more single-family homes, rather than apartment complexes. He said he will find grants to help the city with its projects and light industrial businesses to fill up the city's industrial park.
Council Position 3: The office pays a monthly stipend of $310.
•Jason MH Alvarado, 26, owns Web site development company XeroOnce Systems and has run for City Council before – he lost in 2007. He wants to bring more livable-wage jobs to Cheney and strengthen funding for fire and police. He also wants more single-family homes in Cheney, as well as low-income housing and retirement communities.
•Mike McKeehan, 64, is running for his fourth term as a City Council member. A retired elementary school teacher, McKeehan said he's happy with the city's direction but wants to boost tourism by improving signage along Interstate 90, designate pedestrian routes and increase single-family homes.
•Kathleen A. Warren, 51, an office manager in the Native American Studies Program at Eastern Washington University. Warren said she would give back the $310-a-month stipend that comes with the job so the money could be used instead to enhance city programs, such as a swim pass scholarship program. She also wants more outreach programs, such as a women's shelter or summer meal programs for children, and to bring in new businesses while keeping existing companies thriving.
City of Medical Lake
Although four council seats are open this fall, the only contested primary is for the office of mayor of this West Plains city, which has been without a police chief for more than a year and a half, and many residents have expressed concern that the city likely has outgrown its all-volunteer fire department.
Mayor: The position pays a monthly stipend of $700. Candidates are:
•Tony Harbolt, 43, the city's former police chief who is now a state corrections officer. Harbolt said firefighting, emergency services and law enforcement will be his priorities, along with revitalizing the downtown business core. He wants to engage community residents, including the military population, in helping confront challenges as they arise.
•John Higgins, 62, the incumbent mayor and a retiree from the Medical Lake School District and Eastern State Hospital. He said he has worked to secure grants for street improvements, installed solar-powered aerators in Medical Lake and worked to establish the $9 million state Veterans Cemetery. He also helped open a skate park and promised to find jobs for current police officers if the city decides to contract for law enforcement services with the county sheriff's department. He wants more investment in Medical Lake and more activities for children.
•Laura Parsons, 48, a former City Council member and a home health care worker. Parsons wants to contract with the Sheriff's Office for law enforcement services and would like to see a full-time fire department. She also wants to boost tourism.
•Mikeal Suniga, 27, is a police officer in Airway Heights and in the Air National Guard. He will be deployed to Southeast Asia soon for about six months but still wants to serve as mayor. If elected, the current mayor or mayor pro tem would remain in office until Suniga could return from overseas and take his oath. Suniga wants to enable online bill paying for residents, improve relations with surrounding cities and host town-hall-style meetings.
Town of Fairfield
Four positions are on the ballot this fall, but the only contested primary is for mayor of this town of about 600 in southeast Spokane County.
Mayor: The job pays $125 a month for a four-year term. Candidates are:
•Edward Huber, 44, a crop adviser for a local agribusiness corporation and incumbent finishing his first four-year term. He also served three years on the town council. He says learning the ropes takes a couple years, and he wants to continue in the job now that he understands it. "It's rewarding; I enjoy it," he said of the job. "I tend to focus on the positive."
•Michael VanSlyke, 40, the town's former public works director, who is calling for more attention to the sewer and water systems. He says the town's parks need more attention, and that he'd negotiate more law enforcement attention from the Sheriff's Office, which provides services under a contract. "I did take care of this town for so many years," he said.
•Ron Rogers, who moved to town three years ago and found a great community, according to information he provided for the voters guide. "I would like to help Fairfield continue on its journey to greatness," he wrote. Rogers did not return calls seeking information for this story.
Council
Position 4: The position pays $100 a month. Candidates are:
•KayDee Gilkey, 42, a six-year town resident who is assistant vice president for communications and public relations for Northwest Farm Credit Service. She said she didn't want to run but didn't want the seat vacant, either. She said the council's biggest challenge over the next two years will be finding ways to help economic development during the downturn.
•Valerie Spurrell, 33, a Fairfield native who works at a pharmacy and is an organizer of a youth football program. She wants the council to find ways to promote more community events such as a farmers market and weekly movie nights, and to get more members of the community involved so that it's not "the same faces doing all the things."
•Kevin Fields could not be contacted for this article and did not supply information to the county Elections Office candidate guide.
Town of Rockford
The ballot will feature three races in the fall, but there's just one contested primary.
Council Position 1: Interest in the unpaid council position is strong this year after incumbent Micki Harnois decided to run for mayor in this southeast Spokane County town. Candidates are:
•Howard Brutschy, 53, a former councilman and public works director who operates a DJ and karaoke business and works at the Harvest Moon restaurant. He said his community involvement should demonstrate his commitment to improving his community, adding that he helped start the Community Center Group and Thursday Night Movies in the Park, and served on the Southeast Spokane County Fair Board and the town's Planning and Zoning Commission.
•Stan Seehorn, 61, a former councilman and planning commission member who owns the NAPA auto parts store in Rockford. He's lived in the area since age 13 and wants to see the town grow and maintain services. "I'd like to have some input in decisions that affect our town," he said.
•Larry Van Every, 60, is a retiree with degrees in computer programming and business. He didn't return calls seeking information for this article, but says in the voter guide that he wants the town to prosper and the council to be accountable to the voters and uphold the U.S. Constitution.
Spokane School Board
A crowded slate of candidates is seeking two positions overseeing the state's second-largest school district. Like other districts, Spokane is struggling with choosing a new math curriculum; implementing a new state assessment test; and balancing a school budget in a state that has historically underfunded basic and special education. Board members are elected to six-year terms and can earn up to $4,800 per year.
Position No. 3 candidates are:
•Heidi Olson, 61, retired, serves on a Neighborhood Accountability Board for Spokane juvenile court. She has a master's degree in education and is certified to teach in primary and secondary schools. She wants to reduce the dropout rate and push for moratoriums on unfunded education mandates.
•Deana Brower, 39, a member of a Citizens Advisory Committee, co-chair of Citizens for Spokane Schools and president of Jefferson Elementary School's parent and teacher group. She was a secondary teacher for 12 years. Brower wants to "preserve and improve" the strength of schools and push all students to reach their potential.
•Jeff Bierman, 41, physics professor at Gonzaga University, currently holds the seat. He was appointed in September. Bierman was also appointed a member of the Washington State Board of Education Science Standards Advisory Council. Bierman has three children in the district. His goals include increasing the range of academic courses and programs and ensuring all students are academically challenged.
Position No. 4 candidates are:
•Laura Carder, 62, a community volunteer who holds degrees in math and music and, at one time, was certified in elementary education. Carder spent 12 years as a computer programmer and moved to Spokane in 2005. Carder wants creationism to be taught in Spokane schools and promises to seek stronger relationships among parents, teachers and students.
•Austin DePaolo, 45, consultant for College Success Foundation, grew up in Spokane before moving to the East Coast, where he taught in New York City's Spanish Harlem. DePaolo has been involved in several community organizations, including a low-income advocacy group and a family outreach center. He wants to make sure Spokane schools are giving all kids the same chance to succeed.
•Rocky Treppiedi, 52, a Spokane city attorney who currently serves as school board president and is seeking re-election to the seat he's held for 12 years. He promises to seek consistency and accountability in the classroom; make sure all kids are challenged; and serve as a good watchdog over taxpayer money.
East Valley School Board
Position 3: A crowded field of candidates has emerged to replace longtime board member June Sine, who decided against seeking another four-year term in this financially troubled district in rural eastern Spokane County. The challengers are:
•Bill Powers, 63, a semi-retired video producer who teaches at Spokane Community College and once worked as a bus mechanic in the district. Powers said his top priority would be getting budget problems under control.
•Heidi Gillingham, 40, a self-described "house mom" who volunteers in schools and other community organizations. Gillingham promises to improve communication with the public.
•Guy Gifford, 42, a forester with the state Department of Natural Resources who volunteers with various community groups. Gifford also promisesto improve communication.
•Kay Sieck, 50, a convention services coordinator who has served on three of the district's bond advisory committees. Sieck wants to improve the district's image.
Freeman School Board
District 1: Three candidates have filed for the seat being left vacant by the resignation of Vicki Sellers. The top two vote-getters will advance to the general election, with the winner serving the remaining two years of the four-year term. The candidates are:
•John Zingg, 71, who has been active in the district for years even though he has no children of his own, promises to invest the district's resources wisely. He's served on the district's bond and construction committees and says he would bring years of business management experience to the job.
•Allen Crist, 37, a Freeman graduate whose children now attend school in the district. Like the other candidates, Crist promises to focus on quality.
•Hal Ophus, 45, a contractor whose children also attend school in the district. He promises to balance the needs of students, families and taxpayers.
Local journalism is essential.
Give directly to The Spokesman-Review's Northwest Passages community forums series -- which helps to offset the costs of several reporter and editor positions at the newspaper -- by using the easy options below. Gifts processed in this system are not tax deductible, but are predominately used to help meet the local financial requirements needed to receive national matching-grant funds.
Subscribe now to get breaking news alerts in your email inbox
Get breaking news delivered to your inbox as it happens.
---