News > Washington Voices
Getting the business
Amanda Sackett knows her dollars and cents
Thu., June 4, 2009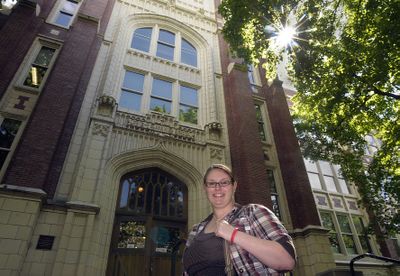 Amanda Sackett, 17, is often one of the very first students to arrive at Lewis and Clark High School, and she's just as frequently one of the last to leave.
"I guess school really has become my hobby," Sackett said, smiling. "Some of my friends would say that I spend way too much time here."
Sackett is this year's notable student at Lewis and Clark, and she's continuing on to Spokane Falls Community College where she'll pursue a business degree.
Sackett credits her business teacher, Lisa Weiler, with awakening an inner businesswoman she didn't know she had, and also with encouraging her to go to college.
"She has been my mentor and she's been the one giving me good advice," said Sackett. "Without her I wouldn't have gone on to college."
Weiler said she had to encourage Sackett to apply for scholarships, even though college seemed like a natural fit.
"I sort of had to force her," Weiler said. "She'd say, 'This is too long for me to write; I can't do it' and I'd say, 'Well, it's long for me too, but we're doing it.' " Eventually, Sackett landed three scholarships, so she's set.
Sackett is familiar with big challenges. Her mom got sick when Sackett was in third grade at Jefferson Elementary. Initially doctors thought it was multiple sclerosis, but it turned out to be Lou Gehrig's disease.
"For two years we knew she was going to pass away, because there is no cure," Sackett said. "She died right before I started high school."
While at Jefferson, Sackett received a Chase Youth Award for courage.
"The teacher nominated me because I still managed to be on the honor roll with all the stuff that was going on in my life," Sackett said. A nominating letter said she always looked at the cup as half-full and showed up with a smile.
"I still pull that letter out and read it when I need a little boost," Sackett said.
Today, she lives together with her older sister and her family. Her father lives in Arizona, yet Sackett is quick to point out that he didn't just abandon her.
"He moved my freshman year, but I didn't want to go with him, I didn't want to change high schools," she said. "I talk to my dad every day."
Weiler runs the CO-OP program, a two-year business program which also runs the Tiger Depot Gift Shop, at Lewis and Clark High School.
This year Sackett manages all the finances at the Tiger Depot.
"I rely on her a lot for running the Tiger Depot – I put her in charge there and it's been a very easy year for me so far," Weiler said. "She wants to account for every penny that comes and goes. You really can't complain about that."
Sackett has another job working for Spokane Public Schools' nutritional services, doing office work. The money she makes goes to pay rent at her sister's and other living expenses.
In Weiler's entrepreneurship class, Sackett developed a business plan for a horse boarding facility, and she said she'd love to work with animals one day.
"I'd like to have a bed and breakfast for dogs and cats," she said. "It would be a smaller place where the animals can be when the owners are on vacation. A place that has more of a homey feel to it, not a kennel."
Weiler said Sackett's horse boarding plan won second place in the class when judged by local business owners.
"She is just a wonderful young lady, very astute," Weiler said. "I noticed her when she was a freshman, then I found out that she'd lost her mother, and I kind of took her under my wing and tried to help her along knowing how devastating it was to her."
Sackett said school has very much been her entire life these past four years.
"It will be different moving on to a new school, because LC has been such a big part of my life," Sackett said. "I am a little nervous, but I love to say 'Go for it – it will figure itself out.' "
Local journalism is essential.
Give directly to The Spokesman-Review's Northwest Passages community forums series -- which helps to offset the costs of several reporter and editor positions at the newspaper -- by using the easy options below. Gifts processed in this system are not tax deductible, but are predominately used to help meet the local financial requirements needed to receive national matching-grant funds.
Subscribe to the Coronavirus newsletter
Get the day's latest Coronavirus news delivered to your inbox by subscribing to our newsletter.
---
Subscribe and log in to the Spokesman-Review to read and comment on this story