An intoxicating experience
Beautiful vistas just the beginning of pleasures at Wine Valley GC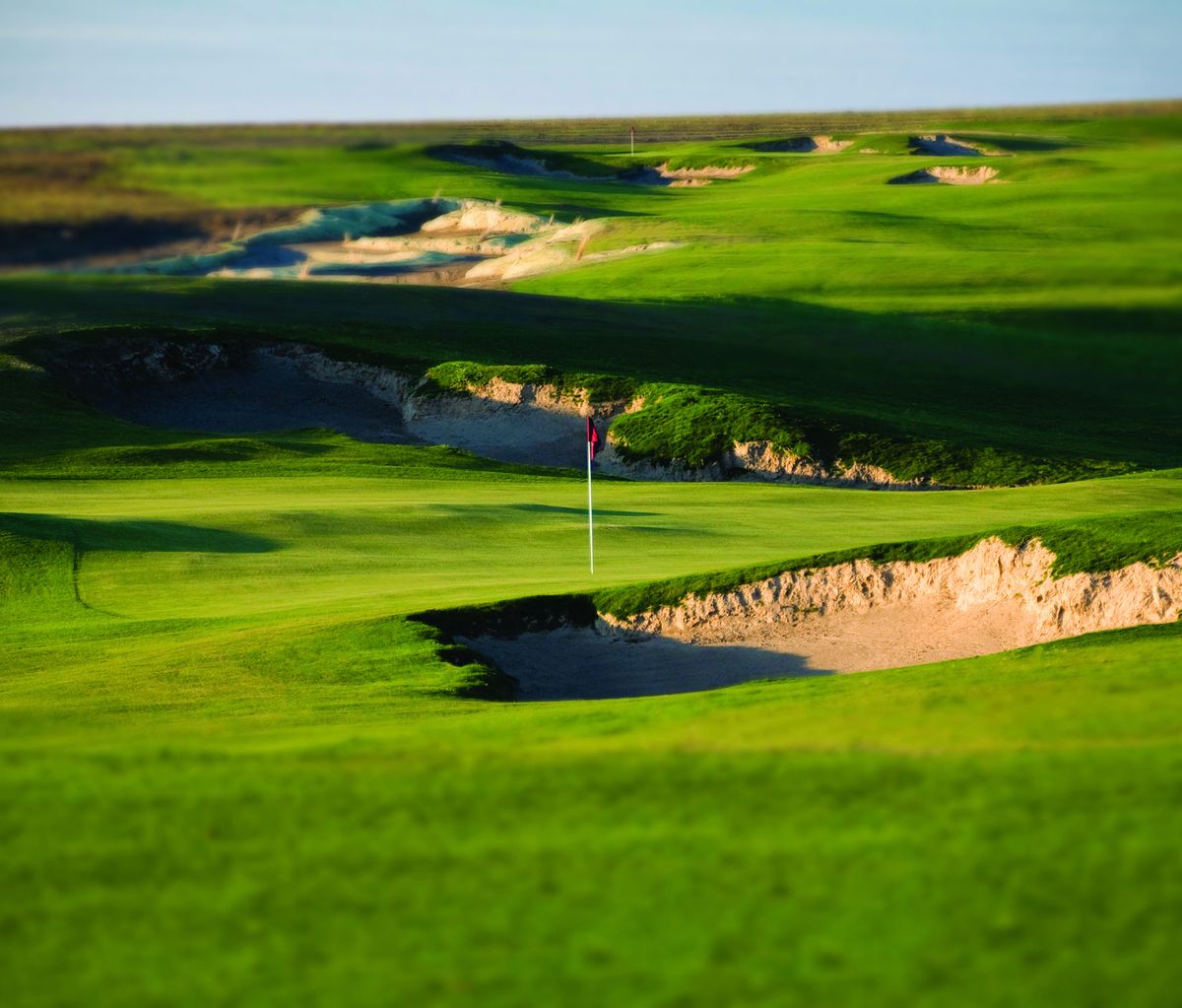 From its design to its location to its nifty little logo of a corkscrew with a hole-number flag on top, there simply isn't much to not like about Wine Valley Golf Club.
The visually dramatic 7,360-yard public course that opened this spring and unwinds so serenely over rolling hills just seven miles west of Walla Walla is fair, fun, formidable and fantastic.
In other words, it turned out exactly like co-owners John Thorsnes and Jim Pliska envisioned.
"It's fair, and you can have a lot of fun out here," said Thorsnes, who also serves as Wine Valley's director of golf. "That's really what we were hoping for, because if a course isn't both of those, people aren't going to want to play it."
Wine Valley is a par-72 layout designed by Dan Hixson, a former golfer at Oregon State University, who played professionally on the Australian Tour from 1984-86, before returning to the Pacific Northwest, where he later served as the head PGA Professional at Columbia Edgewater Country Club in Portland.
Hixson resigned his position at Columbia Edgewater in 1999 and launched his own golf course design business, Dan Hixson Golf Design, Inc. Among his best-known projects was the design of Bandon Crossings in Bandon, Ore., which opened to rave reviews in 2007, earning the designation of one of Golf Magazine's Top 10 "New Courses You Can Play."
Now comes Wine Valley, which should do nothing but enhance Hixson's growing portfolio.
Featuring wide, inviting fairways – many of which use the surrounding Blue Mountains as a scenic backdrop – and massive, smooth-rolling bentgrass greens, Wine Valley should quickly endear itself to golfers of all ages and skill levels.
Five sets of tee boxes on each hole give golfers a chance to pick their poison. And despite the fact the course is treeless, things can get pretty toxic from the "tips," where those mid-handicappers not willing to check their egos on the first hole will looking at five par-4s that stretch 420 yards or longer.
The course can play from 5,105 to 7,300-plus yards depending on the choice of tee boxes.
The opening par-4, which stretches 430 yards from the back tees, affords an early taste of both the character and difficulty of the rolling layout. The toughest hole on the course is the 475-yard, par-4 fifth, which features a fairway protected on the left by a dry riverbed that runs almost from tee to green. And the par-4 13th, another monster, measures a formidable 505 yards.
The 18th, a 565-yard par-5 that plays from perhaps the most scenic tee box on the course to a green cut into a hillside and bordered by a couple of menacing sand traps, is a great finishing hole on which a lot of money can change hands.
Hixson also incorporated three man-made lakes into his creative design, and included deep, enormous bunkers, jaggedly edged by tall native grasses that add immensely to the natural beauty of the course.
But the best feature of Wine Valley is its greens, which average more than 9,000 square feet of bentgrass heaven and include more bumps, humps and ridges than you'll find on any putting surfaces in the region.
The greens, because of their size and severe undulations, can actually pinch the wide fairways because of the importance they put on approach shots – which can vary by two or three clubs depending on pin placements.
"It's definitely a second-shot golf course," Thorsnes said. "And even though the fairways look so inviting, you need to position your drives in order to get the best angle into certain pins."
The greens and the winds, which generally blow from 5-10 miles per hour and usually out of the southwest, take the place of trees, according to Thorsnes.
"If you can get around the course without three-putting, you've done a heck of job," he explained. "And the course was built with the wind in mind. The greens and wind are the course's only defense."
The plan, according to Hixson, was to design a course that fit naturally into the rolling terrain that has been created by thousands of years of wind and water and present golfers with a different set of conditions each time out.
"Conditions change every day," Hixson said, "or more often than that. You just can't come here and play it the same way over and over. You've got to think and adapt, and to me, that is what makes golf fun."
According to Thorsnes, the course has been getting much of its early play from golfers willing to make the drive from Spokane and Seattle.
"Those two cities have been our biggest draw," he said, "and we've gotten a little bit of traffic from Portland. And too be honest with you, we haven't heard any negative comments yet."
---