News > Nation/World
Violence deepens in Peru
Nine more police die at site of Amazon Indians' protest
Sun., June 7, 2009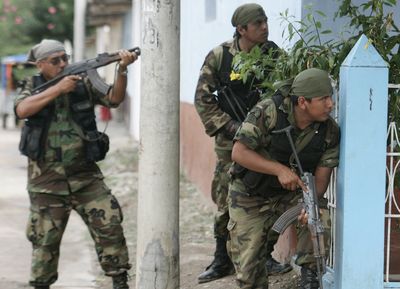 BAGUA, Peru – President Alan Garcia labored Saturday to contain Peru's worst political violence in years, as nine more police officers were killed in a bloody standoff with Amazon Indians fighting his efforts to exploit oil, gas and other resources on their native lands.
The new deaths brought to 22 the number of police killed – seven with spears – since security forces moved early Friday to break up a roadblock manned by 5,000 protesters.
Protest leaders said at least 30 Indians, including three children, died in the clashes. Authorities said they could confirm only nine civilian deaths, but Cabinet chief Yehude Simon told reporters that 155 people had been injured, about a third of them with bullet wounds.
He announced a 3 p.m.-6 a.m. curfew, which took effect immediately in this sweltering jungle region where Simon said authorities had made 72 arrests.
In a statement issued Saturday, Garcia defended the crackdown as an attack on "subversive anti-democratic aggression" that had blocked the flow of oil and gas from the Amazon and prevented food, medicine and gasoline from getting in.
The political violence is the Andean country's worst since the Shining Path insurgency was quelled more than a decade ago and bodes ill for Garcia's ambitious plans to boost Peru's oil, gas and mineral output and spur logging and biofuel development. Garcia compared the "savage and barbaric methods" used to kill police "who had surrendered and been disarmed" with those employed by the Shining Path.
The violence began before dawn Friday when security forces moved to break up a roadblock protesters mounted in early April. About 1,000 protesters seized police during the melee, taking more than three dozen hostage, officials said.
Local journalism is essential.
Give directly to The Spokesman-Review's Northwest Passages community forums series -- which helps to offset the costs of several reporter and editor positions at the newspaper -- by using the easy options below. Gifts processed in this system are not tax deductible, but are predominately used to help meet the local financial requirements needed to receive national matching-grant funds.
Subscribe now to get breaking news alerts in your email inbox
Get breaking news delivered to your inbox as it happens.
---