Sports
Ex-Coug Leaf arrested at U.S.-Canada border
Wed., June 17, 2009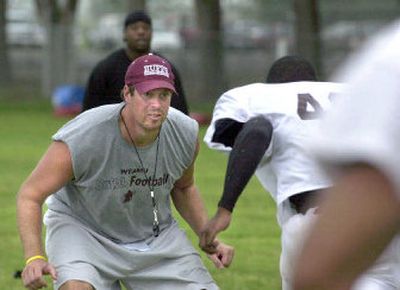 DALLAS — Former NFL quarterback Ryan Leaf was in custody Wednesday in Washington on drug and burglary charges out of Texas after being arrested by customs agents as he returned to the United States from Canada. James Farren, the district attorney in Randall County in West Texas, said Leaf was arrested Wednesday by federal customs agents. Legal assistant Jennifer Bonstein said Leaf declined to waive extradition during a hearing Wednesday afternoon in Bellingham, Wash., about 90 miles north of Seattle. Bond was set at $45,000, and Leaf's attorney in Washington told the court Leaf would post the bond and return to Texas by himself. Leaf also was to come back to court in Whatcom County on July 16, Bonstein said. Bill Kelly, Leaf's attorney in Texas, said his client was returning to Texas to turn himself in by a Thursday deadline. "I assume when he was crossing the border, they picked him up," Kelly said. The ex-Washington State University and San Diego Chargers quarterback is charged with burglary to a habitation, a second-degree felony. Leaf also was indicted on seven counts of obtaining a controlled substance by fraud and one count of delivery of a simulated controlled substance. Leaf coached quarterbacks at West Texas A&M in Canyon, where the indictment was returned in May. Leaf, who resigned from West Texas A&M after being investigated for drug crimes in November, was working in British Columbia, his attorney said. Kelly, a former head football coach at the college, said Leaf "has been to rehab and successfully completed it." Leaf, who coached for three seasons at West Texas A&M, spent four seasons in the NFL after being chosen with the No. 2 pick in the 1998 draft by the Chargers. In his NFL career, which included stints with the Tampa Bay Buccaneers and Dallas Cowboys, Leaf had 14 touchdowns and 36 interceptions. He was better known for outbursts directed at teammates, coaches, fans and reporters.
Local journalism is essential.
Give directly to The Spokesman-Review's Northwest Passages community forums series -- which helps to offset the costs of several reporter and editor positions at the newspaper -- by using the easy options below. Gifts processed in this system are not tax deductible, but are predominately used to help meet the local financial requirements needed to receive national matching-grant funds.
Subscribe to the sports newsletter
Get the day's top sports headlines and breaking news delivered to your inbox by subscribing here.
---