News
Suspects in carjacking, fatal crash identified
Vehicle involved taken in carjacking
Fri., June 19, 2009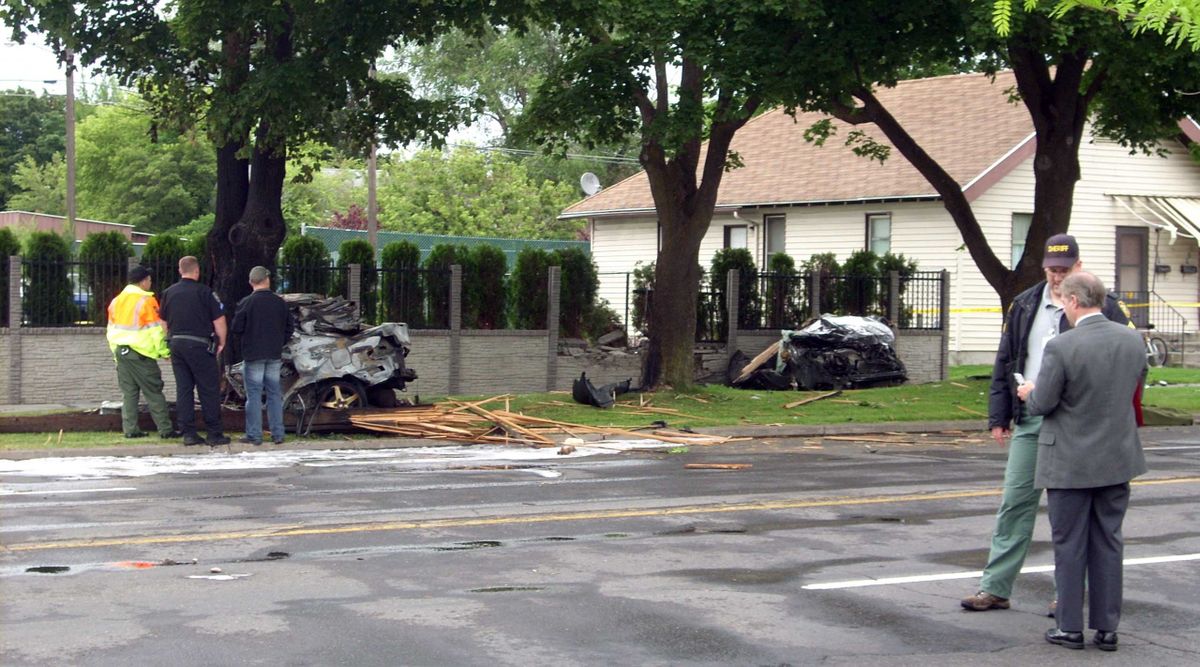 Pieces of a 2002 Acura, stolen in a carjacking this morning, were scattered along Indiana Avenue after the driver, who died, lost control and struck a tree. The impact split the car in two pieces seen at left by investigators and in the middle of the photo next to the right tree. (Mike Prager / The Spokesman-Review)
A fiery crash that began with a carjacking Friday killed a woman who had a history of car theft. The woman's boyfriend was arrested late tonight after an all-day search. Marjorie A. "Amy" Harrigan, 24, died instantly when she was thrown from a carjacked 2002 Acura RSX during a police chase on Indiana Avenue just east of Ruby Street early Friday morning. The Acura struck a tree and ripped in two, according to Spokane police. "She's been in a lot of trouble recently, but I thought she was going to do better," said Marjorie Harrigan, the woman's grandmother. "She was a nice girl. It's too bad she ruined her whole life." Harrigan had a young son who's been cared for by her mother. The Acura's owner, a 24-year-old Spokane man, told police he met Harrigan and her boyfriend, Michael L. Olson, 30, at Ace's Casino, 6301 N. Division St., overnight. The two asked him for a ride to a parking lot at Maple Street and Northwest Boulevard to retrieve a borrowed pickup, according to the Spokane County Sheriff's Office, which is handling the investigation because it involves a Spokane police chase. The three left the pickup at a residence. Later, back in the Acura, Olson and Harrigan assaulted the car's owner and forced him out of the vehicle near Perry and Cataldo streets, he told police. The Acura owner called 911. Later, a police officer and the victim spotted the Acura and the truck driving on Nettleton Street near Euclid Avenue. When officers tried to stop the Acura, the car and the pickup both took off, the Sheriff's Office said. Four police vehicles followed the Acura as the driver, Harrigan, raced east and south through Spokane, losing control on Indiana just past the traffic light at Ruby around 4:30 a.m., authorities said. Skid marks showed Harrigan lost control just past Ruby and veered across the westbound lanes into a streetlight pole, splintering it into dozens of pieces, Spokane County sheriff's Lt. Steven Barbieri said. The vehicle then hit a large maple tree and the car split in two. Harrigan's body came to rest about 30 feet away. The rear of the vehicle burst into flames. The front section of the vehicle along the sidewalk about 30 feet from the rear section. Police located Olson, a 30-year-old transient, walking near Francis and Addison about 7:30 p.m. Friday. Officers got a call the suspect might be in north Spokane, and found him walking north on Addison, said Sgt. Dave Reagan, Sheriff's spokesman. He was booked into the Spokane County Jail on first-degree assault and first-degree robbery charges. Olson has been convicted of theft and drug possession. Harrigan had been convicted of taking a vehicle without permission, drug possession, making burglary tools, possession of a stolen vehicle, and driving without a license.
Sara Leaming contributed to this report.
Local journalism is essential.
Give directly to The Spokesman-Review's Northwest Passages community forums series -- which helps to offset the costs of several reporter and editor positions at the newspaper -- by using the easy options below. Gifts processed in this system are not tax deductible, but are predominately used to help meet the local financial requirements needed to receive national matching-grant funds.
Subscribe now to get breaking news alerts in your email inbox
Get breaking news delivered to your inbox as it happens.
---