News > Features
Spokane-area residents see another side of Iran
Sun., June 21, 2009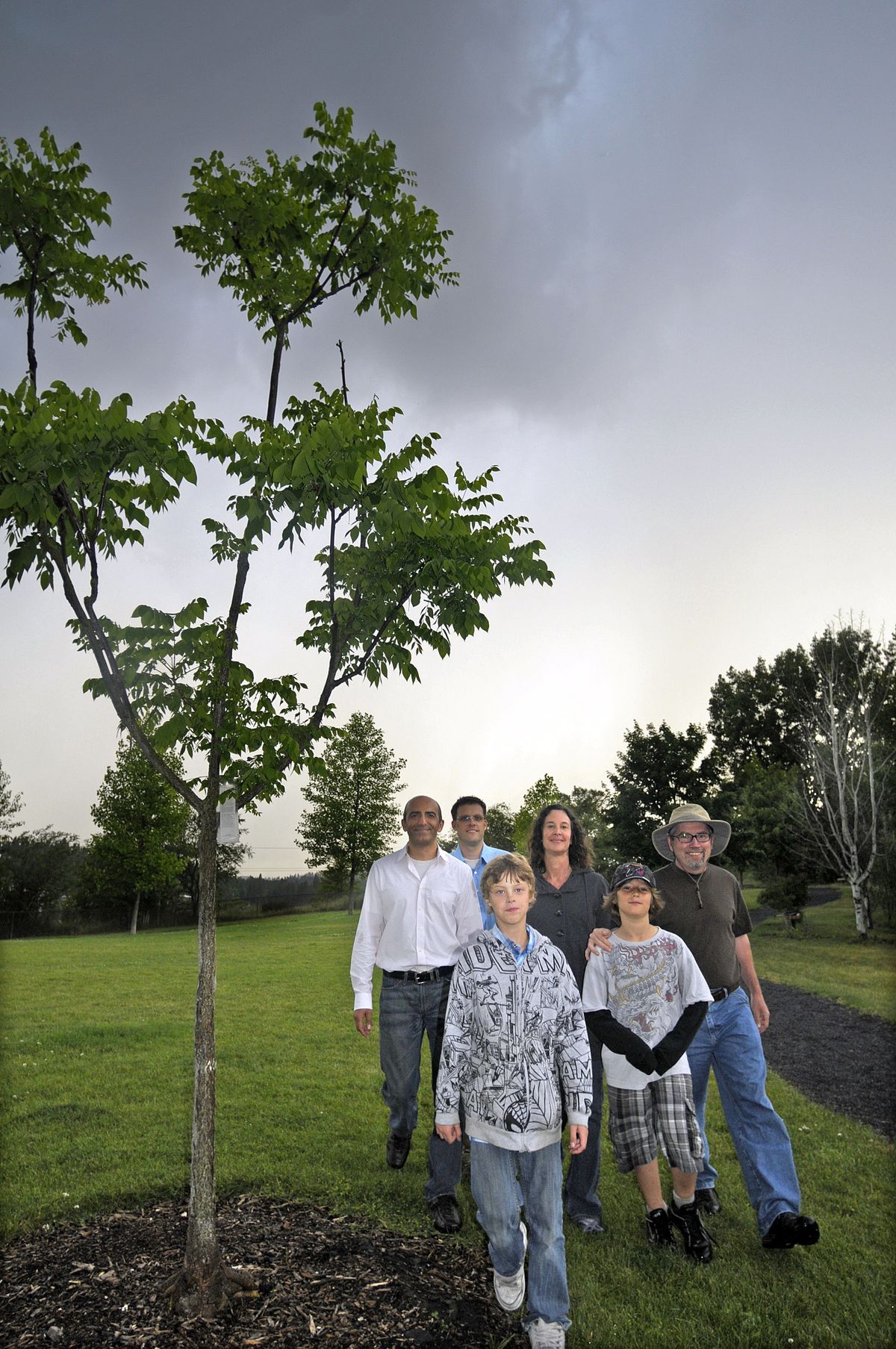 A group of Spokane residents walk past a "peace tree" planted in Polly Judd Park by Iranian bike tourists last year. The group reciprocated by traveling to Iran to plant peace trees in that country. From left, Shahrokh Nikfar, Jon Snyder, Jackson Snyder, Pam Deutschman, Zak Deutschman and Tom Deutschman. (CHRISTOPHER ANDERSON / The Spokesman-Review)
They didn't travel as tourists.
When Spokane resident Shahrokh Nikfar and two families with young children journeyed to Iran last month, they saw themselves as a "peace delegation" – a group of Americans who wanted to share the best of their own country while learning about a culture and foreign land that many in the United States had advised them to fear.
The U.S. and Iranian governments have absolutely no diplomatic or consular relations, but ordinary citizens – including several from Spokane – have taken it upon themselves to travel across a dozen time zones to better understand a country once maligned as being part of "an axis of evil, arming to threaten the peace of the world."
Now that they've returned, the children – Zak Deutschman and Jackson Snyder, both 9 years old – tell stories of pick-up soccer games, eating egg and hot dog sandwiches, giant sand dunes and sharing ice cream cones at the park.
The four adults who were part of the two-week trip describe a geographically diverse country steeped in culture and ancient history. They speak of friendly people who welcomed them and were eager to learn more about America; of women who kissed and fawned over their children; of strangers who shared their food and even invited them to a birthday party.
Their photographs and memories clash with the images that dominate the evening news as violence and civil unrest break out in the capital city of Tehran with the uncertainty surrounding the country's historic presidential election.
Americans have become accustomed to depictions of Iran as a country of upheaval, said Tom Deutschman, who made the trip with his wife, Pam, and their son.
Those images are certainly part of the country's struggle, he said, but they often lack nuance and don't tell the whole story or reflect the day-to-day reality of the vast majority of the population.
"What stood out to me was the warmth and love of the people," Deutschman said, describing how many Iranians stopped to talk to them wherever they went.
While Iran is emerging as a popular tourist destination for Europeans, it's still a place that many Americans would never travel to, let alone be able to locate on a map. In fact, the U.S. State Department has had a long-standing travel warning to this Middle Eastern country.
"Some elements of the Iranian regime and the population remain hostile to the United States," according to the State Department's Web site. "As a result, American citizens may be subject to harassment or arrest while traveling or residing in Iran."
The warnings – the official one from the government, as well as those from people who advised them to stay home or at least not to bring their children – didn't discourage the Deutschmans or Jackson's father, Jon Snyder.
Nikfar, who spent his youth in Iran before moving to Spokane in 1978, asked them to consider joining him on a trip to his native country almost two years ago.
The families also were inspired by the example of Jafar Edrisi and Nasim Yousefi, two cyclists from Iran who sold most of their belongings to ride their bikes around the world in order to plant peace trees, promote environmental conservation and foster cultural exchange.
The couple, who had never been outside of Iran, arrived in Spokane in May 2008. They were invited by Nikfar, who had learned about their tour through a BBC International broadcast and was touched by their desire to learn about other cultures and spread goodwill throughout the world.
During their stay, Edrisi and Yousefi were joined by area cyclists including Snyder as they rode from Manito Park to Polly Judd Park, where they participated in a tree-planting ceremony and a pancake breakfast served by the Deutschmans.
They also visited schools, stayed in people's homes and met with various organizations in Spokane that wanted to learn more about Iran and their adventure.
Nikfar and the two Spokane families reciprocated. To celebrate the first anniversary of the Spokane tree planting, they planted peace trees in a Tehran park and also at a school. Their goodwill tour was documented by several newspapers in Iran.
Acquiring visas was a challenge. In recent years, the number of Americans traveling to Iran has been so minimal that even the customs agent at the airport in Tehran had to search for special forms for the Snyders, the Deutschmans and Nikfar to fill out.
"They didn't know what to make of us," said Pam Deutschman.
But despite their surprise or shock to meet Americans visiting their country, many of the Iranians welcomed them with open arms.
"They knew how hard it was and how unusual it was for Americans to be there," said Jon Snyder. "They were deeply impressed and it reinforced their pride in their country."
Throughout their travels to Tehran, Isfehan, Shiraz and other cities, people stopped to talk.
"What do you think of our country?" they would ask. On a few occasions, some people told them in English: "Government, bad. People, good."
It was hard to tell if they were describing their feelings about the United States or their own country, but their actions showed that they valued the Americans' efforts to foster cultural exchange.
"Salaam! Haletoon chetore?" Pam Deutschman would say to everyone she met. "Peace be with you! How are you?"
People immediately smiled when they heard her greeting in Farsi. They also were reassured by her efforts to observe their cultural norms by covering her hair with a scarf and dressing modestly like other women.
Despite suffering from jetlag and sleep deprivation, the Spokane group didn't spend any time relaxing or even taking much-needed naps in their hotel room. Instead, they used every free moment to be among Iranians, whether it was at the park, the pool or at restaurants.
"We stepped out of our comfort zone," said Nikfar. "When you go on vacation, you relax. But this wasn't a vacation.
"We wanted to convey a message of peace and friendship to as many people as we could and to bring those messages back here. We knew we were there for a limited time and every moment was precious to us."
Nikfar and the families returned to Spokane with more than 6,000 photographs and memories that they've shared with friends and others. They also promised to come back someday.
"This was an amazing trip," said Nikfar, who hosts a radio show on KYRS-FM called "The Persian Hour." "I mean, we were spreading goodwill and peace, making tons of friends, eating great food, doing tons of sight-seeing and having an experience of a lifetime.
"And really, how many people can claim having planted peace trees in the axis of evil while sharing cream puffs with the locals?"
The Deutschmans brought back a few rials, the currency in Iran, to share with Zak's fellow third-graders at Southside Montessori.
They students were thrilled to receive a token from Iran, said Pam Deutschman. They also wanted to hear Zak's stories and learn what it was like for their classmate and his family.
"They were so excited," Deutschman said. "I feel people's opinions (about Iran) changing. They're talking about it more. …
"I never thought I could affect change, but now I feel the ripple effects. Our trip is making an impact. People can make a difference."
Virginia de Leon is a Spokane-based freelance writer. Reach her at Virginia_de_leon@ yahoo.com.
Local journalism is essential.
Give directly to The Spokesman-Review's Northwest Passages community forums series -- which helps to offset the costs of several reporter and editor positions at the newspaper -- by using the easy options below. Gifts processed in this system are not tax deductible, but are predominately used to help meet the local financial requirements needed to receive national matching-grant funds.
Subscribe now to get breaking news alerts in your email inbox
Get breaking news delivered to your inbox as it happens.
---