A&E > Entertainment
Protesters call for police oversight
Groups urge more authority for ombudsman
Fri., June 26, 2009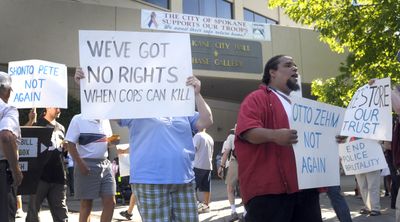 More than 100 people gathered in front of Spokane City Hall on Thursday evening to rally for police accountability and changes to an oversight process they see as flawed.
Carrying signs that read "Stop police abuse" and "End police brutality," the group circled the Post Street entrance to City Hall chanting, "Josh Levy, Otto Zehm, Shonto Pete, not again!"
The rally followed the federal indictment of Spokane police Officer Karl Thompson for his role in the death of mentally ill janitor Otto Zehm and comes days before the Spokane City Council is set to vote on hiring a police ombudsman.
"We wanted to offer people the opportunity to speak out … to create change in order to have a relationship of trust with city leaders and Police Department," said Liz Moore, director of the Peace and Justice Action League of Spokane, who along with Shonto Pete and his family organized the rally. About 10 other community-based groups joined in.
Levy jumped to his death off the Monroe Street Bridge in 2007 after a 20-hour standoff with police. An officer tried to subdue the 28-year-old schizophrenic with a Taser, but only one prong hit and Levy jumped.
Pete, who was shot in the head by an off-duty police officer two years ago after a drunken chase through Peaceful Valley, carried a sign that read "Real reform now."
A jury found former Officer Jay Olsen innocent in the shooting, and Pete was exonerated of the auto-theft charge related to the case. Olsen quit his job before facing an internal police review for alleged misconduct.
"Something needs to change," Pete said.
PJALS, Pete and others are urging city leaders to change the ombudsman's duties so to give him investigative subpoena authority, enabling him to instigate and carry out his own investigations.
Pete said he talked with Mayor Mary Verner last week, and urged her to also reconsider her choice for police ombudsman. Tim Burns, 55, who served as a police officer for 22 years in Los Gatos, Calif., is now a neighborhood preservation manager in Visalia, Calif. The Spokane City Council is expected to consider Verner's choice Monday.
"If she wanted (accountability), she shouldn't have hired another cop," Pete said.
About a half-hour after the rally began, city spokeswoman Marlene Feist sent out a news release and fact sheet of frequently asked questions about the ombudsman post. It says the ombudsman will not have investigative or disciplinary authority over officers.
"The mayor thinks it's actually better for the police ombudsman to have the authority to observe than it would be to do his or her own investigation," Moore said. "I feel I don't understand her reasoning enough to represent it."
Local journalism is essential.
Give directly to The Spokesman-Review's Northwest Passages community forums series -- which helps to offset the costs of several reporter and editor positions at the newspaper -- by using the easy options below. Gifts processed in this system are not tax deductible, but are predominately used to help meet the local financial requirements needed to receive national matching-grant funds.
Subscribe to the Spokane7 email newsletter
Get the day's top entertainment headlines delivered to your inbox every morning.
---