News > Features
Comic releases 'Incredibad'
Andy Samberg's career takes off
Sun., March 1, 2009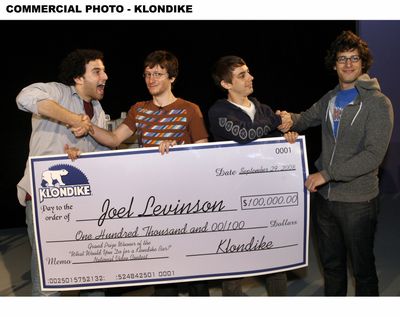 When Andy Samberg was a kid, one of his most frequently played CDs wasn't by a musical act, but by his comedic hero, Adam Sandler.
"Sandler's first album, I probably listened to like a million times," Samberg says of Sandler's 1993 CD "They're All Gonna Laugh at You!"
"It's like summer camp for me, discovering that with all my friends. … It was truly inspirational."
Samberg hopes to have a similar effect with "Incredibad," a CD/DVD he released with his writing partners Jorma Taccone and Akiva Schaffer, childhood friends collectively known as The Lonely Island.
While Lonely Island may not be a household name, the clips the group has produced for "Saturday Night Live" have become viral sensations, including one whose title can't be printed in a family newspaper which featured a memorable appearance by Justin Timberlake.
That's included on "Incredibad," along with a DVD with shorts from the show, as well as new material.
"I think if you're into what we do, we're delivering on that in spades," said Samberg.
It was Lonely Island's digital short film, "Lazy Sunday," that lit the spark for Samberg's white-hot career.
When "Saturday Night Live" aired it in December 2005, Samberg was a goofy 27-year-old rookie, basically unknown to even the show's most devout fans. Within a week, the video – a geeky, hip-hop paean to "The Chronicles of Narnia" – was viewed more than a million times on the Internet.
Since then, the Lonely Island's shorts, like Natalie Portman's "Natalie's Rap," have become instant Internet hits. Their new single, "I'm On a Boat" featuring rapper T-Pain, has topped iTunes' music video chart.
The new CD/DVD features their greatest hits as well as new collaborations with such stars as Jack Black, Norah Jones and Julian Casablancas of The Strokes.
"We just sat down at the beginning and were like, 'Whose careers can we ruin?' And then we just picked names out of a hat," Taccone jokes.
"It's all people that we're just huge fans of, so, we're thrilled that they're on there," Schaffer adds.
"And every time I hit play on a song, it's like, us, us, and I'm like, 'eh, eh,' and then they come on and I'm like, 'Hey!' Because we're just fans of those people."
Local journalism is essential.
Give directly to The Spokesman-Review's Northwest Passages community forums series -- which helps to offset the costs of several reporter and editor positions at the newspaper -- by using the easy options below. Gifts processed in this system are not tax deductible, but are predominately used to help meet the local financial requirements needed to receive national matching-grant funds.
Subscribe to the Coronavirus newsletter
Get the day's latest Coronavirus news delivered to your inbox by subscribing to our newsletter.
---