News > Spokane
Best of the Voices: Game official calls his work 'giving back'
Sun., March 1, 2009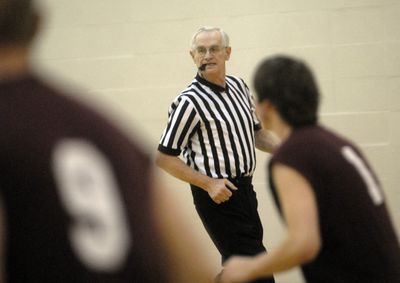 For the past half-century, Gary Broadbent has been a Technicolor man living a black-and-blue life.
Since 1959, when he first officially donned a black-and-white referee jersey as a 19-year-old former basketball player, Broadbent has been a game official. He added the baseball umpire's blue to his wardrobe a few years later and followed that with a softball uniform and another for volleyball. "I love it," he said. "Always have. I love the game, whether we're talking about baseball or basketball or volleyball.
"I think if you're going to be successful as an official, you have to know the game, and I think you have to have played the game. For me, this is my way of giving something back."
It all started on the court.
"I played basketball when I was in high school in Mead, back when Mead was still a little school," Broadbent said. "Our coach got sick and took a leave of absence. I found out later that the guy that took over while he was gone was a basketball official, but it made sense. Whenever we would scrimmage together, he would have us officiate ourselves. That's pretty much where I got started."
The love of baseball started years earlier, he said.
"When I was a kid, you listened to baseball games on the radio," he said. "That was your entertainment. I remember listening to games with the Yankees and the Dodgers back when they were still in Brooklyn.
"That's where my love of the game comes from. Oddly enough, though, I never played baseball in high school – I was a track kid."
In 50 years behind the plate or behind the whistle, Broadbent has refereed, umpired or officiated more games than he can count. There have been four national softball tournaments and a trove of elite basketball tournaments. State tournaments. Varsity games. Junior varsity games. Pony League games. Parochial school games for the Knights of Columbus. All the way up to the occasional college games.
"I like working with young kids," he said. "I always have. I've done a lot of high school games over the years, and I've done games for Whitworth and Gonzaga and the community colleges. I had opportunities to go on and do college games, but by then I had a family, and I didn't want to get into all that travel."
These days, as umpire-in-chief for Spokane Pony Baseball, Broadbent is on the lookout for more people with an eye for the strike zone and who are willing to don a chest protector.
"You always need more umpires and referees," he said. "There are a lot of games that need to be covered and you always have to have fresh blood coming in to replace the people you lose and who retire."
If a potential umpire or referee needs any proof about how the game can keep you young, one need only look at Broadbent. At 69, he still gets up and down the court with the best of them and is in no hurry to hang up his whistle or his chest protector.
"Someone once did a study that showed that a basketball official will run between five and seven miles during a game," he said. "It keeps you in shape. I think it's kept me young."
Steve Christilaw
Teen's fast recovery
Today, Beau Lee can do what was almost unimaginable just over four months ago.
Things like talking, running or even standing were best-case scenarios in late October when the then-17-year-old lay in the intensive care unit of Kootenai Medical Center after falling off a second-floor balcony during a party.
On a recent Friday morning, Lee, a senior at Lake City High School and a runner on the cross country team, was at Holy Family Catholic School in Coeur d'Alene to offer his thanks through cupcakes to the second-, third- and fourth-grade students – including his little sister, Campbell – for praying the Rosary every day for a month once news of his injuries had reached the school.
"As you know, I was in an accident – a pretty bad accident – and thanks to you guys I was able to get out of the hospital a lot faster," Lee told his audience of about 60 students and a handful of teachers.
"This really shows how powerful prayer is, because I should have been in the hospital a lot longer. The doctors said I shouldn't be doing this good, so you guys can go ahead and pat yourselves on the back."
By all accounts, Lee, now 18, has made remarkable progress. It was on Oct. 9 that Lee and several classmates were drinking at a friend's house following a Lake City volleyball match. Later in the night, he tried to do handstands on the deck railing, flipped over the side and fell nearly 26 feet to the ground.
The entire evening and the accident – in which he suffered a diffuse axonal brain injury, a severe shearing of the brain that occurs when the head is rapidly accelerated or decelerated, as well as blood clots and a fractured pelvis – is gone from his memory. In a moment of panic, Lee's friends loaded him in a car and rushed him to the hospital, rather than calling an ambulance.
"I think about it every day, about how dumb of a mistake it was," he said, sitting at his family's dining room table with his mom, Linda, talked about their experiences over the last few months. "We were just being teenagers and messing around, and all of a sudden it happened."
Lee was in intensive care for several days. He regained consciousness, but remained unable to speak for several days. On Oct. 17, he was transported to St. Luke's Rehabilitation Institute in Spokane, where friends and family visited and filled a Web message board with well-wishes.
Karen Stanek, Lee's attending physician at St. Luke's, said because of the widespread shearing in Lee's brain, the nerve fibers would have to find new routes to fire information around the damaged areas, which could take anywhere from a few months to several years to heal, depending on the person.
"Every brain is different. (The recovery) is sometimes a gradual, slow grind," Stanek explained. "We see this sort of injury very frequently. Not usually under these circumstances … but unfortunately you see this diffuse axonal injury often in motor vehicle accidents, skateboarding – any acceleration with a sudden stop."
Five days after he was admitted to the rehabilitation institute, something happened that Linda calls a miracle. A nurse told her they'd had a breakthrough: Lee was awake and responding to therapy. And when Linda arrived at the institute, her son came rolling by in a wheelchair. "He said, 'Keep chatting mom, I'll be right back,' " she said, astonishment still in her voice. "And then it was uphill ever since." He was released from St. Luke's on Nov. 12.
To those who don't know him, Lee now looks and acts like a typical high school student – athletic build with a mop of dark hair, a 4.0 grade point average, a close-knit circle of friends and hopes of attending a college to pursue a degree in the medical field.
To those who know him well, though, there are just a few lingering differences from the Beau of old, his mom said. His speech is a little more drawn and he likes to eat one item at a time on his plate, which he never did before.
"I may have to study an extra hour for a test to get the grades I want to get, but that's about it," he said.
Jacob Livingston
Local journalism is essential.
Give directly to The Spokesman-Review's Northwest Passages community forums series -- which helps to offset the costs of several reporter and editor positions at the newspaper -- by using the easy options below. Gifts processed in this system are not tax deductible, but are predominately used to help meet the local financial requirements needed to receive national matching-grant funds.
Subscribe to the Coronavirus newsletter
Get the day's latest Coronavirus news delivered to your inbox by subscribing to our newsletter.
---