Sports > Outdoors
Area anglers catching show, films, national notoriety
Sun., March 1, 2009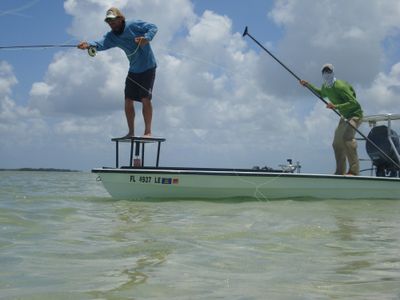 If screaming reels are music to your ears, you might be moved to dance when The Fly-Fishing Film Tour lands in Spokane Thursday at the Bing Crosby Theater.
Don't expect to relax with any trolling or plunking. In its third year, the tour is featuring fearless fly casters and bone-breaking fish in more than 75 cities across the country.
"The tour is definitely more diversified this year," said tour organizer Thad Robison of Oregon-based Mayfly Media.
"Last year we leaned toward an environmental theme with two movies related to the (Alaska) Pebble Mine issue. This year has no theme other than great fishing. It's about the lifestyle and fun of fly fishing. It's more like our first year."
The tour screens seven films "from guys who are out there still making cool films" that have been edited down to "the best action we can show in one sitting," Robison said.
"You'll see fishing from Seattle to New Guinea, and footage from Colorado and Utah, steelheading in Washington and bass fishing in Florida and Louisiana."
"Drift," a film produced by Bozeman-area anglers/filmmakers rivals the style of a Teton Gravity Research extreme skiing movie.
If you don't know what permit are, this portion of the tour will set you straight.
"We hear from a lot of people who aren't even fly fishers and they love these films," Robison said, who compares the tour with the films on the Banff Mountain Film Festival's Radical Reels Tour.
"These fly-fishing films are not about instruction or how-to, or what guide service to book. They're just fun," he said.
Tickets, available online or on show night at The Bing, cost $15 or $13 for seniors and youths younger than 13.
Local journalism is essential.
Give directly to The Spokesman-Review's Northwest Passages community forums series -- which helps to offset the costs of several reporter and editor positions at the newspaper -- by using the easy options below. Gifts processed in this system are not tax deductible, but are predominately used to help meet the local financial requirements needed to receive national matching-grant funds.
Subscribe to the sports newsletter
Get the day's top sports headlines and breaking news delivered to your inbox by subscribing here.
---