News > Nation/World
Nation in brief: Twin girls born from two uteri
Sun., March 1, 2009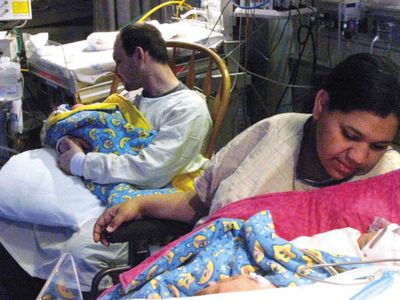 A Michigan woman with two wombs has given birth to twin daughters – one from each uterus.
The Mining Journal and WLUC-TV report that Sarah Reinfelder's two healthy babies were delivered seven weeks premature Thursday by Caesarean section at Marquette General Hospital.
The 21-year-old Sault Ste. Marie woman has a condition known as uterus didelphys, and doctors say such twin births are rare. The uteri are different sizes, with the larger twin born from the larger uterus.
Dr. Connie Hedmark and Dr. Breanna Pond first delivered Kaylin Joy, then Valerie Marie, the larger twin by 1 pound. Kaylin Joy weighed 3 pounds, 15 ounces.
Neonatologist Julie Frei said she expects that the twins, who don't have fully developed lung function, likely will be hospitalized for three or four weeks.
Chula Vista, Calif.
Suspect arrested at police exam
Authorities in California say a man wanted for a store robbery was arrested when he showed up to take a test to become a police officer.
Chula Vista police spokesman Bernard Gonzales said investigators had identified Romeo Montillano as a suspect in a Dec. 8 robbery at a Kmart.
Gonzales said investigators learned that Montillano had signed up for the February Police Department entrance exam.
The 40-year-old man was arrested Wednesday when he arrived to take the test.
Gonzales said that when Montillano was taken into custody he asked if he would still be able to take the exam.
From wire reports
Local journalism is essential.
Give directly to The Spokesman-Review's Northwest Passages community forums series -- which helps to offset the costs of several reporter and editor positions at the newspaper -- by using the easy options below. Gifts processed in this system are not tax deductible, but are predominately used to help meet the local financial requirements needed to receive national matching-grant funds.
Subscribe to the Coronavirus newsletter
Get the day's latest Coronavirus news delivered to your inbox by subscribing to our newsletter.
---